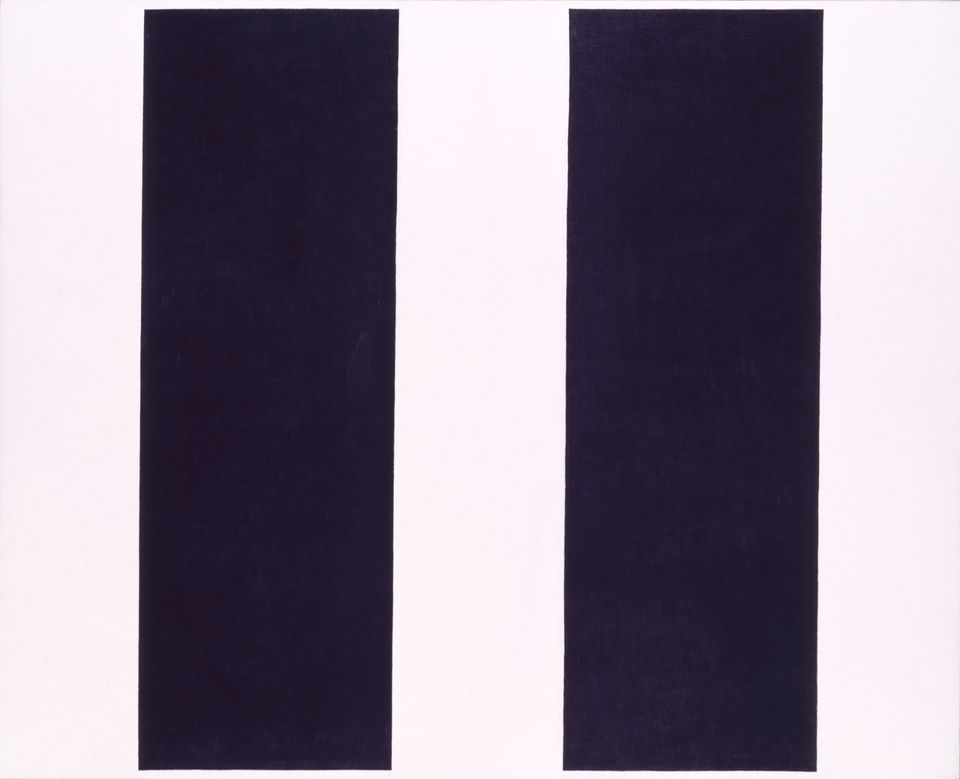 Copied
John McLaughlin,
#17, 1966
, 1966, oil on canvas,
48
x
60
in. (
121
.
8
x
152
.
4
cm.), Smithsonian American Art Museum, Gift of Mr. Sterling Holloway, 1968.119
Artist

Dimensions

48

x

60

in. (

121

.

8

x

152

.

4

cm.)

Markings

back center left in oil: John McLaughlin/Title: #17, 1966/oil on canvas/48 x 60

Credit Line

Gift of Mr. Sterling Holloway

Mediums

Mediums Description

oil on canvas

Classifications

Keywords

Nonrepresentational
Abstract

Object Number

1968.119
John McLaughlin's
#17, 1966
is an example of the Hard-edge painting style that was popularized by a number of California artists in the 1960s. The stark palette and geometric composition highlight the contrast between the broad brushstrokes of matte black paint and the narrow brushstrokes of glossy white. McLaughlin's paintings evoke the works of artists such as Kazimir Malevich and Piet Mondrian, but he always emphasized his artistic connection to Asia, particularly Japanese art. He favored Asian paintings because "they made me wonder who I was. By contrast, Western painters tried to tell me who they were." McLaughlin believed that his paintings evoked Asian philosophical ideals and could encourage enlightenment in the viewer. (Charles Desmarais, "A New Kind of Heroism: [John] McLaughlin's
#17, 1966,
"
American Art
7, no. 1 (Winter 1993): 97-98; Michael Duncan, "John McLaughlin: Transcending the Particular,"
Art in America
(Sept. 1997): 84-87)
Luce Object Quote
"Perhaps the most distinguishing feature of my painting is that I develop the composition by using rectangles exclusively." (Letter to Jules Langsner, April 27, 1959. John McLaughlin Papers, Archives of American Art, Smithsonian Institution)