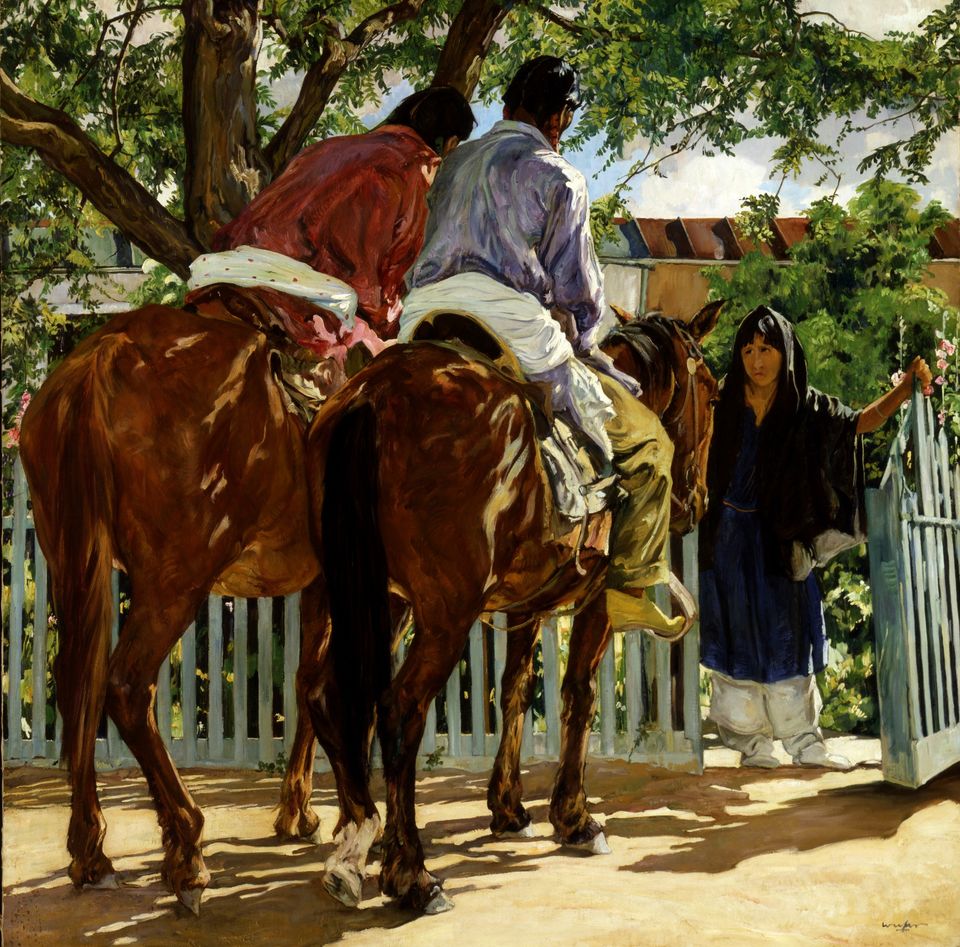 Copied
Walter Ufer,
Callers
, ca. 1926, oil on canvas, Smithsonian American Art Museum, Gift of Mr. and Mrs. R. Crosby Kemper, Jr., 1984.66
Title

Callers

Artist

Location

Dimensions

50

1

⁄

2

x

50

1

⁄

2

in. (

128

.

4

x

128

.

4

cm.)

Credit Line

Gift of Mr. and Mrs. R. Crosby Kemper, Jr.

Mediums

Mediums Description

oil on canvas

Classifications

Keywords

Figure group
Figure female — full length
Equestrian
Indian

Object Number

1984.66
This painting captures an everyday, yet deeply poetic moment among New Mexico's Pueblo Indians. Ufer was a German émigré who brought to America an intense sympathy for ordinary people instilled in him by his socialist family. He did not romanticize his sitters, because he understood that the Indian "resents being regarded as a curiosity—as a dingleberry on a tree." The two men on horseback pay their respects to a woman who lives, like millions of Americans, behind a picket fence. Their costumes show that they have held on to their tribal culture. Not long after Anglo Americans had effectively reduced the Pueblo tribes to touristic curiosities, Ufer quietly underscored the human dignity of a timeless ritual of courtship.
Exhibition Label, Smithsonian American Art Museum, 2006