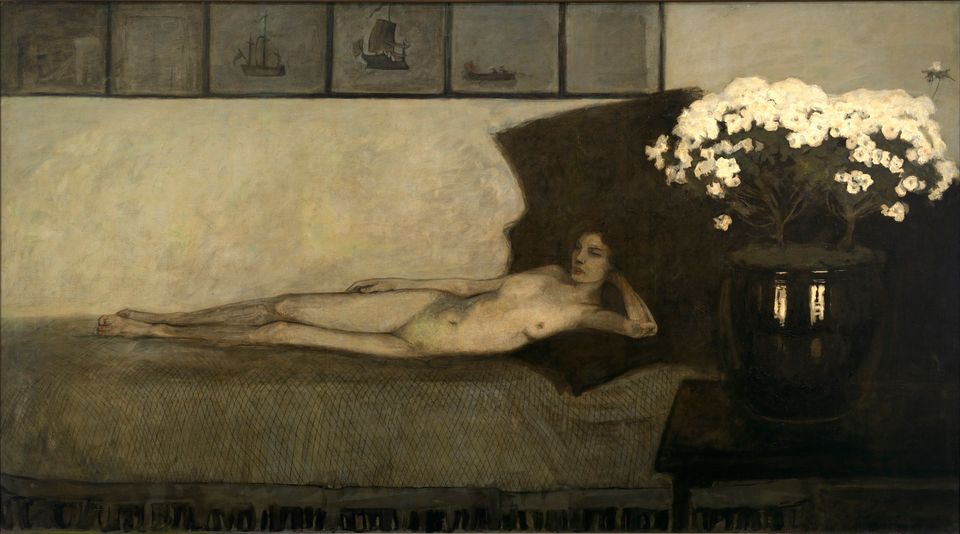 Copied
Romaine Brooks,
Azalées Blanches (White Azaleas)
, 1910, oil on canvas, Smithsonian American Art Museum, Gift of the artist, 1966.49.5
Title

Azalées Blanches (White Azaleas)

Artist

Dimensions

59

1

⁄

2

x

107

in. (

151

.

1

x

271

.

7

cm)

Credit Line

Gift of the artist

Mediums

Mediums Description

oil on canvas

Classifications

Keywords

Object — flower — azalea
Architecture Interior — domestic — house
Figure female — full length

Object Number

1966.49.5
Azalées Blanches was one of Brooks's first paintings of the female nude and the earliest in which she presented an openly erotic figure. The female nude was a ubiquitous subject for Brooks's male contemporaries, but in 1910 a female artist's depiction of the theme was relatively unusual. Brooks's inclusion of this frankly sexual work in her debut exhibition at Durand-Ruel Gallery in Paris was a provocative gesture. Referring to this moment in her unpublished memoir, Brooks wrote, "I grasped every occasion no matter how small, to assert my independence of views." Audience members also recognized Brooks's challenge; a reviewer compared it to Édouard Manet's iconic modern nude Olympia (1863).
The Art of Romaine Brooks, 2016