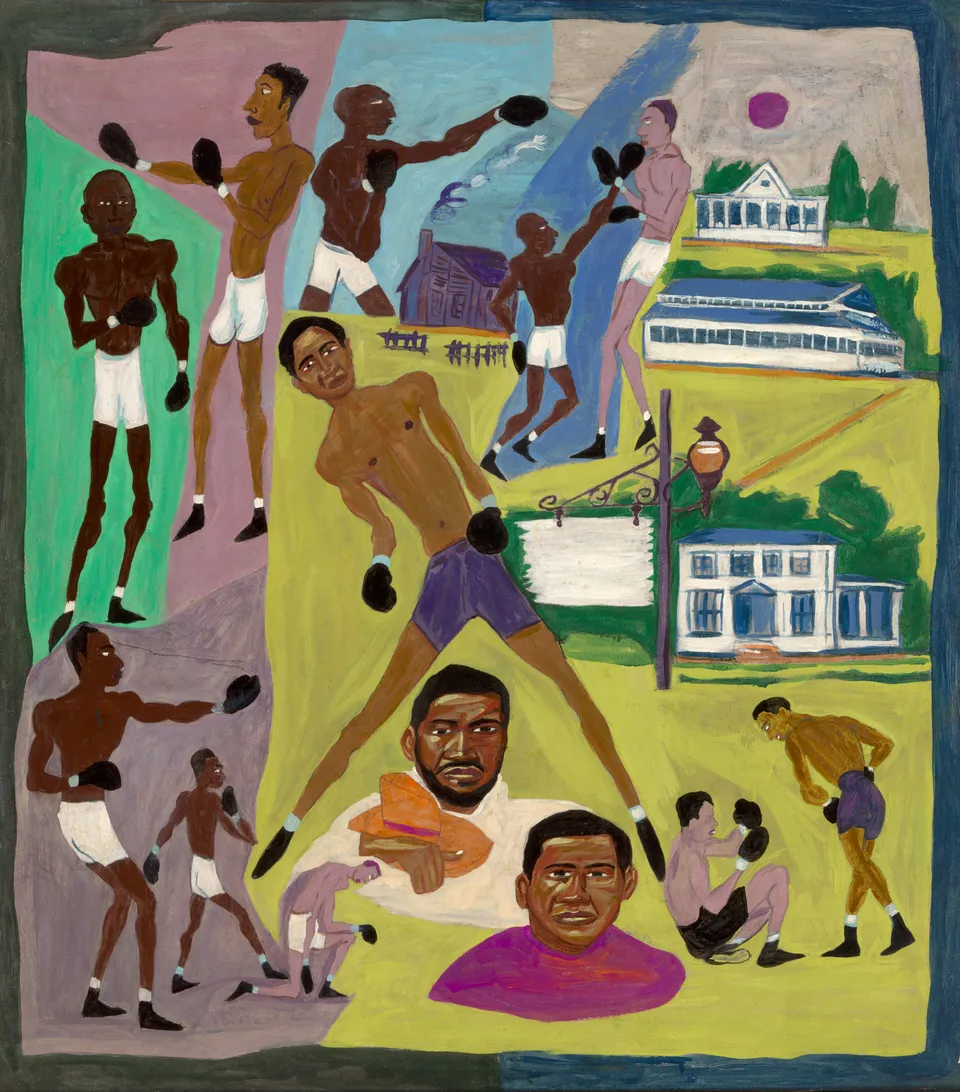 Copied
William H. Johnson,
Boxers
, ca. 1946, oil on paperboard, Smithsonian American Art Museum, Gift of the Harmon Foundation, 1967.59.652
Title

Boxers

Artist

Dimensions

32

7

⁄

8

x

28

7

⁄

8

in. (

83

.

4

x

73

.

2

cm)

Credit Line

Gift of the Harmon Foundation

Mediums

Mediums Description

oil on paperboard

Classifications

Keywords

African-American
Architecture Exterior — domestic — house
Figure group — male
Occupation — sport — boxing
African American

Object Number

1967.59.652
In Boxers Johnson celebrated Jack Johnson (1878--1946), the first African American to win the world heavy weight boxing title, and Joe Louis (1914--1981), the "Brown Bomber," whose defeat of German boxer Max Schmeling in 1938 was hyped as the triumph of democracy over authoritarian evil. Jack Johnson, the son of formerly enslaved parents, won the title in 1908 and set his sights on Jim Jeffries, a white former heavyweight champion who had refused to fight Black boxers. Johnson's win over Jeffries exhilarated African Americans and infuriated white fans. Johnson's refusal to conform to racial hierarchies led to his 1912 conviction on racially motivated charges that he accompanied a white woman (his future wife) across state lines.

The reserved Joe Louis launched his professional boxing career in 1934. Two years later he faced Schmeling. Although Louis lost, he wanted another go at Schmeling. The rematch, in June 1938, was billed as a battle of ideologies--the American Brown Bomber against Hitler's "master race." Sixty million Americans listened on the radio; another one hundred million tuned in worldwide. Two minutes into the bout, the referee called a technical knockout. African American Joe Louis had defeated the Nazi's great Aryan hope. Louis went on to enlist in the U.S. Army in 1942. As a soldier, he fought exhibition matches and visited wounded GIs. By the time he was discharged in 1945, he had entertained more than two million soldiers at home and abroad.