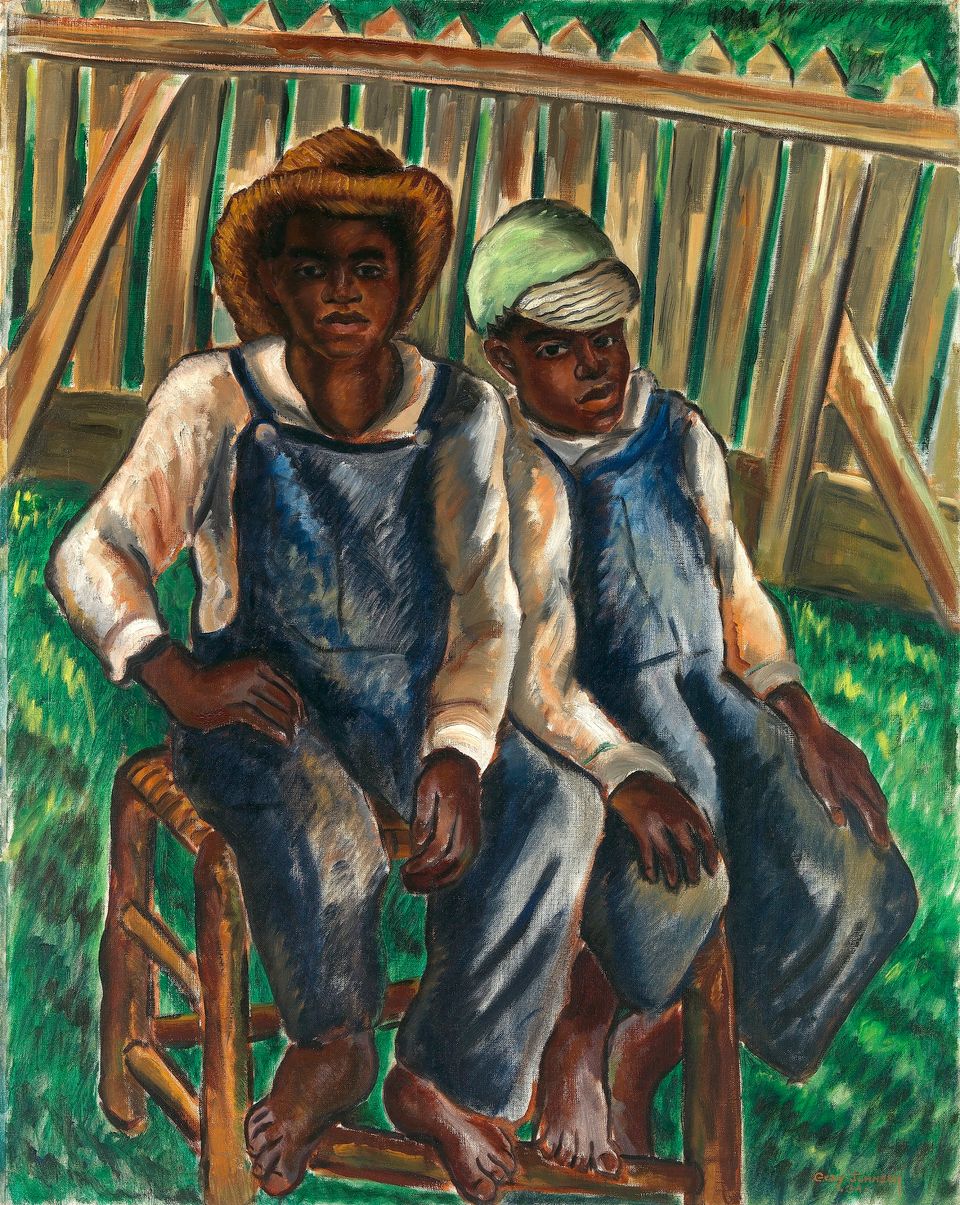 Copied
Malvin Gray Johnson,
Brothers
, 1934, oil on canvas,
38
x
30
in. (
96
.
5
x
76
.
3
cm), Smithsonian American Art Museum, Gift of the Harmon Foundation, 1967.57.29
Title

Brothers

Artist

Dimensions

38

x

30

in. (

96

.

5

x

76

.

3

cm)

Markings

lower right in oil: Gray Johnson/-34-

Credit Line

Gift of the Harmon Foundation

Mediums

Mediums Description

oil on canvas

Classifications

Keywords

Group
Landscape
Children
African American
Dress — accessory — hat
Figure group — family — siblings
Object — furniture — bench
Architecture Exterior — detail — fence

Object Number

1967.57.29
Johnson painted Brothers in the rolling foothills of the Blue Ridge Mountains outside Charlottesville, Virginia. The boys' overalls and bare feet, and the angled picket fence that blocks recessive space, locate them in a small-town setting. During his career, Johnson moved easily between explorations of modernist composition and what was then known as "racial art" -- art that paid homage to contemporary African American life and its ancestral roots. The children's faces show no emotion; the only hint of their relationship comes through the placement of the younger boy, who leans against the protective shoulder of his stronger, older brother.
African American Art: Harlem Renaissance, Civil Rights Era, and Beyond, 2012

Luce Center Label
With the money he earned from the New Deal's Public Works of Art Project, Malvin Gray Johnson traveled to Virginia, marking the only time he spent as an artist in the South. In a town called Brightwood, he created numerous studies of rural landscapes and "folk types," including this scene of two brothers sharing a wooden bench. Their blue overalls and white shirts are almost identical; one boy wears a straw hat, the other a bib cap. The slanting landscape makes the viewer feel as off balance as the boy on the right; it also places the viewer on a slightly higher level than the two boys, but it does not prevent them from meeting our eyes. Noted for their "sardonic humor and mystical pathos," Johnson's Brightwood, Virginia, paintings are recognized as some of his finest works.
Johnson credited a variety of influences on his work, including African sculpture, classicism, cubism, and impressionism. An active member of the Harlem Renaissance, his paintings from this time were noted for the dignity with which he portrayed urban African Americans. (Butcher, The Negro in American Culture, 1969)