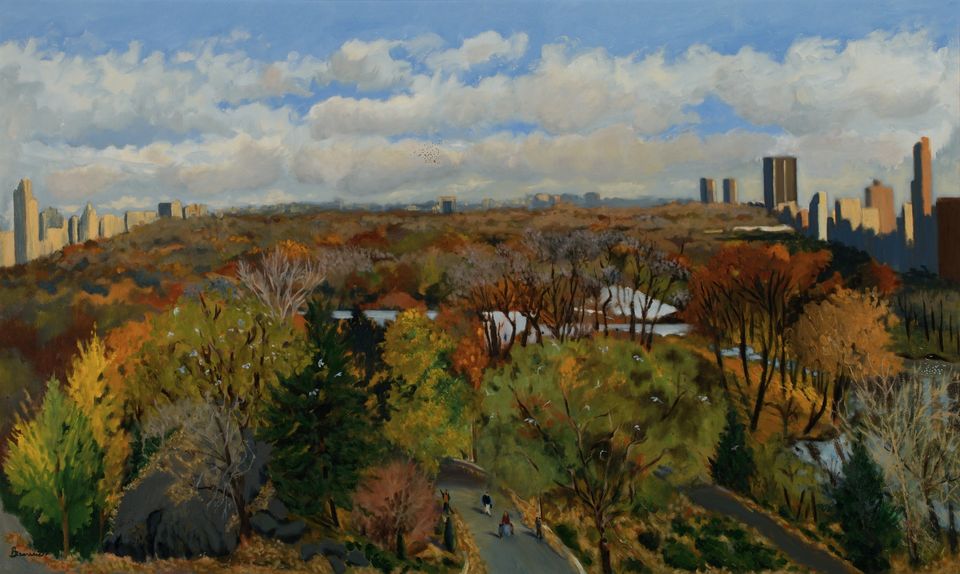 Copied
Anthony Benedetto,
Central Park
, 1998, oil on canvas, Smithsonian American Art Museum, Gift of the artist, 2005.16, © 2000, Benedetto/Bennett
Title

Central Park

Artist

Location

Dimensions

36

x

60

in. (

91

.

4

x

152

.

4

cm)

Copyright

© 2000, Benedetto/Bennett

Credit Line

Gift of the artist

Mediums Description

oil on canvas

Classifications

Keywords

Cityscape — New York — New York
Landscape — park — Central Park
Cityscape — New York — Manhattan

Object Number

2005.16
In a city whose streets are lined with gigantic skyscrapers and teem with thousands of people, any sort of nature becomes a welcome escape for its citizens. Anthony Benedetto, better known as Tony Bennett, found inspiration in New York City's Central Park, where the possibilities of what to paint are limitless. Benedetto's dream of owning an apartment with a view of the park has been realized, and this scene is the view from his Manhattan window. It is a glimpse into the artist's private life, almost as if we are sitting at the window with him, looking out over the park. The morning light and crisp fall colors are inviting, but the cityscape hovers on the perimeter, reminding the viewer of what is outside this idyllic haven. The salvation from the busy city life is only temporary.