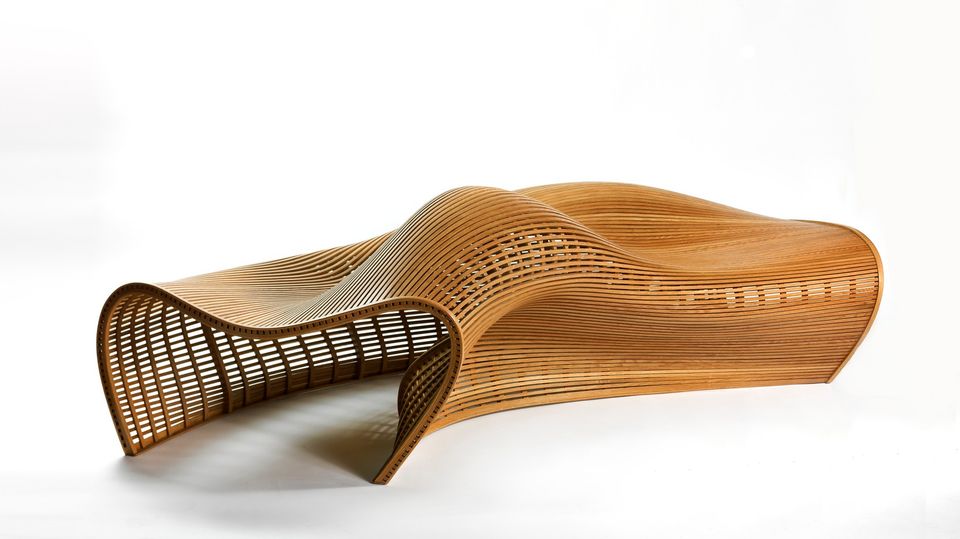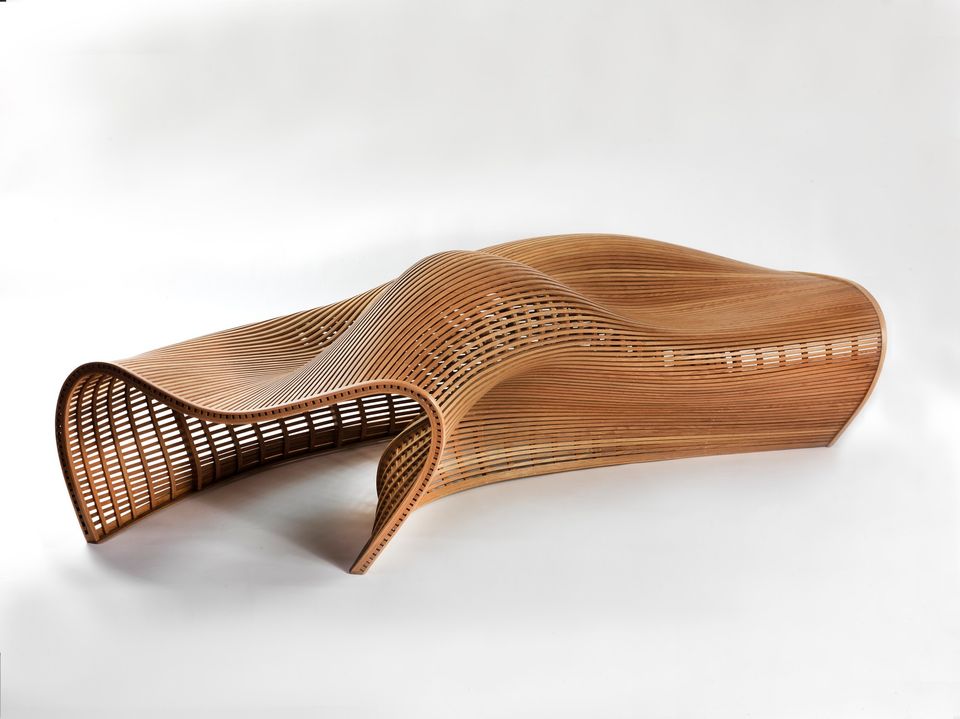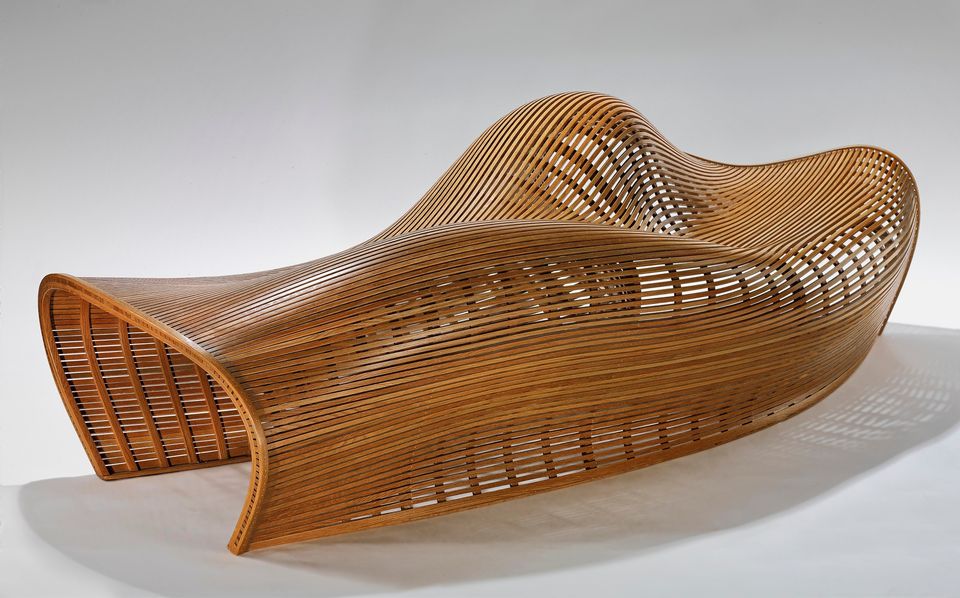 Copied
Matthias Pliessnig,
Drift
, 2011, white oak and bamboo,
28
x
96
x
35
in. (
71
.
1
x
243
.
8
x
88
.
9
cm), Smithsonian American Art Museum, Gift of the James Renwick Alliance and museum purchase through the Richard T. Evans Fund, 2011.32, © 2011, Matthias Pliessnig
Title

Drift

Artist

Dimensions

28

x

96

x

35

in. (

71

.

1

x

243

.

8

x

88

.

9

cm)

Copyright

© 2011, Matthias Pliessnig

Credit Line

Gift of the James Renwick Alliance and museum purchase through the Richard T. Evans Fund

Mediums Description

white oak and bamboo

Classifications

Object Number

2011.32
Matthias Pliessnig's extraordinary amorphous furniture has its unlikely roots in the history of wooden boat-building. While studying at the University of Wisconsin–Madison, Pliessnig, fellow student Benjamin Wooten, and professor Tom Loeser embarked on a project to each build a simple skiff for use on the town's surrounding lakes. Muddling through the basics of marine design required learning to steam-bend wood, an ancient technique that effectively boils the resin inside wood, rendering the stock malleable. Use of steam-bending is evident in the shape of boat hulls across the globe but has only influenced furniture design sporadically, including the eighteenth-century development of the Windsor chair and the nineteenth-century catalogue of the Austrian firm Gebrüder Thonet.
Pliessnig's epiphany was the realization that a boat's skeleton—the "stations" running from port to starboard, and "stringers" running from bow to stern—could be adapted for seating by flipping the form upside down and contouring it to the body. His experimentation with this design process since 2006 has produced a rapidly evolving series of furniture, each piece more technically ambitious than the last. Drift is the most recent work in this series.
The steam-bending process is unusual enough in contemporary furniture to merit further description. Strips of wood are first air-dried, then soaked in water for several hours before being placed in a steam box. Wood is both saturated with water and heated, rendering the resin inside pliable and the wood extremely malleable. When the wood is removed it must be bent into position and clamped into place within thirty seconds, after which it will cool, regaining rigidity. During this finite window the wood fibers will slip around each other to meet the stock's new form, allowing the wood to maintain its original strength (as opposed to sawn wood, in which the fibers are cut and weakened). After remaining clamped in position for six to eight hours the wood will maintain its new shape permanently.
The pace of this work necessitated by this process is frenetic, but it is not improvisational. Pliessnig designs his pieces using Rhinoceros 3-D software before attempting to recreate the designs in wood. Because the program cannot account for the limitations of organic materials, the transition from screen to object can be enormously challenging. Pliessnig has stated that Drift includes his most difficult bends to date. This also is only the third piece to include pegged joints, the others being Rivulet (with bamboo) and Amada (with birch), both in private collections. Although the pegs appear to offer structural reinforcement, the sheer number of points of contact in Pliessnig's work (approximately 7000 in Drift) makes it incredibly strong, and the pegs serve more as a labor-intensive embellishment.
Smithsonian American Art Museum, 2011
November 13, 2015
–
March 6, 2022
Connections is the Renwick Gallery's dynamic ongoing permanent collection presentation, featuring more than 80 objects celebrating craft as a discipline and an approach to living differently in the modern world.