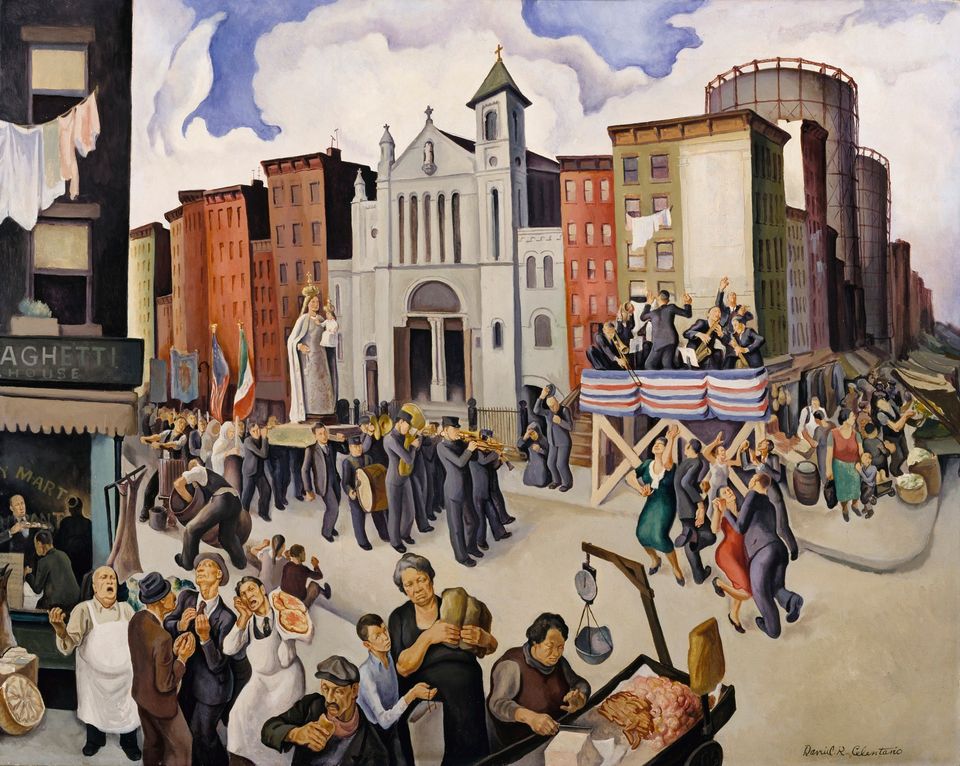 Copied
Daniel Celentano,
Festival
, 1934, oil on canvas mounted on fiberboard,
48
1
⁄
8
x
60
1
⁄
8
in. (
122
.
3
x
152
.
8
cm.), Smithsonian American Art Museum, Transfer from the U.S. Department of Labor, 1964.1.55
Title

Festival

Artist

Dimensions

48

1

⁄

8

x

60

1

⁄

8

in. (

122

.

3

x

152

.

8

cm.)

Credit Line

Transfer from the U.S. Department of Labor

Mediums

Mediums Description

oil on canvas mounted on fiberboard

Classifications

Keywords

Ceremony — religion — procession
Architecture — industry — factory
Occupation — vendor
New Deal — Public Works of Art Project — New York State
Architecture — religious — church

Object Number

1964.1.55
This painting fairly bursts with the raucous sounds, pungent smells, and vibrant characters of Manhattan's ethnic street life. Artist Daniel Celentano, an Italian American from the uptown neighborhood called Italian Harlem, saw many a Catholic procession like the one shown here. Such street festivals, or
festa,
were vital social events that helped the Italian American Catholic communities of New York survive the stresses of the Depression as they had endured previous decades of poverty and oppression. Celentano contrasted the solemnity of the traditional procession with the swing band on a platform at the right, which blares out popular tunes for people dancing joyfully in the street. A market, providing familiar fare to the throngs, includes a fish seller, a pizza vendor, and a butcher hawking their wares in front of a spaghetti house.
The lively scene, evoking the scents of tasty Italian food, is overshadowed by the immense natural-gas tanks at the right that once blighted Manhattan's immigrant slums. Only those too poor to live elsewhere settled in the Gashouse District along the East River, where the gas plants leaked noxious fumes. By the time of Celentano's painting, however, the gas plants had nearly vanished, along with the worst of the nineteenth-century slums.
1934: A New Deal for Artists exhibition label