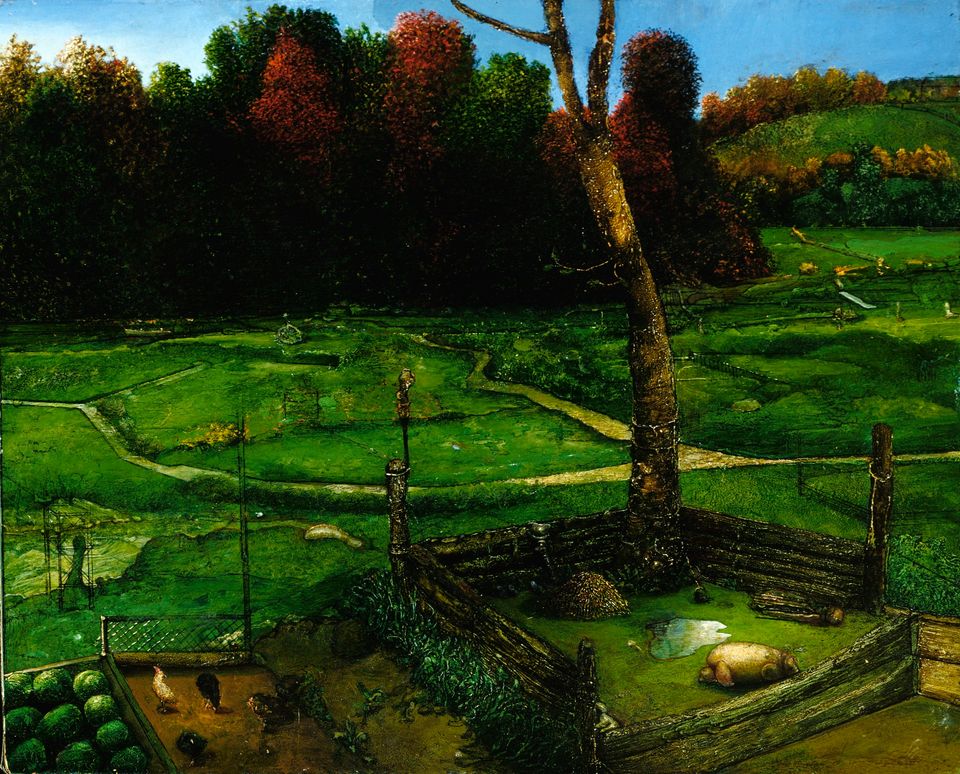 Copied
Gregory Gillespie,
Green Landscape
, 1971, oil and acrylic on paper collage mounted on wood, Smithsonian American Art Museum, Gift of the Sara Roby Foundation, 1986.6.35
Title

Green Landscape

Artist

Location

Dimensions

9

5

⁄

8

x

12

in. (

24

.

6

x

30

.

5

cm)

Credit Line

Gift of the Sara Roby Foundation

Mediums Description

oil and acrylic on paper collage mounted on wood

Classifications

Keywords

Landscape — farm
Animal — bird — chicken
Animal — pig

Object Number

1986.6.35
Gillespie painted
Green Landscape
shortly after his return to the United States from Italy in 1970, where he had begun crafting small, visionary landscapes that blended elements of Flemish realism and surrealism with collaged views of the contemporary world. The cabbages, pecking chickens, and fall color in his landscape are true to nature, but the image seems invented and out of time.
Modern American Realism: The Sara Roby Foundation Collection
, 2014
Luce Center Label
In Green Landscape, Gregory Gillespie combined paint with collage, scratching or covering the surface of the paper so that it is difficult to tell where the painting ends and the collage begins. He never planned a piece before he started, preferring instead to let the imagery and ideas unfold as he worked. The gaudy blue sky, bright patchwork fields, and cartoonlike creature conjure a vivid landscape that appears to be the product of a dream.
Luce Object Quote
"I never paint outside. I've got a beautiful landscape right outside my studio. Sometimes I'll work from photos of it, but mucking around in real life is much too daunting for me." "Interview with Gregory Gillespie," in A Unique American Vision, Exhibition Catalogue, Georgia Museum of Art, 1999