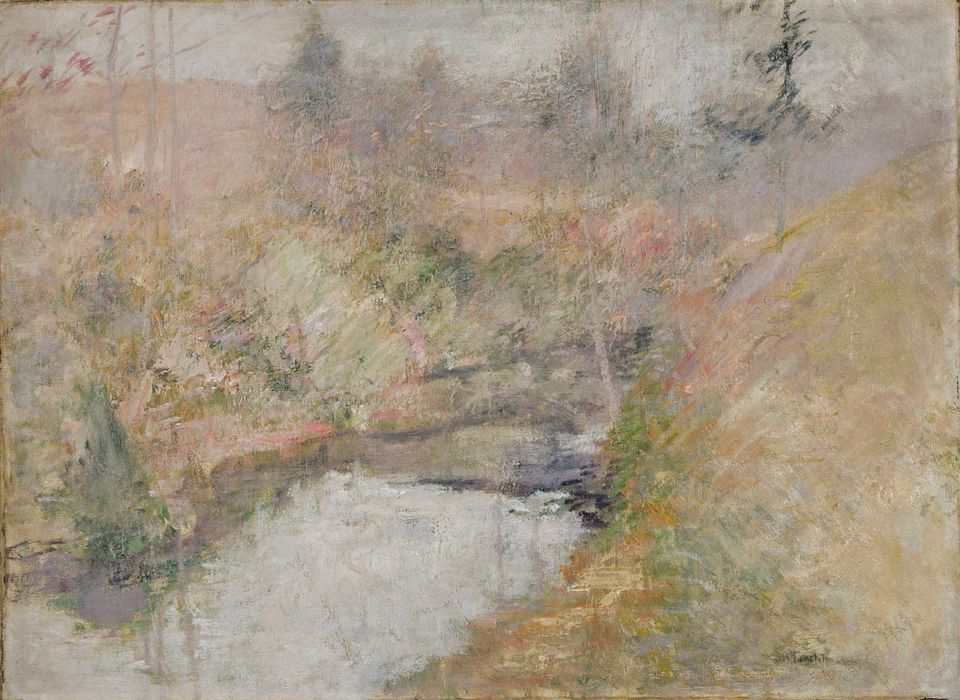 Copied
John Henry Twachtman,
Hemlock Pool
, ca. 1890-1900, oil on canvas,
22
1
⁄
4
x
30
1
⁄
4
in. (
56
.
5
x
76
.
7
cm), Smithsonian American Art Museum, Gift of John Gellatly, 1929.6.140
Title

Hemlock Pool

Artist

Location

Dimensions

22

1

⁄

4

x

30

1

⁄

4

in. (

56

.

5

x

76

.

7

cm)

Markings

lower right in pencil: JH TWACHTMAN back upper left in felt-tipped pen and ink: 29.6.140

Credit Line

Gift of John Gellatly

Mediums

Mediums Description

oil on canvas

Classifications

Keywords

Landscape
Landscape — water
Landscape — Connecticut — Greenwich

Object Number

1929.6.140
John Twachtman painted this scene in all different seasons. He drew inspiration from his seventeen acres of land in Greenwich, Connecticut, and his paintings of the property express the emotional and spiritual comfort he found there. This image, likely made in autumn, shows a pond located behind his house at the bottom of a steep incline along the Horseneck Brook. Twachtman created many images of streams and brooks, and these ceaselessly moving bodies of water might have held a deeper significance for him. By the time Twachtman painted his Connecticut landscapes, American artists and intellectuals had been interested in Buddhism for more than two decades, and the artist himself had studied Zen philosophy and Japanese art. (Pyne, "John Twachtman and the Therapeutic Landscape," in Chotner et al., John Twachtman: Connecticut Landscapes, 1989) This may account for the meditative quality of his pictures, the sense of looking not at an actual landscape, but at an inward image of something seen long before.
Luce Object Quote
"Just imagine how suggestive things are." John Twachtman, quoted in Pyne, "John Twachtman and the Therapeutic Landscape," in Chotner et al.,
John Twachtman: Connecticut Landscapes
, 1989