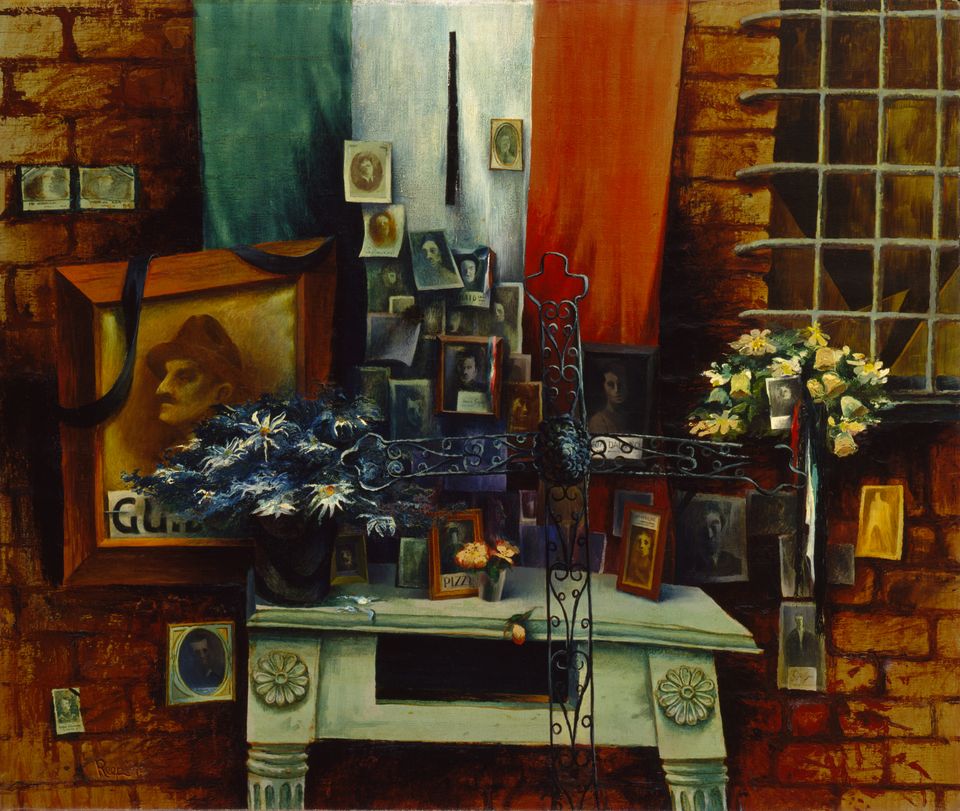 Copied
Edward Reep,
Italian Shrine
, 1946, oil on canvas,
30
1
⁄
4
x
36
1
⁄
4
in. (
76
.
8
x
92
.
1
cm.), Smithsonian American Art Museum, Gift of the artist, 1984.9
Title

Italian Shrine

Artist

Location

Dimensions

30

1

⁄

4

x

36

1

⁄

4

in. (

76

.

8

x

92

.

1

cm.)

Credit Line

Gift of the artist

Mediums

Mediums Description

oil on canvas

Classifications

Keywords

Still life — art object — painting
Still life — other — flag
Still life — furniture — table
Still life — art object — photograph
Architecture Interior — detail — window
Emblem — cross
Still life — flower
Italian

Object Number

1984.9
Edward Reep painted Italian Shrine during his Guggenheim Fellowship in 1946 and considered it one of his best paintings. Reep based the scene on photo- graphs, notes, and sketches he took of an impromptu shrine in Bologna, Italy, as a combat artist during World War II. The shrine arose against the wall of a jail in the Piazza Nettuno, where a member of the Italian Resistance had been killed. The shrine initially contained an Italian flag, but citizens soon added a table with photographs, flowers, candles, and an ornate wrought metal cross, and so it became a memorial to all who had lost their lives fighting for liberation from Nazi occupation. During World War II, nearly 2,500 Bolognese citizens were killed in heavy bombings of the city and an additional 2,000 Resistance fighters died. Today, a permanent shrine stands on the site.