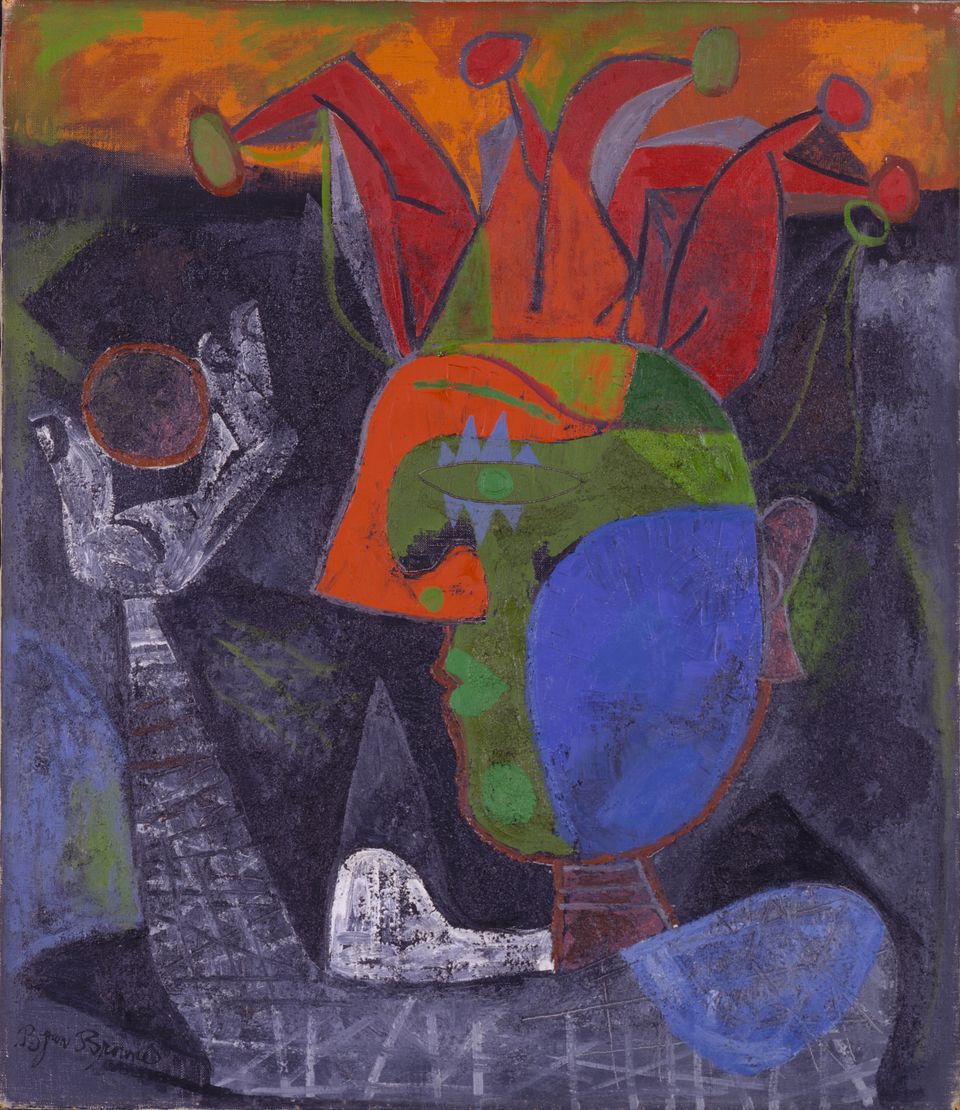 Copied
Byron Browne,
Jester
, 1952, oil on canvas,
28
x
24
1
⁄
8
in. (
71
.
1
x
61
.
2
cm), Smithsonian American Art Museum, Gift of Harris J. Klein, 1966.85
Title

Jester

Artist

Location

Dimensions

28

x

24

1

⁄

8

in. (

71

.

1

x

61

.

2

cm)

Markings

lower left in oil: Byron Browne back upper right in oil: Byron Browne/1952/-Jester-

Credit Line

Gift of Harris J. Klein

Mediums

Mediums Description

oil on canvas

Classifications

Keywords

Figure
Abstract
Figure — bust
Performing arts — circus — clown

Object Number

1966.85
Several of Byron Browne's paintings show brightly colored images of jesters, clowns, circus performers, and dancers. Here, the expressive brushstrokes create a sense of movement in the peaks and bells of the jester's hat, which wave in all directions. Browne abstracted the details of the jester's profile to create a colorful jumble of shapes, from the zigzags of his eyelashes to the curved form of his cheekbone. The artist was an early proponent of abstract art in the 1930s, but when he painted Jester, in 1952, a younger crowd of "action painters" commanded the critics' attention. The foolish character in this painting might symbolize Browne himself, whose work seemed dated by comparison. Or, the painter may have compared the dominance of abstract expressionism to the jester's absurd rule of the court.
Luce Object Quote
"I do not view the world as a sad place in which to live; therefore my pictures are not of a pessimistic nature." Browne, quoted in Rand, Byron Browne: Paintings & Drawings from the 30's, 40's, and 50's, 1987