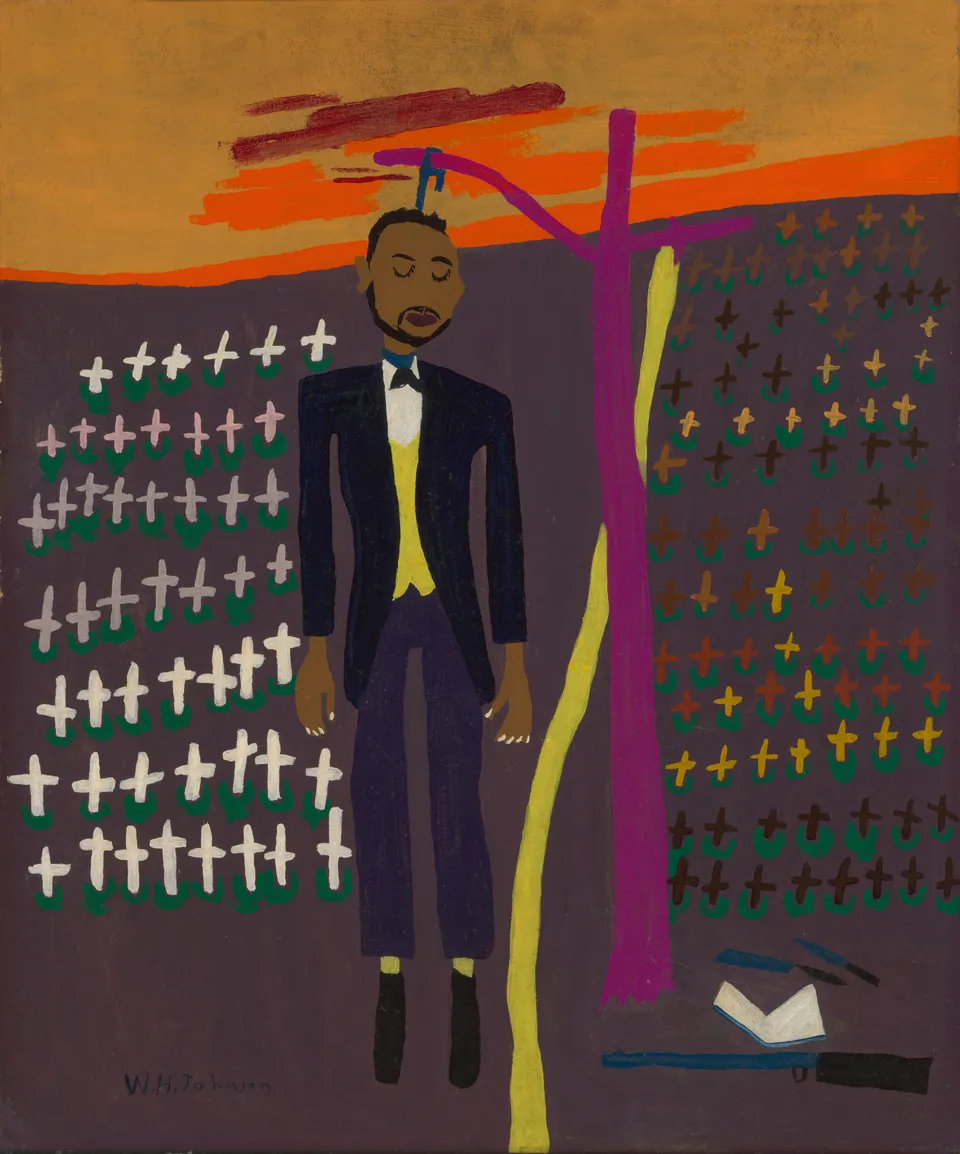 Copied
William H. Johnson,
Nat Turner
, ca. 1945, oil on paperboard, Smithsonian American Art Museum, Gift of the Harmon Foundation, 1967.59.658
Title

Nat Turner

Artist

Dimensions

31

3

⁄

8

x

25

7

⁄

8

in. (

79

.

8

x

65

.

7

cm.)

Credit Line

Gift of the Harmon Foundation

Mediums

Mediums Description

oil on paperboard

Classifications

Keywords

State of being — death — execution
African-American
Portrait male — Turner, Nat — full length
Monument — gravestone
Object — weapon — gun
African American

Object Number

1967.59.658
Visionary liberator to some, murderous rebel to others, Nat Turner (1800--1831) was an enslaved preacher who launched a raid on white slaveholders in Southampton County, Virginia, on a Sunday night in late August 1831. Over the next twenty-four hours, Turner and six others went from farm to farm, killing entire families. Johnson acknowledged the brutal massacre, and Turner's responsibility for it, by presenting Turner hanging from a tree surrounded by a field of crosses.
The response to the assault was immediate. Virginia's militia relentlessly hunted down Turner and his raiders, by then numbering about thirty; white vigilantes indiscriminately slaughtered both enslaved and free Blacks. Newspaper headlines expressed horror and outrage at the murder of women and children, although some acknowledged the raiders had cause. The African Sentinel and Journal of Liberty, published by a free Black man in Albany, New York, wrote, "Slaves . . . have done vastly wrong in the late insurrection . . . but their struggle for freedom is the same in principle as the struggle of our fathers in '76." The Ohio State Journal agreed, "We believe that the people of these United States ought no longer to shut their eyes to the dreadful evils of slavery."