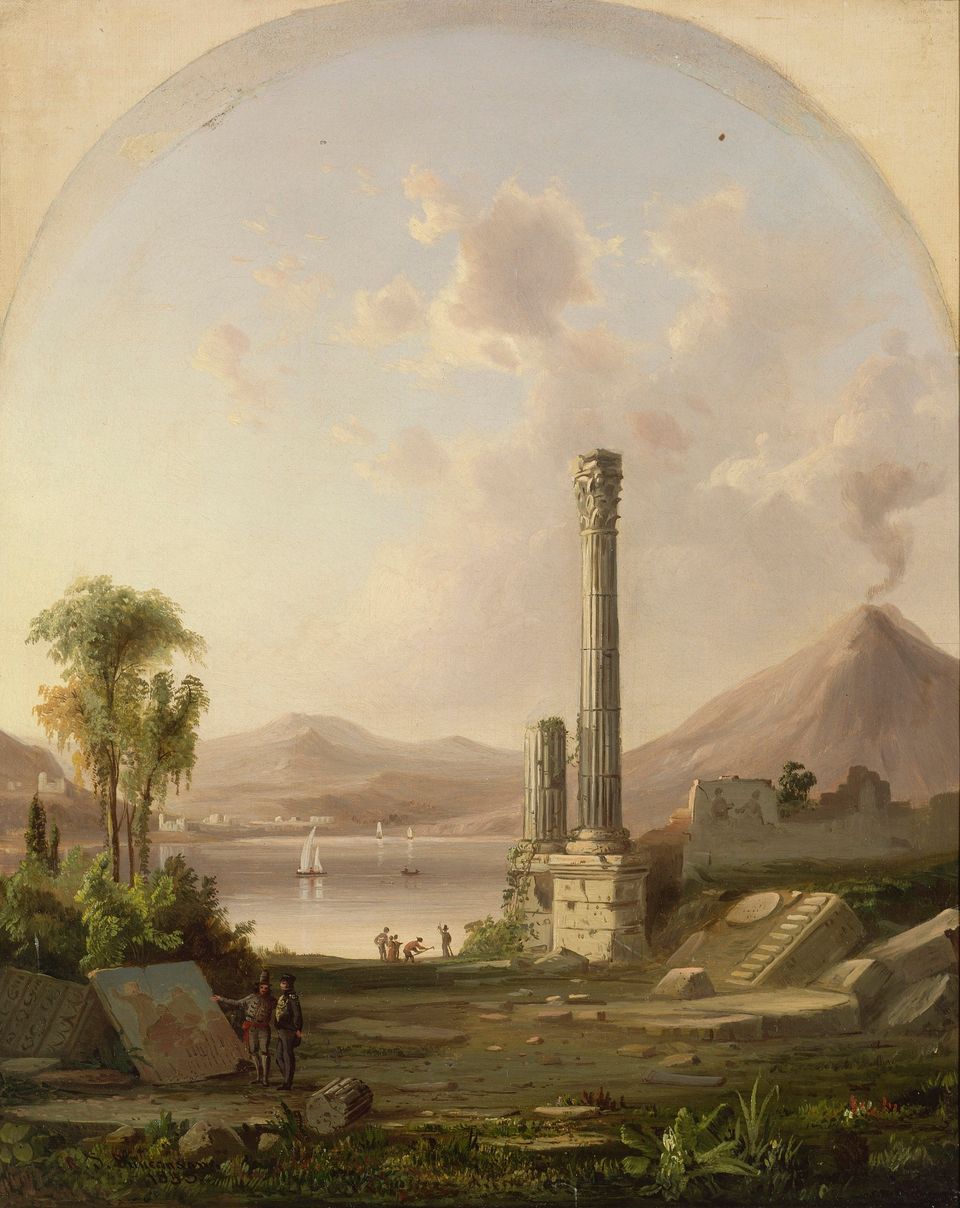 Copied
Robert S. Duncanson,
Pompeii
, 1855, oil on canvas,
21
x
17
in. (
53
.
3
x
43
.
2
cm.), Smithsonian American Art Museum, Gift of Dr. Richard Frates, 1983.95.158
Title

Pompeii

Artist

Location

Dimensions

21

x

17

in. (

53

.

3

x

43

.

2

cm.)

Markings

lower left in oil: R.S. Duncanson/1855. stretcher lower right/left and upper right/left in felt-tip pen: R.F.

Credit Line

Gift of Dr. Richard Frates

Mediums

Mediums Description

oil on canvas

Keywords

Landscape
Figure(s) in exterior
Landscape — phenomenon — volcano
Cityscape — Italy — Pompeii
Architecture Exterior — detail — column
Architecture Exterior — ruins

Object Number

1983.95.158
Robert Duncanson's patrons in Cincinnati sponsored his first trip to Europe in 1853, allowing him to participate in a rite of passage for American artists. He compared his skills with those of European painters and claimed, "Of all the landscapes I saw in Europe...I do not feel discouraged." Duncanson imagined Pompeii around the time of its first excavation in 1747, showing men in eighteenth-century costume admiring the ruins and searching for buried treasure. Such fanciful depictions were popular among nineteenth-century American patrons, who made the ancient city at the foot of Vesuvius a stop on their grand tours.
Exhibition Label, Smithsonian American Art Museum, 2006