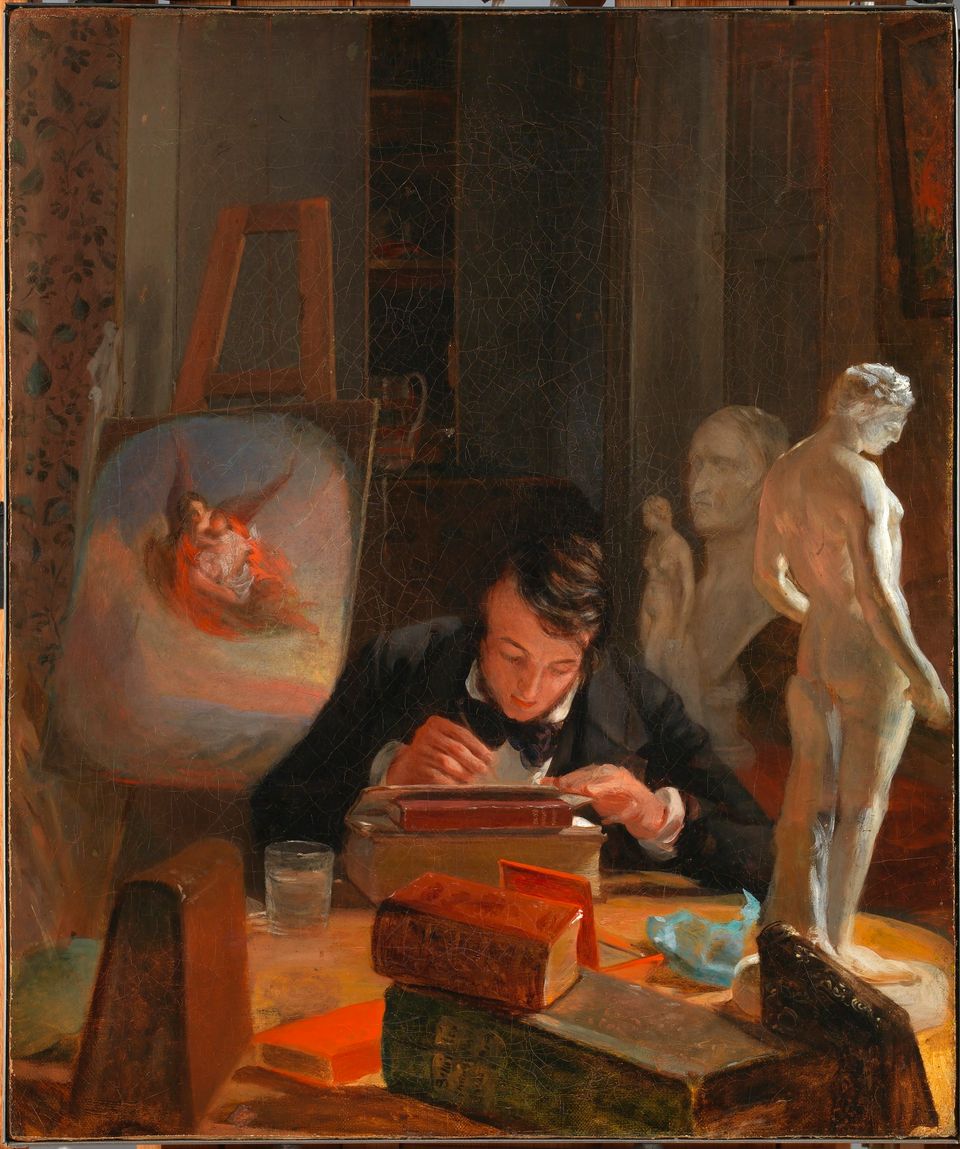 Copied
John Frankenstein,
Portrait of Godfrey Frankenstein
, ca. 1840, oil on canvas,
23
7
⁄
8
x
20
in. (
60
.
7
x
50
.
7
cm.), Smithsonian American Art Museum, Museum purchase, 1973.159
Title

Portrait of Godfrey Frankenstein

Artist

Location

Dimensions

23

7

⁄

8

x

20

in. (

60

.

7

x

50

.

7

cm.)

Credit Line

Museum purchase

Mediums

Mediums Description

oil on canvas

Keywords

Portrait
Recreation — leisure — reading
Recreation — leisure — letter reading and writing
Object — art object — painting
Object — art object — sculpture
Architecture Interior — studio
Object — written matter — book
Portrait male — Frankenstein, Godfrey — bust

Object Number

1973.159
John Frankenstein painted this portrait of his younger brother Godfrey, while they shared studio space in Ohio. Godfrey Frankenstein was elected president of the Cincinnati Academy of Fine Arts in 1841, and was later known as "The Painter of Niagara Falls" after creating about a hundred paintings of the national treasure. Here, John portrayed his brother surrounded by plaster casts of classical sculpture and numerous thick books, the largest of which is labeled "Schiller," probably referring to the German philosopher, Friedrich Schiller. Dressed in a coat and tie, Godfrey is absorbed in his own watercolor painting. The partially painted canvas over Godfrey's right shoulder could be Angel and Child or The Dawn of Life, both unlocated works by John. This tranquil scene of an artist absorbed in his work contrasts John's later pessimistic views on his profession. After years of public neglect and struggles to secure patrons, John published a poem, "American Art: It's Awful Altitude" in which he condemned art unions, academics, patrons, and successful artists.