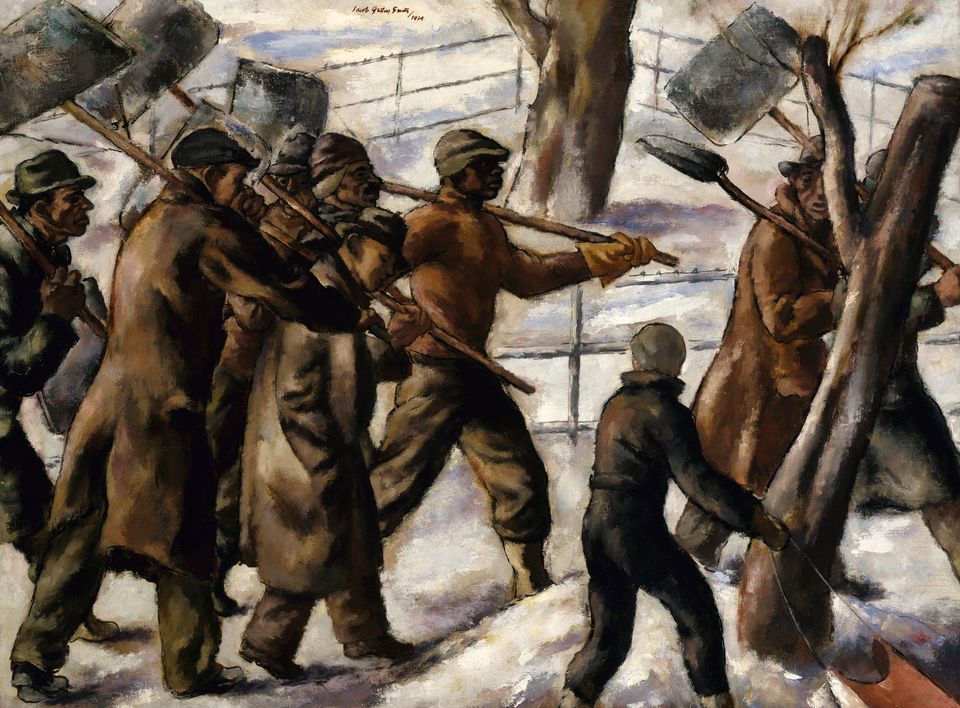 Copied
Jacob Getlar Smith,
Snow Shovellers
, 1934, oil on canvas,
29
7
⁄
8
x
40
1
⁄
8
in. (
76
.
0
x
101
.
9
cm.), Smithsonian American Art Museum, Transfer from the U.S. Department of Labor, 1964.1.22
Title

Snow Shovellers

Artist

Dimensions

29

7

⁄

8

x

40

1

⁄

8

in. (

76

.

0

x

101

.

9

cm.)

Markings

upper center in oil: Jacob Getlar Smith/1934 stretcher in black paint: NYRC 941 stretcher in ink: Jacob Getlar Smith frame verso in ink: Jacob Getlar Smith back in red paint: Jacob Getlar Smith/March/1934

Credit Line

Transfer from the U.S. Department of Labor

Mediums

Mediums Description

oil on canvas

Classifications

Keywords

African American
Figure group — male and child
Landscape — weather — snow
Occupation — service — street sweeper
New Deal — Public Works of Art Project — New York City

Object Number

1964.1.22
Many artists went out into the cold to find subjects after the PWAP began in December 1933. Jacob Getlar Smith found men hired by the government's new work relief program, the Civil Works Administration, to shovel snow from the streets and park paths of New York. Some of the snow shovellers sport crisp fedoras and warm overcoats while others wear battered caps and ragged coats; some have practical boots while others wear shoes more suited to office work. Men used to physical labor stride along vigorously; those accustomed to sitting behind desks walk more slowly, bowed with weariness after a morning spent clearing snow. Black and white, poor and middle class—all had lost their jobs to the Great Depression. Smith showed them gathered into the ranks of the New Deal social programs that offered them all the means to get through the winter. A boy pulling a sled walks alongside the men, a reminder of the families who looked to these men for their support.
1934: A New Deal for Artists exhibition label