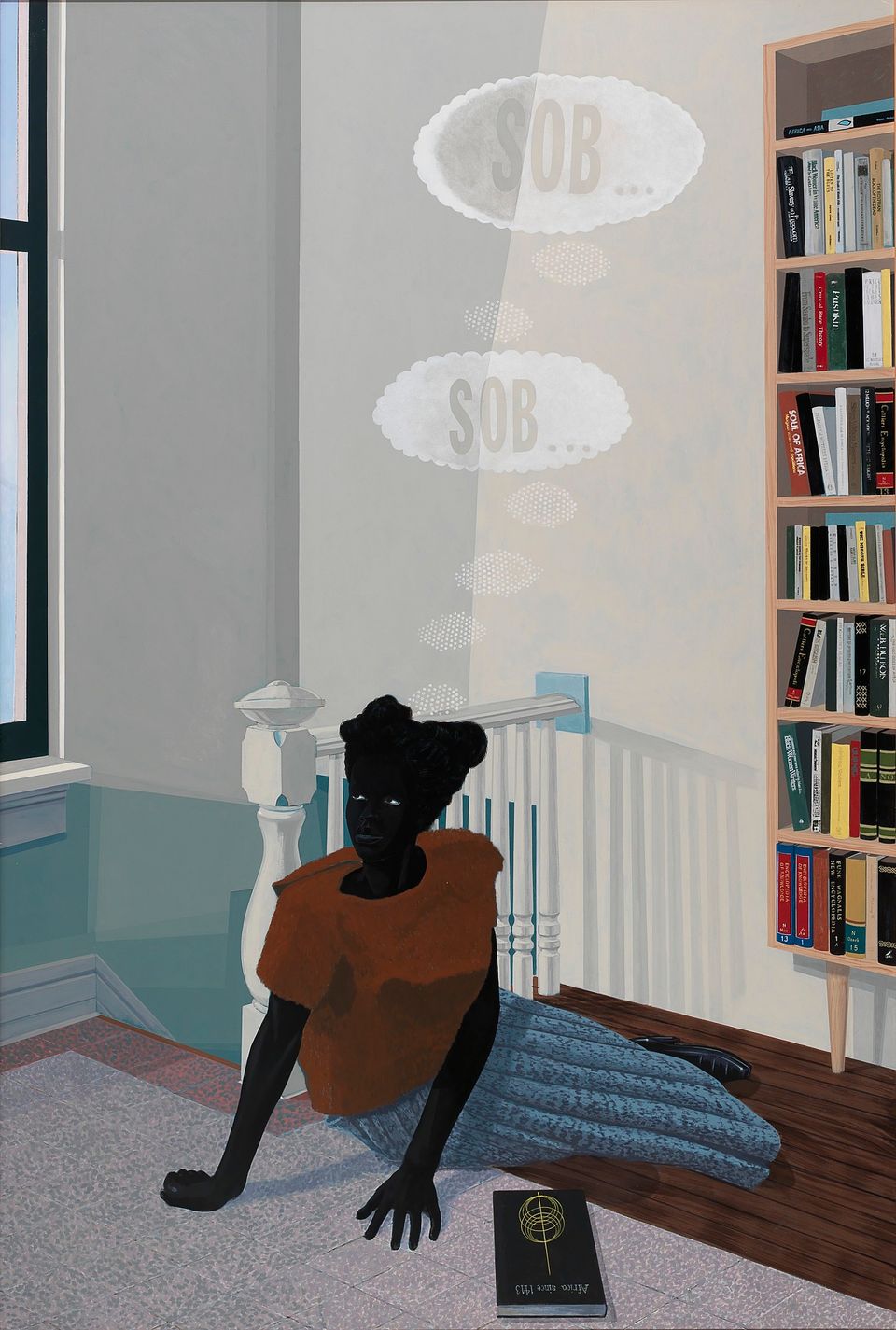 Copied
Kerry James Marshall,
SOB, SOB
, 2003, acrylic on fiberglass,
108
x
72
in. (
274
.
3
x
182
.
9
cm), Smithsonian American Art Museum, Museum purchase through the Luisita L. and Franz H. Denghausen Endowment, 2010.29, © 2003, Kerry James Marshall
Title

SOB, SOB

Artist

Location

Dimensions

108

x

72

in. (

274

.

3

x

182

.

9

cm)

Copyright

© 2003, Kerry James Marshall

Credit Line

Museum purchase through the Luisita L. and Franz H. Denghausen Endowment

Mediums Description

acrylic on fiberglass

Classifications

Highlights

Keywords

Figure female
African American
Architecture Interior
Object — written matter — book
Object — letter

Object Number

2010.29
What might this woman be thinking and feeling? Her facial expression, along with the thought bubbles "SOB... SOB...," hints at what artist Kerry James Marshall calls "that place in between where you experience both a certain sadness and also a certain kind of anger about the things that you've discovered."
The book
Africa since 1413
sits beside her, and the shelf behind her includes works by prominent Black writers and history volumes on Africa and the African diaspora.
SOB, SOB
is an example of Marshall's signature style: monumental paintings with Black figures as their central subject. His work counters the exclusionary narratives in art history and art museums that push Black figures to the margins or off the canvas entirely.
New Acquisition Label
Kerry James Marshall is one of the leading contemporary painters of his generation. Over the past twenty-five years, he has become internationally known for monumental images of African American history and culture. Marshall attributes his interest in these subjects to the geography of his upbringing. Born in Birmingham, Alabama just as the bus boycotts were beginning, the artist and his family moved to the Watts neighborhood of Los Angeles, in 1963 (two years before the race riots) and finally settled in South Central Los Angeles at the height of the civil rights movement. The experience of growing up at the epicenter of socio-political change has yielded a body of work deeply rooted in personal biography and historical detail.
SOB, SOB evokes Marshall's intellectual journey over the last fifty years beginning with his boyhood visits to the local library. According to the artist, by the third and fourth grades he knew "every single art book in the library," and by the seventh grade he was taking summer classes at the Otis Art Institute. SOB, SOB reflects this thirst for information. It is a painting about the accumulation and dissemination of knowledge, and relates closely to Marshall's ongoing exploration of African American history.
The painting depicts a female figure seated in front of a tall shelf of African history books. A volume titled Africa since 1413 lies at her feet as she gazes into the sunlit interior. It's unclear whether her contemplative gaze is one of wistful longing for a pre-colonial past or anguish over the transformation of the African continent that began in 1413 with European expeditionary missions. A thought bubble floating above the girl's head further complicates this emotional ambiguity. The text can be read as either a cry of despair or a pointed expression of anger.
Painted in 2003, SOB, SOB marks a pivotal moment in Marshall's career as one of the first paintings to address the idea of black aesthetics. The term "black aesthetics" first emerged in the early 1960s as a means of promoting racial equality and fostering black cultural pride. Writers, musicians, and visual artists of the period imbued their work with the tones and textures of African American heritage to create a unique form of expression. Marshall's own exploration of black aesthetics grows out of previous paintings like The Garden Project series (1995), which focused on the failed utopia of urban renewal through federal housing projects. SOB, SOB not only represents a new conceptual direction for Marshall, but also a stylistic shift from the glitter-encrusted Souvenir paintings (1998–2002) that commemorate cultural heroes of the civil rights era. In contrast, SOB, SOB presents a spare interior space very different from these earlier works. Here we see Marshall at his most serious and technically refined, meditating on the events that have shaped the lives of African Americans today.
Smithsonian American Art Museum, 2010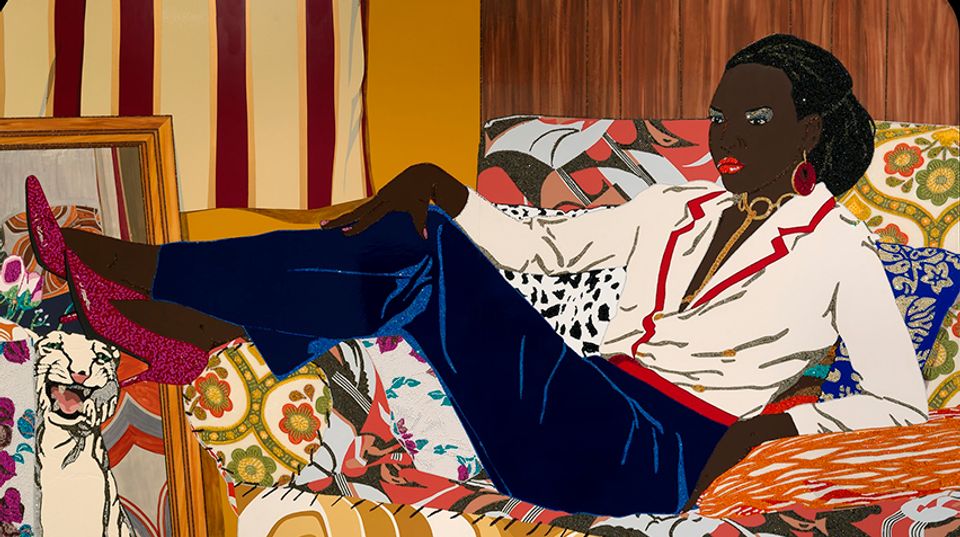 Hear Black artists speak about their life and work in a selection of videos