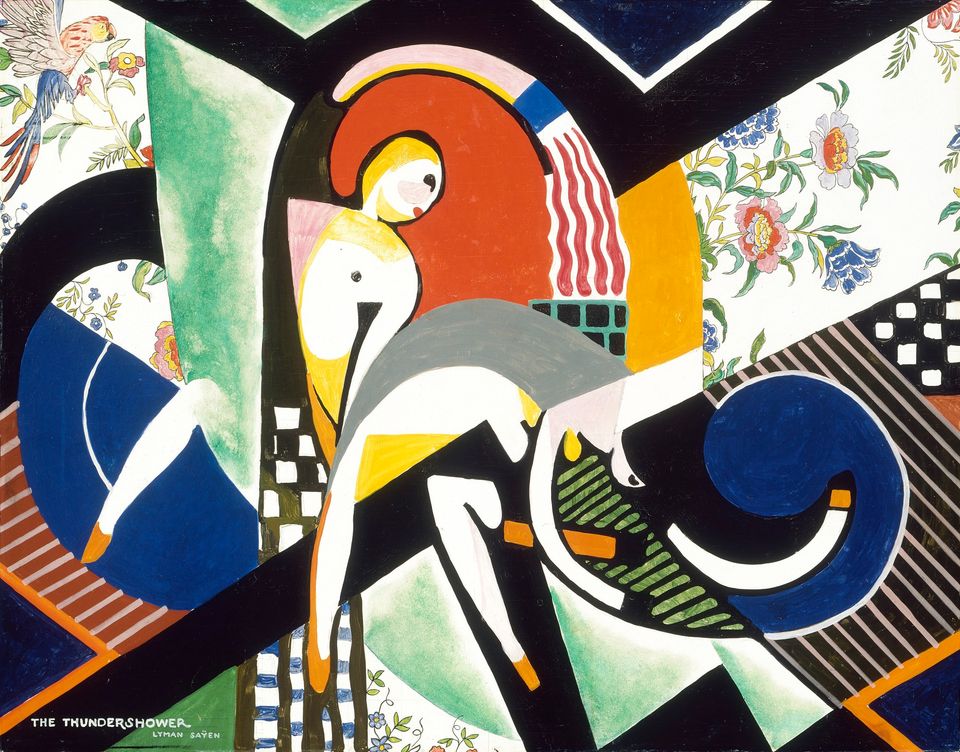 Copied
H. Lyman Saÿen,
The Thundershower
, ca. 1917-1918, tempera on wood, Smithsonian American Art Museum, Gift of H. Lyman Sayen to his nation, 1967.6.19
Title

The Thundershower

Artist

Location

Dimensions

36

x

46

in. (

91

.

4

x

116

.

8

cm.)

Credit Line

Gift of H. Lyman Sayen to his nation

Mediums

Mediums Description

tempera on wood

Classifications

Keywords

Abstract
Figure female
Allegory — other — nature
Landscape — weather — shower

Object Number

1967.6.19
Saÿen studied with Matisse in Paris and was among the first to bring modern art into Philadelphia's conservative culture. He created
The Thundershower
from a mix of European modernism and Native American decorative patterns. But this painting is not just "cross-cultural." It also marks a transition from an older world to a new and dynamic century. The two figures move through time and space like the frames of a filmstrip, and organic forms meld with angles and arcs of pure color. Before he began to paint, Saÿen was an electrical engineer who held patents for radiological instruments. He died on the threshold of the Machine Age, shortly after completing this work, and
The Thundershower
suggests an artist who was already engaged in a new way of seeing.
Exhibition Label, Smithsonian American Art Museum, 2006