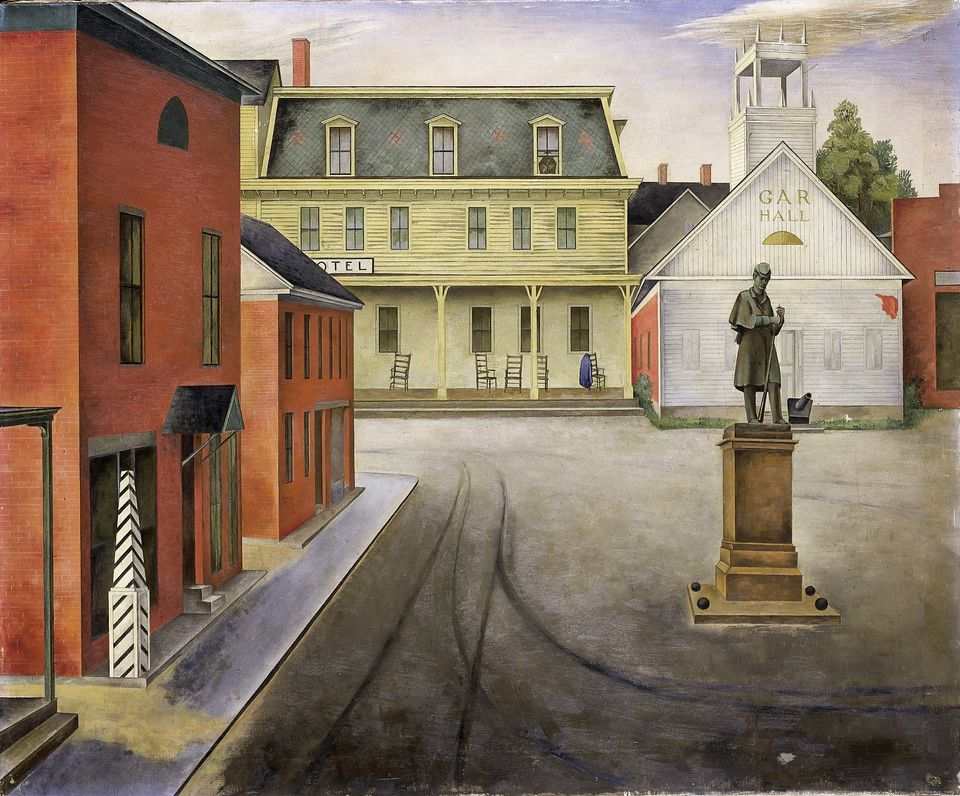 Copied
O. Louis Guglielmi,
Town Square
, ca. 1936-1939, oil on canvas, Smithsonian American Art Museum, Transfer from the General Services Administration, 1985.65.20
Title

Town Square

Artist

Location

Dimensions

30

1

⁄

8

x

36

1

⁄

8

in. (

76

.

5

x

91

.

7

cm.)

Credit Line

Transfer from the General Services Administration

Mediums

Mediums Description

oil on canvas

Classifications

Keywords

Object — weapon — cannon
Architecture Exterior — civic — town hall
Monument — statue
Architecture Exterior — commercial — hotel
Cityscape — town

Object Number

1985.65.20
A single coat thrown over the back of a chair is the only evidence of people or activity in this deserted square. O. Louis Guglielmi painted completely from his imagination, believing that his inner world was just as "real" as the streets and houses outside (Miller and Barr, American Realists and Magic Realists, 1943). Many of his paintings depict families struggling to live through the Depression, but Town Square implies a later, sadder moment when there are no people left. Even the statue gazes downward, as if wondering where all the life has gone.
Luce Object Quote
"I like to evoke the feel of a street, the unseen life hidden by blank walls, its bustle and noise, the mystery of a deserted alley." Guglielmi, "I Hope to Sing Again," Magazine of Art, January 1944