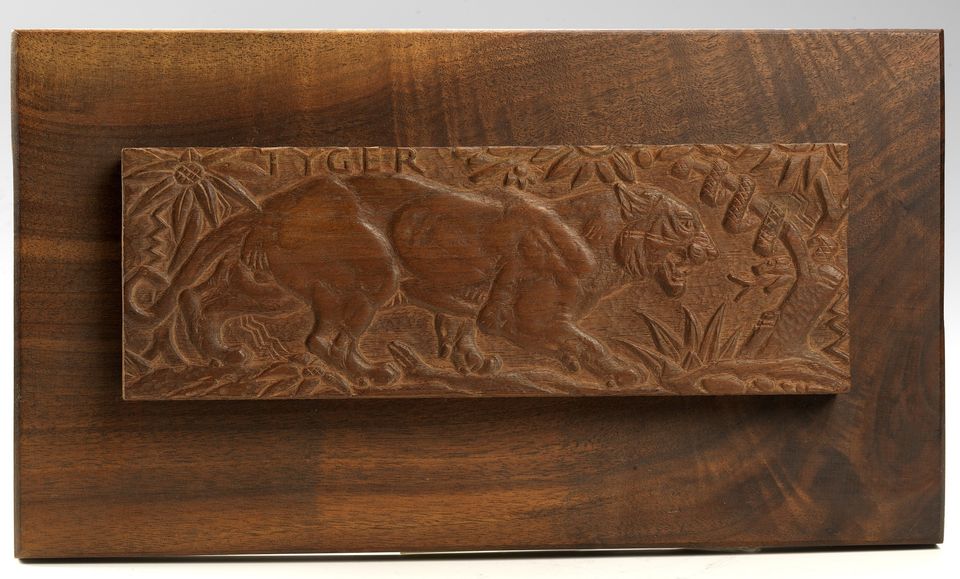 Copied
Bruce Moore,
Tyger
, ca. 1950, wood mounted on wood, Smithsonian American Art Museum, Gift of Mrs. Alice H. Moore, 1984.121.6
Title

Tyger

Artist

Location

Dimensions

8

1

⁄

2

x

15

in. (

21

.

5

x

38

.

1

cm)

Credit Line

Gift of Mrs. Alice H. Moore

Mediums

Mediums Description

wood mounted on wood

Keywords

Animal — tiger
Animal — reptile — snake
Landscape — plant

Object Number

1984.121.6
Bruce Moore had a natural love of animals and was particularly drawn to large jungle cats. His favorite was the tiger, and he would spend hours at the nearest zoo, attempting to capture the forms of these great mammals in motion. His most famous tigers, a pair of ten-foot-long snarling bronzes, can be found at Princeton University, in New Jersey. This sculpture, which shows the tiger lunging at a snake, is one of many the artist made during his lifetime. The unique spelling of "tyger" may have been a reference to the William Blake poem quoted above, which includes the line "Did he who made the Lamb make thee?" It is possible that the poem inspired Moore to create a depiction of the Garden of Eden with a fearsome "Tyger."
Luce Object Quote
"Tyger! Tyger! burning bright In the forests of the night, What immortal hand or eye Could frame thy fearful symmetry?" From William Blake's poem "The Tyger" (from
Songs of Experience,
1794)