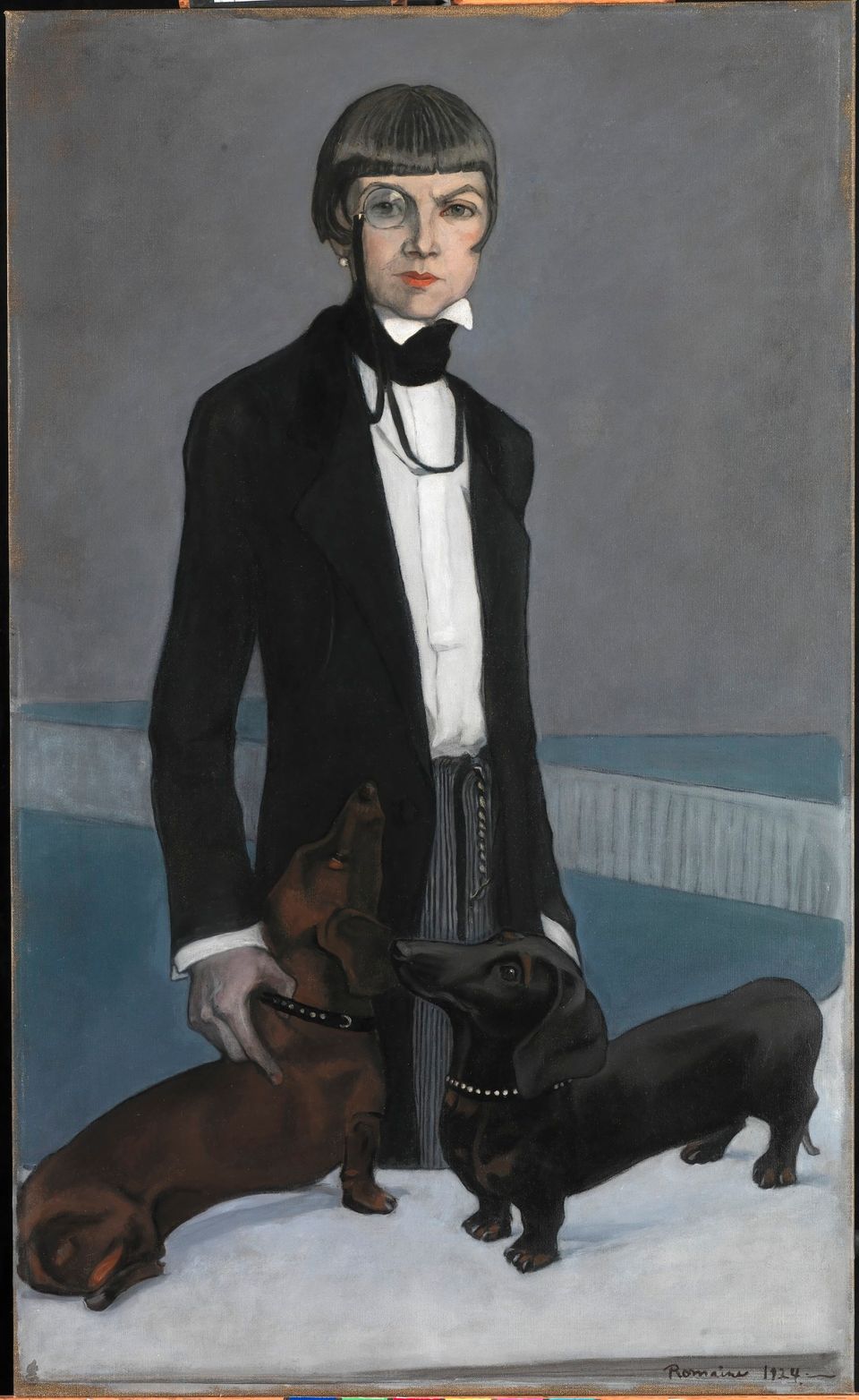 Copied
Romaine Brooks,
Una, Lady Troubridge
, 1924, oil on canvas, Smithsonian American Art Museum, Gift of the artist, 1966.49.6
Title

Una, Lady Troubridge

Artist

Dimensions

50

1

⁄

8

x

30

1

⁄

8

in. (

127

.

3

x

76

.

4

cm.)

Credit Line

Gift of the artist

Mediums

Mediums Description

oil on canvas

Classifications

Keywords

Dress — accessory — eye wear
Occupation — other — aristocrat

Object Number

1966.49.6
Una Troubridge was a British aristocrat, literary translator, and the lover of Radclyffe Hall, author of the 1928 pathbreaking lesbian novel, The Well of Loneliness. Troubridge appears with a sense of formality and importance typical of upper-class portraiture, but with the sitter's prized dachshunds in place of the traditional hunting dog. Troubridge's impeccably tailored clothing, cravat, and bobbed hair convey the fashionable and daring androgyny associated with the so-called new woman. Her monocle suggested multiple symbolic associations to contemporary British audiences: it alluded to Troubridge's upper-class status, her Englishness, her sense of rebellion, and possibly her lesbian identity.
The Art of Romaine Brooks, 2016
Luce Center Label
British sculptor and writer Una, Lady Troubridge (1887-1963) is best remembered for her numerous translations from French and Italian, and is credited with introducing the French novelist Colette to English readers. She also wrote a biography of her longtime partner, Marguerite "John" Radclyffe Hall, author of the 1928 classic The Well of Loneliness. In 1908, Una married Admiral Sir Ernest Thomas Troubridge, but the union ended in 1915, the same year she met Hall.
Hall introduced Troubridge to artist Romaine Brooks, who captured her in this 1924 portrait. The tailored man's morning suit conceals her feminine figure, and her pose suggests absolute control; note how Troubridge grasps one of the dog's collars. Brooks intended the portrait to be a caricature of her friend as a headstrong, demanding woman, and noted in a letter that this was "a sign of the age which may amuse future feminists."