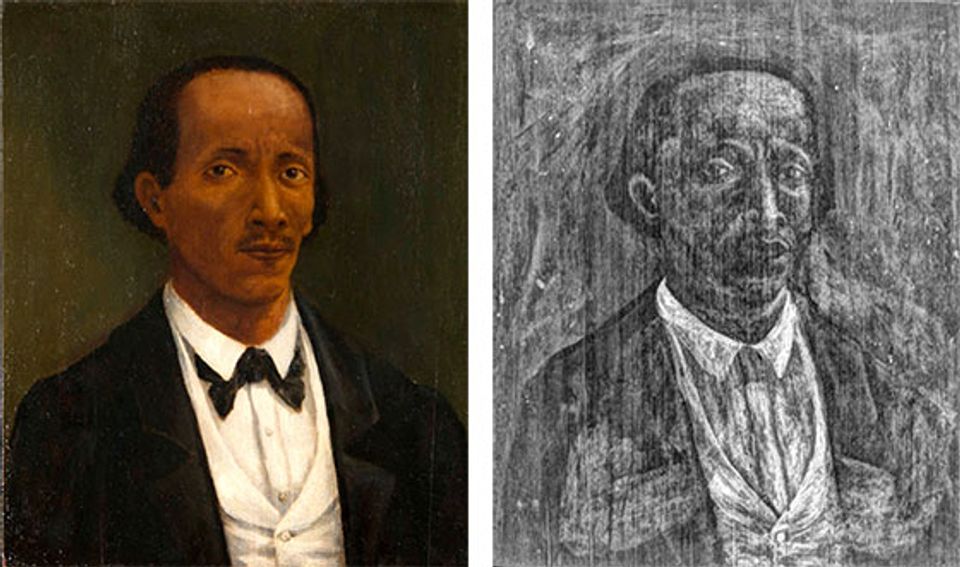 Left: Pio Casimiro Bacener's Autorretrato. Right: X-radiograph of Autorretrato.
Pamela Johnson is a second-year Graduate Fellow in the Winterthur Art Conservation Program at the University of Delaware. She recently completed an eight-week internship in the Lunder Conservation Center's paintings laboratory and specializing in paintings conservation. While at the American Art Museum, Ms. Johnson focused on a number of projects and shares her favorite with us below.
During my eight weeks here at the Lunder, I have gotten to know a number of paintings in the Smithsonian American Art Collection. I have spent the most time, however, staring into the face of Puerto Rican artist, Pio Casimiro Bacener, as I work to conserve his self-portrait, Autorretrato.
Bacener was born in San Juan in 1840 to a mother who was a slave. It is assumed that Bacener was also born into slavery, however by the time he married in 1868, records indicate that he had gained his freedom by unknown means. Bacener was taught by Francisco Oller, a well-known Puerto Rican artist who had studied in Paris among the impressionists, and Oller recorded that Bacener was one of his most outstanding students. Bacener was known to paint landscapes and portraits, as well as create paintings on gourds, make masks and paint faces for carnivals, decorate facades and even inscribe tombstones. In spite of his reported wide array of works, only a few pieces are known to survive today.
Looking through conservation files, I noticed that an x-ray image of the painting had been taken in 1997. The image was difficult to read, but conservators at the time noticed two small arms folded with hands clasped or in a prayer position at the center, and an extra shoulder on the sitter's proper left side, much higher than the current one. This led to hypotheses of a portrait of a child or angel in prayer under the current figure.
To investigate further, we took an updated digital x-ray, which reveals the same indication of a shoulder hovering a couple inches above the current sitter's shoulder as well as the indication of two small arms folded in the area of the sitter's shirt and jacket.
With our curiosity piqued, my American Art colleagues and I collaborated with Keats Webb, an Imaging Specialist at the Smithsonian's Museum Conservation Institute, to look at the painting with infrared reflectography. Whereas x-radiographs can penetrate through the paint to the deepest layers, infrared penetrates less deeply, revealing aspects such as an artist's underdrawing.
Although infrared did not answer all our questions about a potential painting-under-a-painting, it did give us important clues into Bacener's working style. Underdrawing visible in the face revealed careful planning as to the placement of the eyes, eyebrows, nose and hairline. A vertical line visible under the proper right eye indicates that Bacener was likely measuring distances between facial features before he painted them. The mystery shoulder above Bacener's proper left can also be seen, in a more detailed image compiled from multiple smaller images. Above both shoulders, the infrared also reveals scrape marks, perhaps from a previous placement that was later changed.
While the possibility of a mystery figure under Bacener's portrait has yet to be resolved, imaging techniques like x-radiography and infrared reflectography lent us important clues and information on the artist's working method. If there is, in fact, another figure underneath, it was perhaps only thinly sketched, partially completed, or scraped away as marks from the infrared images indicate. What we learned for certain is that the painting we can see, Bacener's own portrayal of himself, was well-planned out and thoughtfully rendered.