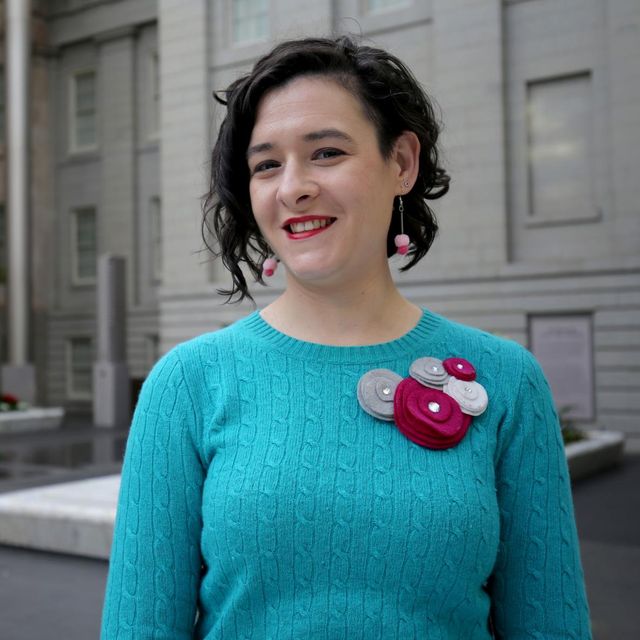 Gloria Kenyon
Public Programs Coordinator
July 22, 2020
July 22 is the 122nd anniversary of artist Alexander Calder's birth. He is known for the variety of sculptures he made, often inspired by nature and movement. Calder enjoyed creating a sense of movement in his work, even if the object itself remained still, like Nenuphar in SAAM's collection. Nenuphar, the sanskrit word for lily, was built at Calder's workshop in France for the 1968 opening of the Smithsonian American Art Museum.Taking inspiration from the flow of his work, you can make your own Calder-like work with materials you likely have at home.
Supplies needed:
Construction paper
Scissors
String or yarn
Hole punch
Dowel rod, clothes hanger, or stick
Determine how many "arms" you want your mobile to have and cut 3 to 4-foot lengths of string/yarn for them.
Cut the construction paper into different shapes. Cut shapes that make you think of movement.
Plan your mobile design and how you want the pieces of paper to be strung together. To make this one, the stick was placed on the floor and the paper was arranged into the design below it.
Punch holes into the tops and bottoms of each piece of paper. For smaller pieces, only punch one hole in the center.
Tie the string/yarn to the stick, then pull through the top of each piece of paper, behind the back and out the bottom, linking all the paper. Tie off the yarn on the end piece.
Hang your mobile and enjoy.