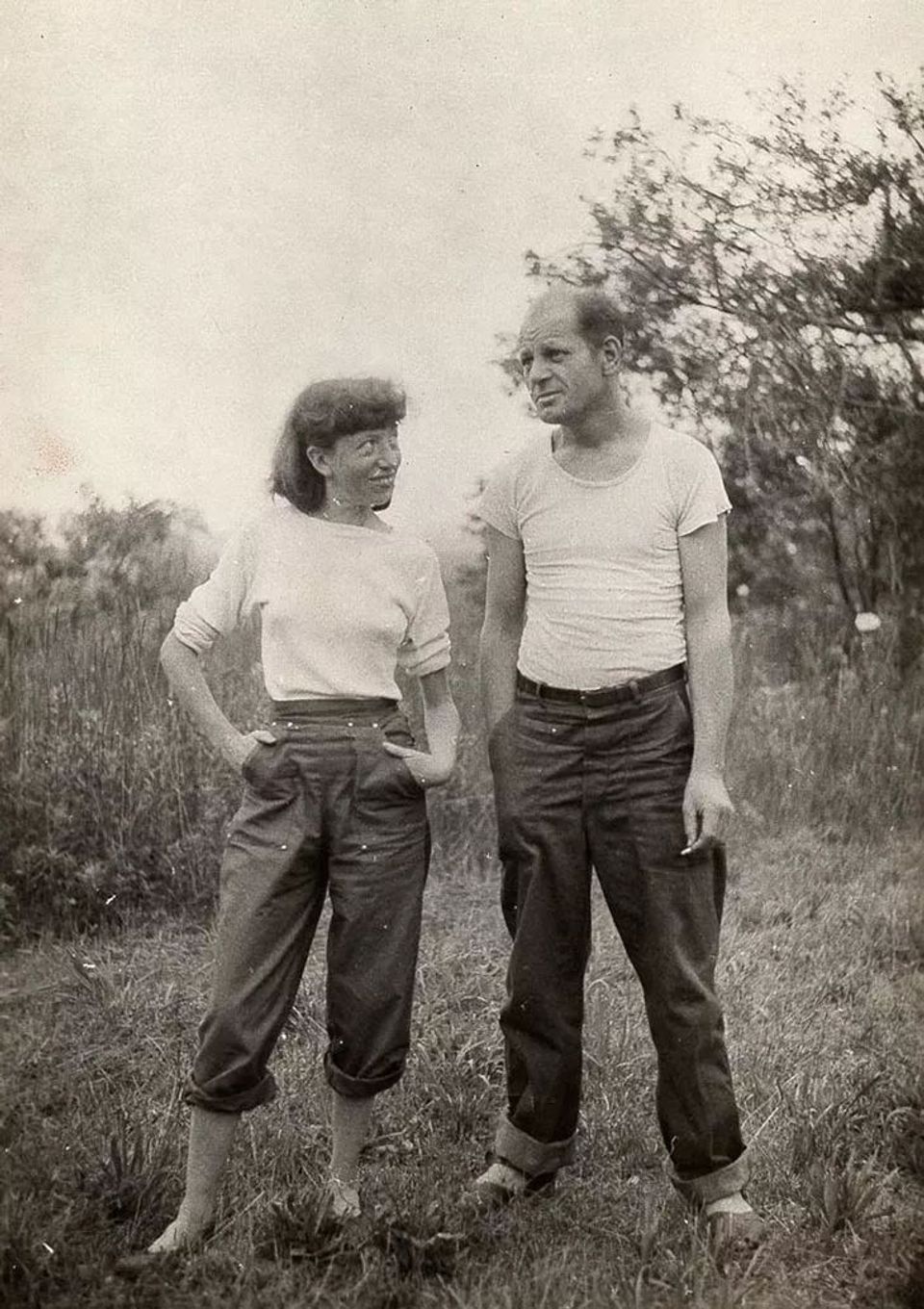 Jackson Pollock and Lee Krasner, ca. 1946.  Photograph by Ronald Stein. Jackson Pollock and Lee Krasner papers, ca. 1905-1984. Archives of American Art, Smithsonian Institution.
One of my all-time favorite stories is a love story between Russian poet Anna Akhmatova and Italian-born painter Amedeo Modigliani. In about 1912 the two were lovers in Paris. One day Akhmatova stopped by Modigliani's studio with flowers, but the artist wasn't in. One by one, she tossed each flower over the transom and into his studio. Later, when he returned, he could not believe that she hadn't been inside because, he told her, "the flowers were perfectly arranged."
Ah, love.
I always wanted to know more stories about artists in love, and now, the Archives of American Art has an exhibition in its Lawrence A. Fleischman Gallery at the Reynolds Center titled A Thousand Kisses: Love Letters from the Archives of American Art. It's a relatively small exhibition, but one that is full of endearing and enduring charm. One of the most surprising notes comes from movie star Hedy Lamarr, who wrote to painter Franz Kline in 1959, "When I first saw one of your paintings . . . I had to sit down because it did something to me."
One of the most heartbreaking is from Lee Krasner to her husband, Jackson Pollock, written in the summer of 1956 when she was in Paris and he was on Long Island. "It would be wonderful to get a note from you . . . The painting hear [sic] is unbelievably bad (How are you Jackson?)." A few weeks later, Pollock was killed in a car crash while Krasner was still in Paris. A beautiful black-and-white photograph of Krasner and Pollock from 1946 (shown here) is installed in the exhibition as an oversized wall image and is so poignant, it can practically stop time. For dramatic prose that may be worth copying into your own Valentine's Day card this year (you did not hear this from me), nothing beats Frida Kahlo's words to her lover, photographer Nickolas Muray, from 1939: "To you, my loveliest Nick, all my heart, blood, and all my being, Frida." She then affixed a hot-pink lipstick kiss next to her signature.
Like Kahlo, many of the artists in the exhibition and accompanying book illustrate their letters with colorful drawings, or in the case of architect Eero Saarinen, with an actual architectural rendering. One of the most charming of such improvisational cards was made in 1996 by Patti Warashina as a valentine to her husband, Robert Sperry. The card features a pinwheel that contains multiple images of herself that affectionately licks her husband's face with every spin of the disc.
Ah, love.
And just in case you thought you needed to settle for the same old thing this Valentine's Day, authors Liza Kirwin (curator of manuscripts at the Smithsonian's Archives of American Art), and Joan Lord (curatorial assistant at the Archives) will be signing copies of the book on February 14, from 12 to 2 p.m. in the Museum bookstore. Trust me, a signed copy of this book is going to last a lot longer than that box of chocolates you were thinking about.