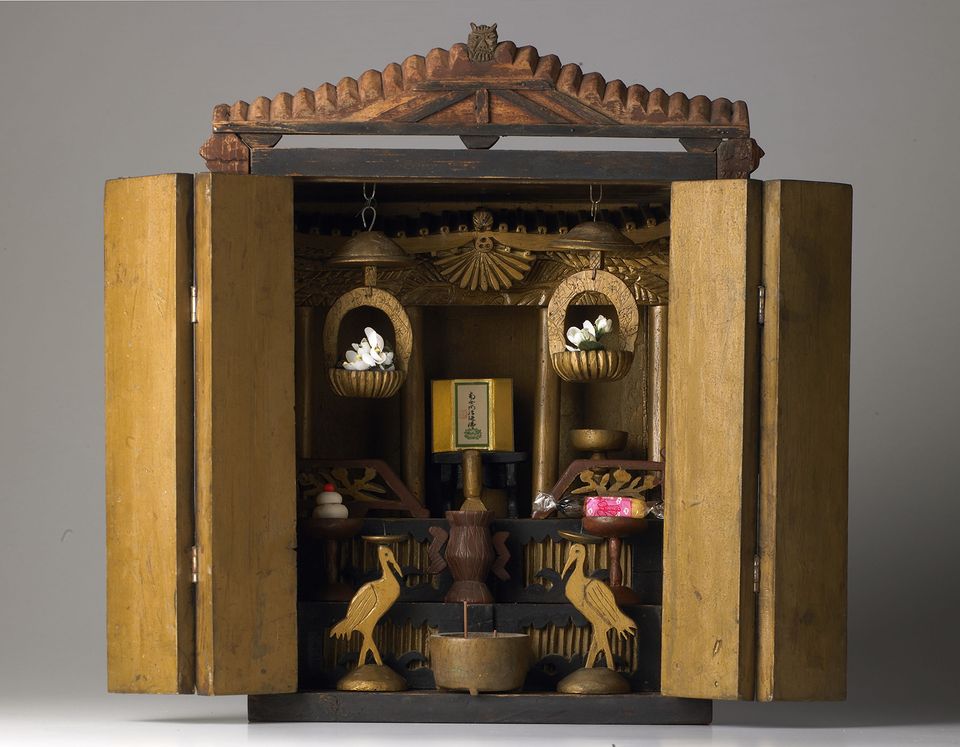 Kichitaro Kawase, Interned at Amache, Colorado, Butsudan, Scrap wood, paint, metal, Collection of Haruo Kawase and Family, ©Photo by Terry Heffernan.
On Sunday, The Art of Gaman: Arts and Crafts from the Japanese American Internment Camps 1942-1946 ends its nearly year long run at the Renwick Gallery. I'm sure I'm not alone in naming this one of my favorite recent exhibitions, and will be sad to see it go. In honor of the exhibition and its closing, Eye Level spoke with the exhibition's curator, Delphine Hirasuna, who is also a writer and a blogger, from her home in the San Francisco Bay Area.
Eye Level: During the course of the exhibition we've learned compelling stories of the internees. In the closing week, could you share a story or two from your own family?
Delphine Hirasuna: My parents were living in Fresno, CA, when the war started. At that point, they had been married nearly three years and had one son, who was not quite two, and a dog, named Bobby. They had a vegetable farm. Dad had just bought a new tractor. After Roosevelt signed Executive Order 9066, which gave the army permission to exclude anyone it deemed necessary from the West Coast in the name of military necessity, all ethnic Japanese (two-thirds were American citizens by birth) were given about a week to settle their affairs and report to camp taking only what they could carry. My parents once said that they left just as the crop was ready to harvest, but they had to leave it behind. Dad also had to give away his new tractor. They joined with a few other families in renting storage for their belongings, but someone broke in during their absence and stole anything of value. The saddest story was what happened to Bobby. Apparently their neighbor agreed to take the dog, but as they drove away from the farm, Bobby went chasing after their truck, and the neighbor said he'd stay by the road day after day waiting for them to return. Then one day he was run over by a car. When I was a kid, I'd ask my mom if we could get a dog, and she'd always say, "no, it's too hard." I never knew what she meant, and she never explained. I heard the story about Bobby years later from my uncle.
My parents were sent to the internment camp in Jerome, Arkansas, where my older sister was born. Dad was also drafted into the U.S. Army from Jerome and served with the all-Nisei 442nd Regimental Combat Team. Since he was still in Italy when the camps were closed, my mom returned to California by train with my two older siblings (then age 5 and 2). She once mentioned that they had a layover somewhere, but she was afraid of the hostility of locals who were suspicious of ethnic Japanese, so they spent the night in a park rather than look for lodging.
EL: From what I understand, families didn't talk very much or at all about internment. Was it that way with your parents?
DH: My parents were typical of other Nisei (second generation Americans, born in the U.S.) They never talked about the camps, never sat us kids down and told us what they were or what had happened to them. The way I learned about the camps when I was growing up was in passing comments. "We used to have one before camp." "We had to buy a new one after camp." They would mention Jerome and Rohwer (the camp my mother transferred to after my dad went into the Army) also in passing. "We knew them from Jerome." I realize now that my parents and other Nisei didn't talk about the camps with their children because it was too painful to discuss. I think they also didn't want their children to bombard them with questions about civil liberties and constitutional rights for which they had no good answer. After being released from camp, the Nisei needed to get on with their lives, and the only way they could do that was to block out that period and pretend that it hadn't happened. It was really my generation, the generation born after camp, that forced the issue, demanded to know why they weren't outraged, demanded that they seek redress and an apology from the government—the Civil Liberties Act was finally passed in 1988.
EL: What was your reaction when you first found the bird pins (and other objects) in your parents garage?
DH: About a month or two after my mom died I was prowling around my parents' garage looking for who knows what and I found this dusty wooden box tucked in a nook in the back of the garage. When I opened it, I was surprised to find that it contained old trinkets. In addition to the bird pin made in camp, there was a shell brooch, also made in camp, and a bunch of souvenir-type jewelry that had to have been picked up by Dad when he was serving in Italy. There was a cameo, a few silver pins in the shape of Venetian gondolas, and such. Given what was inside, I concluded that all of the contents must have been collected during the war years. At the time, I wasn't thinking of writing a book on internment camp art—and certainly not about organizing an art exhibition. I just found the objects intriguing. They gave me a glimpse of my parents's lives before I was born. I liked the bird pin, so I took it, and started wearing it. That's when the designer (Kit Hinrichs) who designed my book saw it, and asked what else had been made in camp, and suggested that the subject might make an interesting book. Kit and I have collaborated on several books, mostly on design and typography. For about 15 years, we produced a design magazine called "@Issue: Journal of Business and Design," which has now been turned into a blog So, deciding to write a book on internment camp arts and crafts was a natural extension of our interests.
EL: What was the most surprising or amazing thing (or two or three) you learned from the exhibition?
DH: The exhibition at the Renwick Gallery has been a phenomenal experience on so many levels. When you consider that the Smithsonian is the national museum of the United States, having arts and crafts made by internees from scrap and found materials showcased there is a tremendous honor. It is acknowledgment that the internment camps existed in the first place and recognition of Japanese American internees as individuals. That is no small thing. Even into the late 1970s, high school textbooks made no mention of the internment camps—or if they did, it was one sentence. As a result, even in the U.S., many people do not know about the camps and if they do, they do not know that 90% of all ethnic Japanese living in the U.S. were forced into camps for the duration of the war. Also, two-thirds of those sent into camp were American citizens by birth (the first generation were not allowed to become citizens). In reading the visitors comment books, I'm struck by the number of people who wrote that they were not aware of the camps before coming to the show.
The other wonderful outcome of this exhibition is the response from the Japanese American community. For one, a lot of people have looked in their own garages and attics and discovered that their elders had stashed away things that they had made in camp. I've been shown amazingly beautiful objects. The objects have also prompted a dialogue between generations. Last summer I went to a Japanese American summer school program that adopted the theme "Art of Gaman." The children tried their hand at making things from scrap and were assigned to interview their grandparents and write a report about what the internment camp was like for them. What I am seeing is that the objects are "safe ground" for starting a conversation within families and within the Japanese American community. While people wouldn't just talk about the camps, they will talk about the shell pins or wood carvings made by grandparents and that leads into a larger discussion about their own experience and why it is so important to protect the civil liberties of all Americans.
Raising consciousness of the internment camps of World War II in a non-accusatory manner is a way to bring this sad episode in American history out into the open and to understand how it happened. As well, it helps insure that it never happens again. The exhibition at the Renwick has been cathartic and educational. When I look at the amazing things the internees made, I am uplifted. Instead of tears and anger, all that remains of that terrible experience, all that our elders left us are things of beauty that speak to perseverance, hope, and courage. That's pretty wonderful, isn't it?
EL: Yes. It also speaks to the role of art in our lives.
DH: One thing I keep mulling over is the role of art in boosting the human spirit. Many if not most of these people had lost everything; they had been imprisoned behind barbed wire for 3–4 years; they had been deprived of their civil liberties even though they were American citizens; they had no formal art training (for the most part); they had to work largely with found materials and scrap and even fashion their own tools. Yet, they sought solace in art. It gave them purpose. It tapped into something that they could "own" —their own imagination and their own self-expression. The larger meaning of what and why they did what they did fascinates me.
EL: Thank you, Delphine, for the wonderful exhibition.
The Art of Gaman is open through Sunday, January 30, 2011 at the Renwick Gallery.