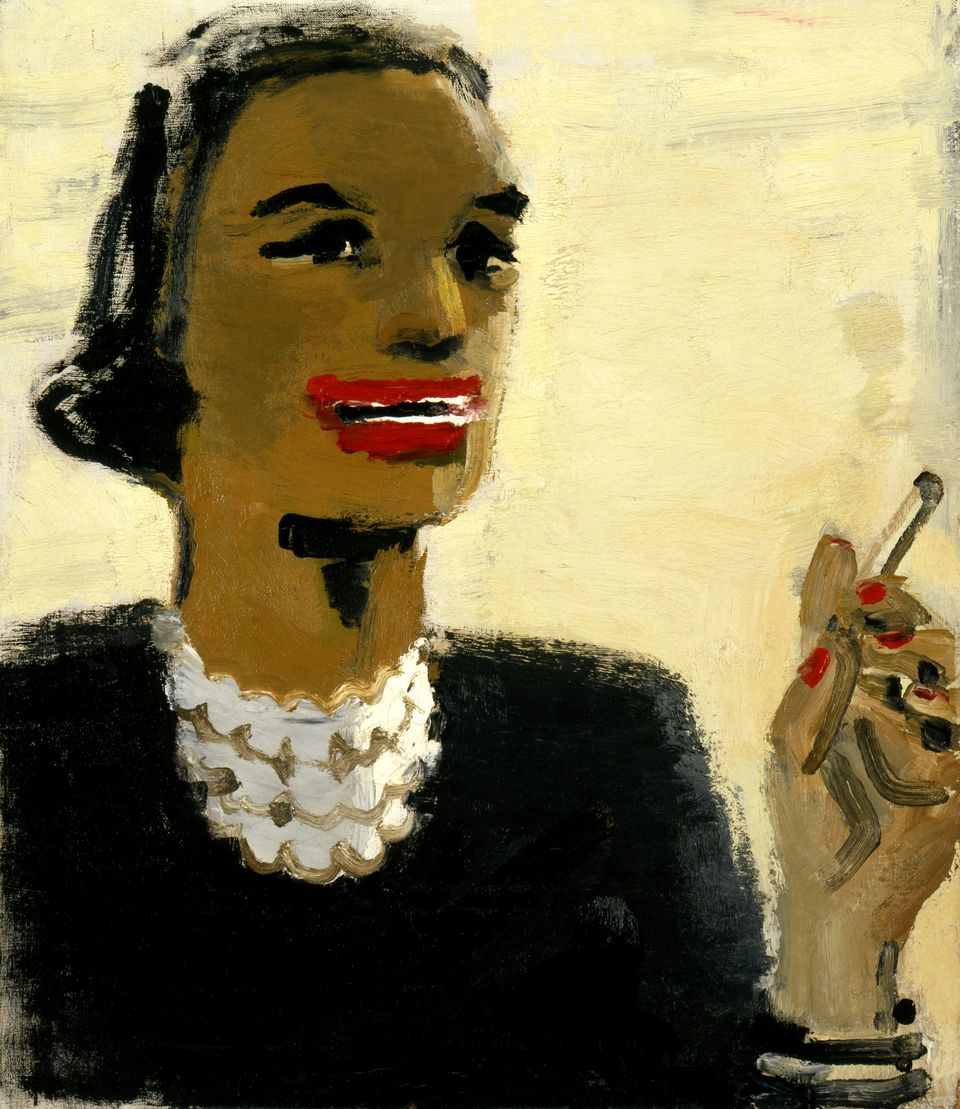 This is the tenth in a series of personal observations about how people experience and explore museums. Take a look at Howard's other blog posts on the subject.
Have you seen this woman?
I caught a glimpse of her the other day and I'm trying to remember where? Was it at one of the holiday parties I went to last month? Was she behind me at the checkout in Whole Foods (artichoke hearts, red wine, dark chocolate)? Actually, none of the above, but she looks so familiar. When I was a kid I had a few aunts who would come over to our apartment in Brooklyn and inevitably somebody would light up a cigarette. (Yes, it was bad for them, so don't get any ideas.) Aunt Florence had the red nails and lipstick to match. Aunt Jeanne, like many professional women on their own and working in Manhattan in the 1970s and 1980s, liked to light up once in a while too. It's not so much the smoking I remember, but the lipstick stained cigarette butts they left in the ashtray. Just like those lipstick kisses they gave me that used to smudge my cheeks.
Now, I remember. I saw her at American Art. I don't know if she noticed me, but how could she not? I kept staring and even took my notebook out from my book bag and started scribbling things down. Pretty rude, I know. Apparently, she likes to hang out in the third floor of the museum, in this nifty section devoted to the San Francisco Bay Area's Figurative Art movement from the 1950s and 1960s, that also includes most famously Richard Diebenkorn, as well as two other artists featured in this grouping: Elmer Bischoff and Paul Wonner.
David Park, who painted Woman with Red Mouth in 1954 and 55, died in 1960 at the age of 49. He rejected abstract expressionism and one story describes how he took nearly all of his abstract works to a dump in Berkeley, California. He didn't think the abstract work of the day was "personal enough." This was pretty courageous considering that during this time period, abstract art was all the rage, with the stars of the New York School—people like Pollock and Kline and de Kooning—burning bright. Park's change in direction drew praise from critics, and some of his colleagues who were working in the abstract expressionist mode. Some of Park's friends, including Bischoff and Diebenkorn, chose to follow suit and trade abstract expressionism for representational subjects. And so a movement was born, with formal recognition in 1957 when the Oakland Museum of Art presented the groundbreaking exhibition, Contemporary Bay Area Figurative Painting.
Next up, a closer look at Paul Wonner's Model Drinking Coffee.