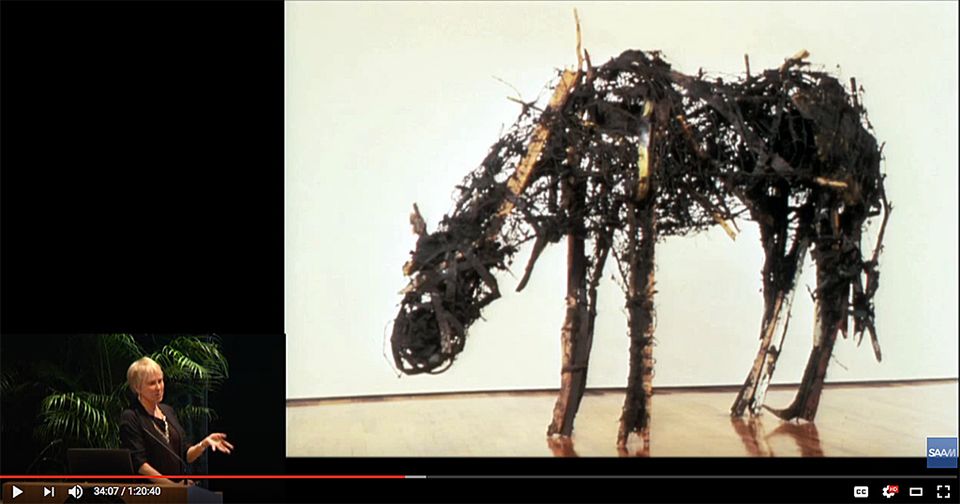 "This is my palette," artist Deborah Butterfield remarked the other night as the image of a field of scrap metal, wood, and found objects was projected onto a nearby screen. It's from these disparate pieces of lead, bronze, or sticks that Butterfield performs her alchemy: transforming the discarded and the everyday into a work of art that has a presence akin to a soul.
Butterfield was speaking to a full house at SAAM's McEvoy Auditorium as the second speaker in this year's Clarice Smith Distinguished Lecture Series. During the course of the evening, she led us through four decades of her work, beginning with artworks created as a grad student at the University of California, Davis, during the era of the Vietnam War, and culminating in a recent work that is a personal response to the tragedies of the earthquake, tsunami, and nuclear meltdown in Fukushima, Japan, in 2011 (Three Sorrows, 2016).
Throughout the talk Butterfield let us in on her love of materiality ("I love stuff. I am fascinated by how different matter hangs together. I love different kinds of metal...") and shared her process of making her horse sculptures, such as Monekana, her bronze steed on SAAM's third floor Lincoln Gallery. Butterfield begins by creating the shape of a horse body in materials such as sticks, steel, or bronze on the floor of her studio. She then welds the pieces together. The horse shape gets lifted by a crane, and then pieces are welded for the front and hind legs. Then, the transformation happens. This rectangular shape becomes her "canvas." "It's really more like an abstract painting, adding and subtracting until I know who the horse is. And then I add the neck and the head and the tail to personify it. But before that, it's really about what's inside of it."
As a student at Davis, Butterfield studied with artists Wayne Thiebaud, Manuel Neri, and William T. Wiley, all of whom are represented in SAAM's collection. It was Wiley who, early on in Butterfield's career, wrote a poem about her work for a catalogue she shared with us the other evening. It begins:
Who has not loved horses?
Who has not been terrified by horses?
Who has not been drawn by horses
Who has not been ridden, petted, been thrown by horses?
Never? Not even in dreams?
Not ever way back almost before you remember?
You never took a pencil or rode a stick and imagined?
To hear the entire quote and to be drawn into Deborah Butterfield's world, watch the webcast above.
Critic Edward Rothstein, the third and final speaker in this years Clarice Smith series, will deliver his talk in the McEvoy Auditorium, Wednesday, November 2 at 6:30 p.m.