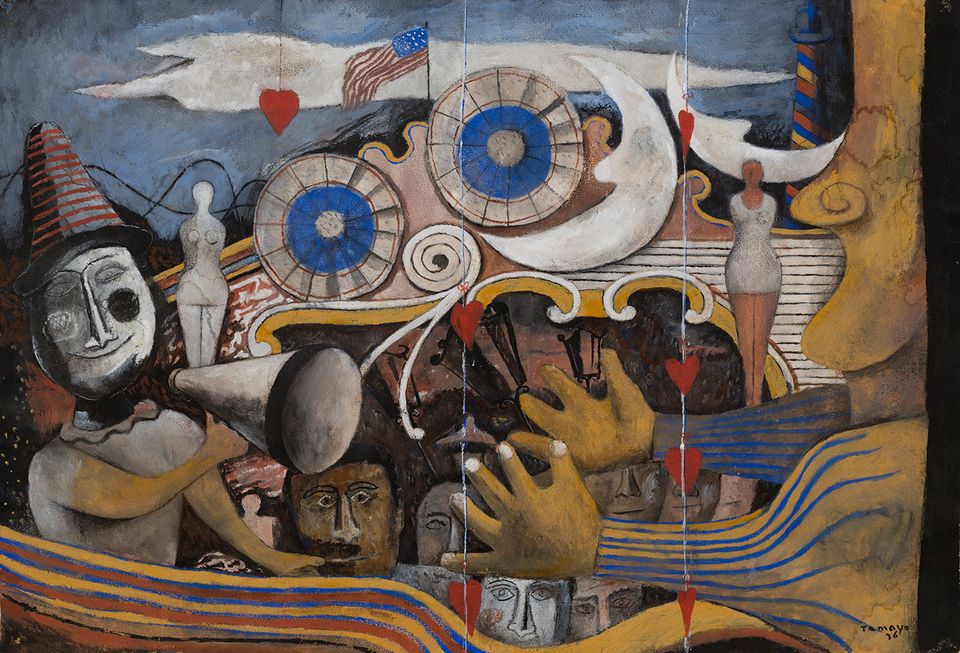 Rufino Tamayo, Carnival [Carnaval], 1936, gouache on paper, 15 x 22 in. Smithsonian American Art Museum, Museum purchase through the Luisita L. and Franz H. Denghausen Endowment, 2017.22 © Tamayo Heirs/Mexico/Licensed by VAGA, New York, NY. Photo by Greg Page/Page One Studio 
New York City sparked Mexican artist Rufino Tamayo's imagination during his early visits in the 1920s and 1930s. At the time, Manhattan was a burgeoning new hub for the art world that welcomed artists from all over and supported cross-cultural exchanges. 
Tamayo also must have hopped the train a few times to Coney Island. That ocean side amusement area at the end of Brooklyn appears in at least three of his works, including Carnival (1936), recently acquired by SAAM. It's currently on view in Tamayo: The New York Years, a new exhibition that features forty-one of the artist's paintings and drawings from his first visits in the 1920s, to his last, in 1949.  In Carnival, Tamayo captured Luna Park, known for its bright electric lights as well as its crescent moon and heart-shaped decorations. The people at the forefront include clowns, barkers, and revelers. Tamayo was attracted to Coney Island in the same way that he was interested in popular entertainments in his native Mexico. Known as carpas, these urban tent shows presented vaudeville acts, acrobatics, and puppet shows, and were were seen as expressions of contemporary Mexican culture. In Coney Island, Tamayo perhaps found a melding of his two homes, New York and Mexico, the new and the old, modernity and tradition.
Tamayo: The New York Years is the first exhibition that examines the cross cultural connections between this Mexican modernist and the American art world. The paintings  trace the development of themes that Tamayo explored and realized in early urban-themed paintings that depicted the modern city to his later dream-like canvases that take contemporary Mexican art in a new direction. He was a master at blending Mexican culture with modernist tropes to create a painting style that was more akin to the energy and abstraction to the New York school of painters than to the literal socio-political statements of the Mexican muralists. 
"Tamayo's New York story is a complex one that reveals how his immersion in the US art world shaped his art and how in turn his presence had ripple effects in the broader art world," said E. Carmen Ramos, the museum's deputy chief curator and curator of Latino art, who organized the exhibition.
Tamayo crossed literal and figurative borders in his artistic pursuits that proved fruitful to the histories of both Mexican and US art in the middle of the twentieth century.
Tamayo Symposium