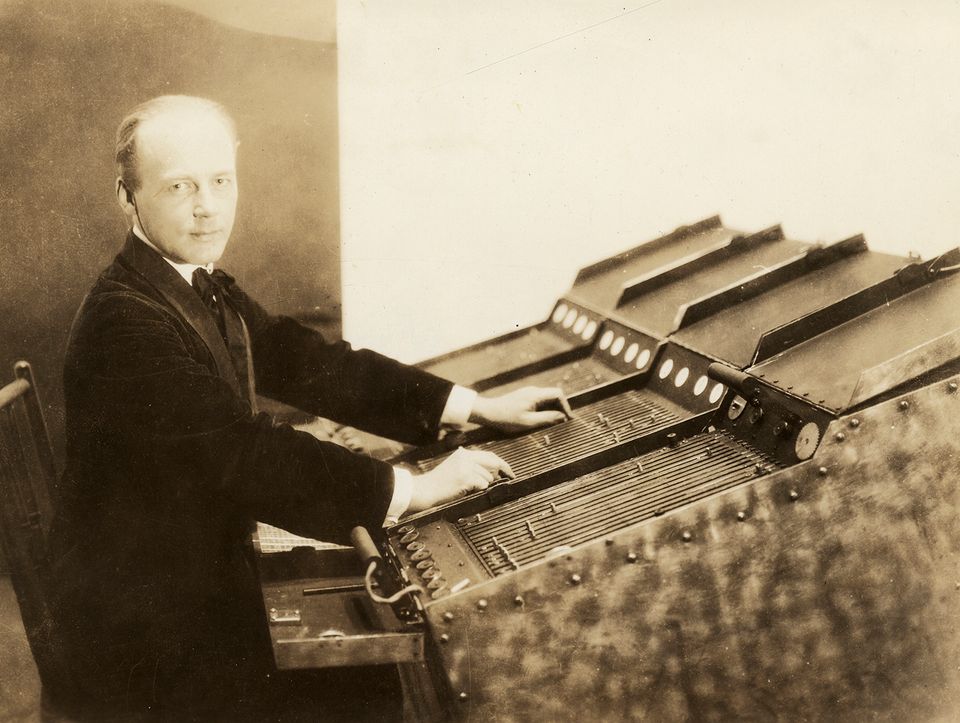 Thomas Wilfred Sitting at the Clavilux "Model E," about 1924. Sepia-toned photograph. Thomas Wilfred Papers, Manuscripts and Archives, Yale University Library, New Haven, Conn.
Beginning in the 1920s and into the next few decades, Thomas Wilfred was something of an art-world star, having fused modern art and pre-digital technology to create his luminous works. Name doesn't ring a bell? That's all about to change. Born in Denmark in 1889, Wilfred pioneered an art of light he described as "radiant form in dark infinite space," and paved the way for future generations of artists such as Nam June Paik, James Turrell, and Leo Villareal to further explore ideas of art and light.
Wilfred invented instruments, such as the organ-like "Clavilux," that produced brilliantly colored displays where the light constantly changed in color and texture before disappearing into darkness. He gave his works thoughtful, intriguing titles such as The Clavilux Silent Visual Carillon, Drop for Overture, and Preliminary Sketch of an Institute of Light, to name a few. Wilfred was so popular that in 1921, the New York Times ran more than seventy stories on him alone. Wilfred was included in the influential 1952 exhibition 15 Americans at the Museum of Modern Art in New York City alongside Jackson Pollock, Mark Rothko, and Clyfford Still.
"This exhibition gives visitors multiple avenues through which to approach Wilfred's work," says Keely Orgeman, the Alice and Allan Kaplan Assistant Curator of American Paintings and Sculpture at Yale University Art Gallery, who organized the exhibition. "It revives his analog form of light art, allowing viewers to study lumia's impact during both Wilfred's own time and today. Simultaneously, it offers a pure aesthetic experience that will resonate with viewers—lumia's slowly unfolding compositions and constantly morphing patterns evoke something different to everyone, whether it be deep space, the Northern Lights, or psychedelic light shows. Whatever we might see, the works transport and transfix us the longer we linger before them."
Beginning October 6, 2017 and remaining on view through January 7, 2018, Lumia: Thomas Wilfred and the Art of Light will feature fifteen of Wilfred's light compositions, shown together for the first time in nearly fifty years. Presented in their original form, after extensive research and reassembly by conservators, Lumia brings Wilfred's avant-garde work to light for a new generation.
On Thursday, October 5 at 6:30 p.m., join us in SAAM's McEvoy Auditorium for "Collecting Lumia," a conversation between exhibition organizer Keely Orgeman and longtime Wilfred collectors Eugene and A.J. Epstein. If you can't make the program, you can watch the webcast.