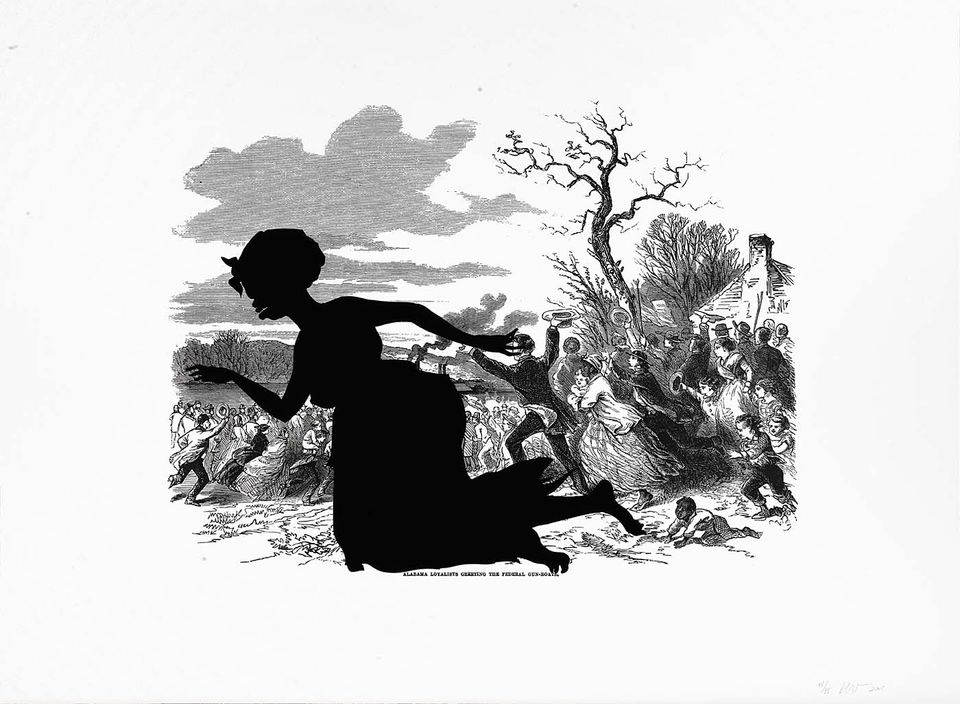 Sarah Newman is The James Dicke Curator of Contemporary Art at SAAM.
For over two decades, African American artist Kara Walker has been making work that weaves together imagery from the antebellum South, the brutality of slavery, and racist stereotypes. Walker, one of the most prominent artists working today, emerged in the mid-1990s with incendiary, provocative works set in the past but that were very much about the present. Her art returns again and again to slavery, which she understands as the country's original sin, and sees as shaping its form and trajectory ever since. She is best known for her use of the cut-paper silhouette, turning the small and genteel 18th-century genre into provocative scenes that challenge the viewer.
Harper's Pictorial History of the Civil War (Annotated) is a series of fifteen prints acquired by SAAM in 2008, based on the two-volume anthology published in 1866. One of the great things about SAAM as an institution is that not only do we have this portfolio of Walker's prints, but we also have the original Harper's volumes that she was working from. In the exhibition, we display them together, so that you can see her source material and get a better sense of her process. This also lets us bring contemporary art and historical work together in a way that makes them more meaningful than they would be on their own.
Walker became famous for room-size tableaux that show the dark underbelly of our national nostalgia for the antebellum South. In stark black and white, her scenes are a dark parade of brutal master-slave narratives. Yet even in their crispness, the details of what is actually going on is unclear and leaves a lot to the imagination. They create a nightmarish vision of violence that can be seen to exist in the shadows of all American history. She revisits these images in her work, often exaggerating racial caricatures and emphasizing the violence perpetrated against African Americans in order to confront the fictions that give rise to stereotypes. The work doesn't explicitly denounce or undercut these views, but instead challenges viewers to confront the discomfort these misrepresentations provoke and the prejudices they unmask.
Walker has always maintained that she is "suspicious about this idea that there is just one authentic black story and that is the only one you are allowed to tell." For her, "the black experience" encompasses many competing and complicated things. And because it has for so long been misrepresented, she plays with the idea of "misrepresenting the misrepresentations."
Revisiting this moment in American history is particularly relevant now, when the stories we tell about the Civil War are front and center in everyone's mind. But as much as Walker's work makes us think about how we understand that period, it also serves to remind us that all history is contested, and that dark shadows lurk everywhere.