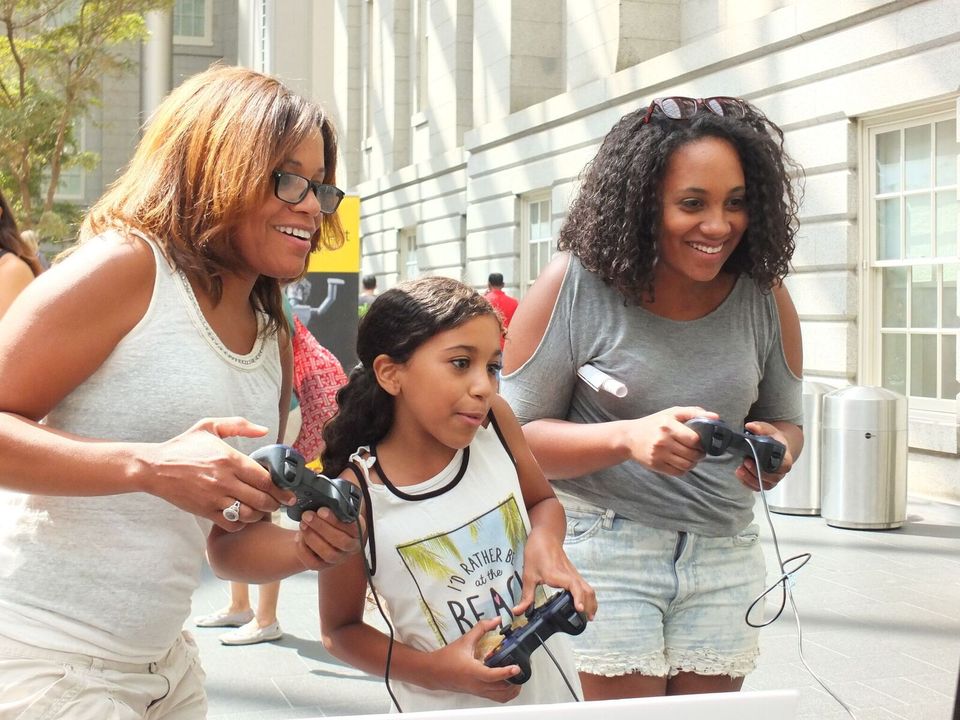 What does "Game Spaces" mean to me?
When we began discussing our plans for this year's Independent Developer Showcase, we knew that we wanted to focus on making a more direct connection between gaming and the experience of being at a museum. Sitting in the Kogod Courtyard, we were inspired by SAAM's incredible architecture and wanted to see games that encouraged the same feeling as a great work of art in a beautiful museum; a connection to the physical space as well as an appreciation of the community created around a great work of art.
With that in mind, we asked the indie developer community to submit games for this year's SAAM Arcade with the theme "Game Spaces." We asked them to think about how their games approached the theme—did they create a social space by encouraging cooperative play? Did they incorporate a unique aesthetic experience into the level design? Were they inspired by another physical or social space that isn't traditionally represented in games? We were rewarded with over 100 incredible games to choose from, with options from specially modified consoles to riffs on retro platformers to card games themed around ancient law codes.
Our time-based media arts curator Saisha Grayson helped us narrow down this amazing pool to the fifteen games you'll see at SAAM Arcade on July 22, 2018. "When we say something is a game, it means we are conceptually bracketing it off from the 'real world' to allow for more freedom, more playfulness, less self-consciousness and different kinds of stakes. So the power or potentiality of 'game space,' to me, is realized when developers take this opportunity to be wildly creative, unbound by the kinds of spaces and physical rules we might feel boxed in by on a daily basis," says Grayson. "I was really impressed by the variety of ways game makers are inventively imagining worlds and new ways of inhabiting them—both on screen and through the social configurations produced through play."
The idea of "Game Spaces" can also be interpreted more literally—as in, the physical space in which a game is played. Card and board games, for example, have a physical element that is changed as the game progresses—so Ian Schreiber and Owen Gottlieb's Lost and Found: Order in the Court - The Party Game, a card game that also taps into the more abstract concept of community as a space, is really exciting combination of ideas. Space can also imply access—some people might ask, "Is there space for me to play?" With Patrick Lemieux's Octopad, we see an adapted console and controllers used to make space for people who are differently abled to play classic video games in a large group setting.
What does the phrase "Game Spaces" mean to you? Come to SAAM Arcade on July 22, 2018 and explore these ideas with us and the amazing independent developers and vendors that make the Arcade possible.