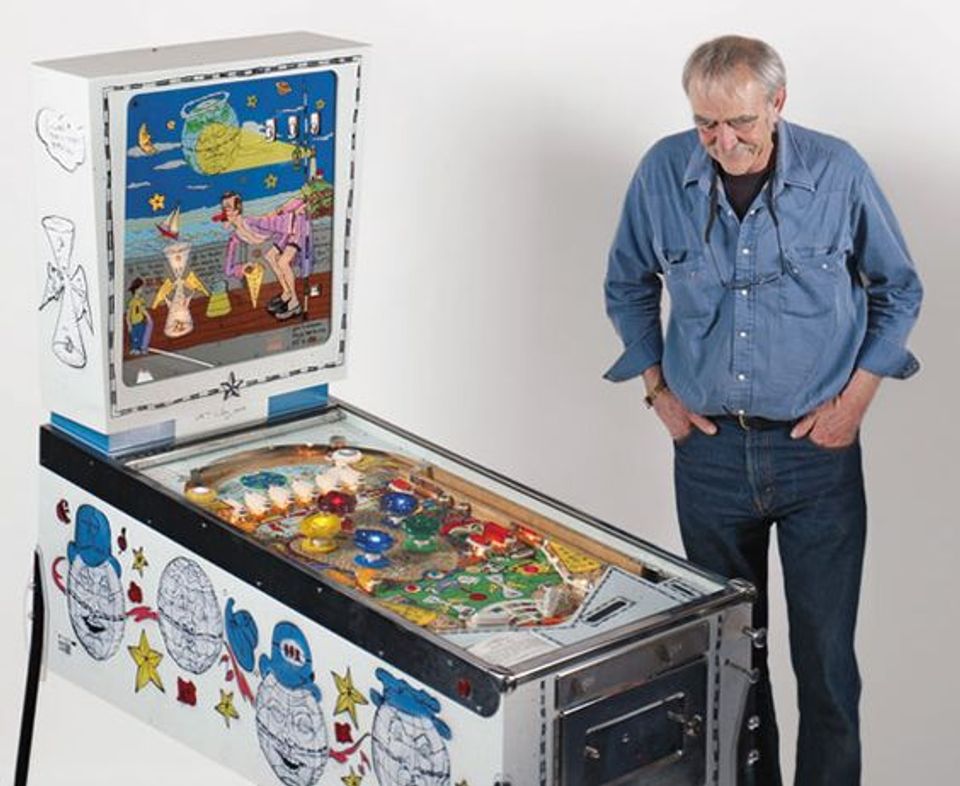 William T. Wiley stands next to his Punball: Only One Earth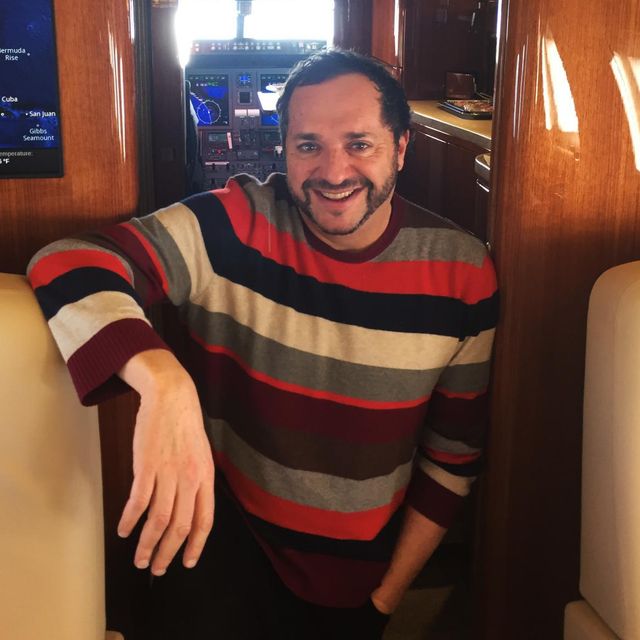 October 13, 2009
"So we'll see what happens when it gets dark," William T. Wiley said after introductory remarks at the McEvoy Auditorium the other night to inaugurate the 2009 Clarice Smith Distinguished Lectures in American Art at the museum, and the lights were dimmed. With his retrospective exhibition, What's It All Mean: William T. Wiley in Retrospect, recently installed at the museum, Wiley spoke, sang, and showed us images of his work (much of it in the exhibition) that often combine the playful and the serious, the macabre and the mundane, the worlds of high art and popular culture, and always with a wry smile. The filled-to-capacity audience was with him all the way.
Wiley is a master of wordplay and covers many of his canvases with text ripe with the double entendre. He also has a wicked sense of humor, so that when he showed us the image of Wayne's World, his homage to another Californian—Wayne Thiebaud—he said, "Garth isn't in there," referring to the old Saturday Night Live skit that shares the same title as the painting. He takes on the perils of the natural world with the watercolor Portrait of Radon, and is always ready to comment in both words and text on the horrors of war, pollution, and nuclear arms and waste. Wiley designed his own environmentally themed pinball machine, Punball: Only One Earth, which is on view in the exhibition and can be played on certain dates.
Wiley also picked up his guitar (and for one song, accompanied himself on harmonica) to sing original compositions. "Blind Mickey's Blues" tells the story of Walt Disney's belief in cryogenics (i.e., keeping part of your dead body frozen until a cure for what killed you is found) from the mouse's point of view, complete with a mouselike falsetto voice.
The most poignant moment of the evening was when Wiley introduced his high school art teacher, Jim McGrath, who made the trip to Washington, DC, from the West Coast. It was McGrath who, about fifty years ago, opened Wiley's eyes to the world of art and the significance of leading the life of an artist. "He was about twenty-three or twenty-four," Wiley said about McGrath, "and he knew that everyone was an artist, he just didn't know what kind. He had a deep understanding about what is best in being human."
Wiley is like an explorer with a copy of Zen Flesh, Zen Bones in one hand, and perhaps a copy of Rachel Carson's Silent Spring in the other. I recommend following him on his journey, wherever it takes you. When he ended his presentation, Wiley said, "Let's open this up to take a few answers. So, if anybody has any answers, please come down." Questions? Answers? What's it all mean? I'm still not sure, but I'm delighted to spend time at the museum to try and figure it all out.