Why does Pride Month matter? Throughout history, LGBTQ+ people have faced discrimination, bullying, and even violence because of who they are. While LGBTQ+ people still face many obstacles today, they have greater rights and freedoms thanks in part to brave leaders like those celebrated during Pride Month. You can learn more in the exhibition from the Smithsonian's National Museum of American History, Illegal to Be You: Gay History Beyond Stonewall.
Visit this page throughout the month for craft activities, coloring pages, video performances, and more as we celebrate Pride. We are inclusive in our celebration and welcome families of all kinds to explore the contributions of LGBTQ+ communities to American art and culture. Show us your creativity! Please share a picture of your completed creations by using #SAAMFamilyZone on social media.
Crafting
Please share a picture of your completed creations by using #SAAMFamilyZone on social media.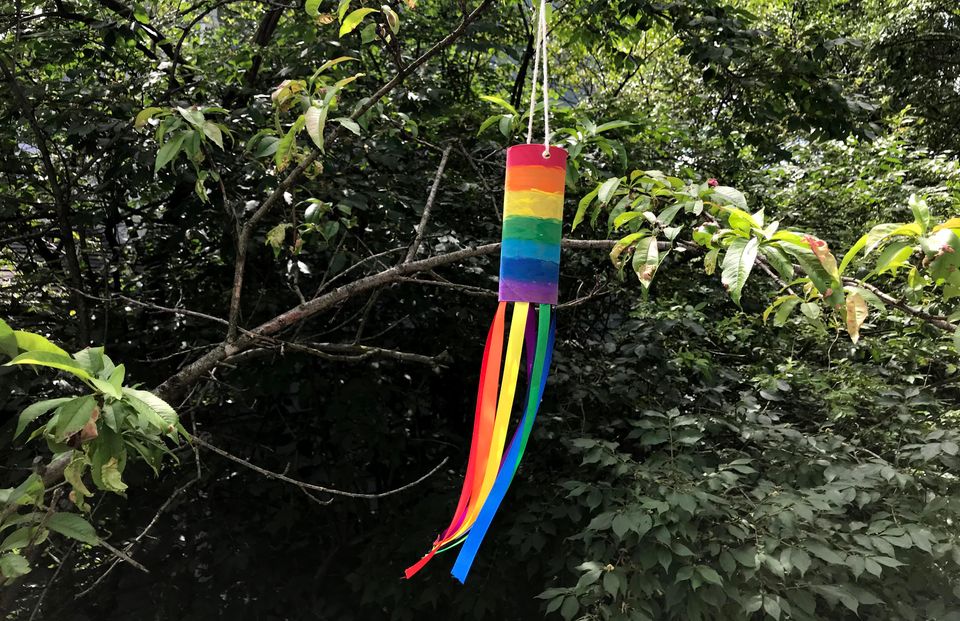 Supplies needed:
Cardboard tube (paper towel or toilet paper works well)
Ribbons, streamers or tissue paper in rainbow colors
Paint
Hole Punch
String
Optional: Gems, glitter, stickers
Instructions:
Paint the cardboard tube and decorate with gems, glitter, or stickers, if you want
If using tissue paper, cut into wide strips. Cut ribbons or streamers to a length slightly longer than your tube.
Glue ribbon, streamers, or tissue paper strips to the inside of one end of the tube in rainbow order (red, orange, yellow, green, blue, purple).
Punch holes on either side of the top of the tube. Pull the string through and tie at the top.
Hang up your windsock.
Rainbow Salad-Spinner Art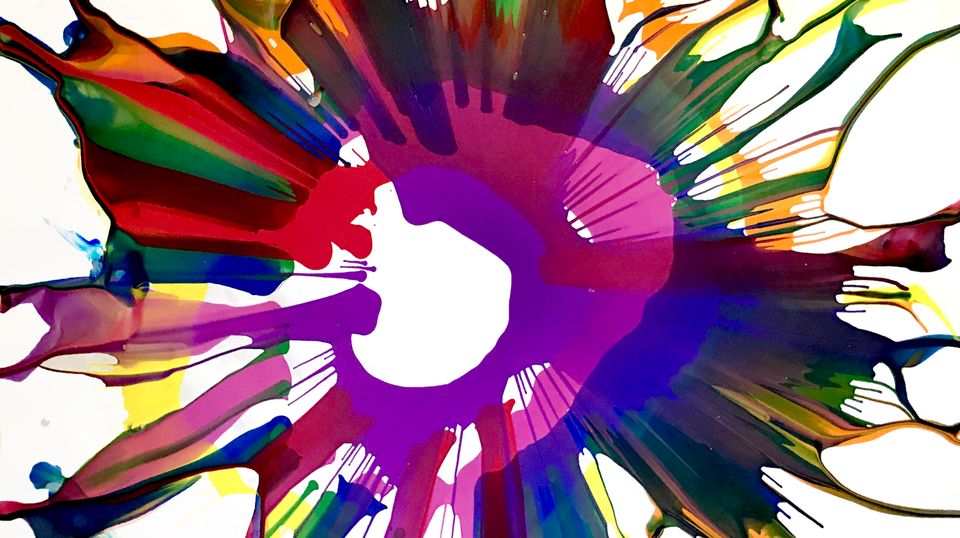 Supplies needed:
Paper
Liquid washable paint
Salad spinner
Instructions:
Place the paper in the center of the salad spinner. You can cut it to fit, or gently press the paper against the sides.
Drip the paint onto the paper in rainbow order (red, orange, yellow, green, blue, purple) in concentric circles.
Put the lid on the salad spinner and press repeatedly—see how fast you can get it!
Let the spinner slow down and help it stop. Take off the lid.
Carefully pull your paper out and let it dry.
Design Your Own Pride Flag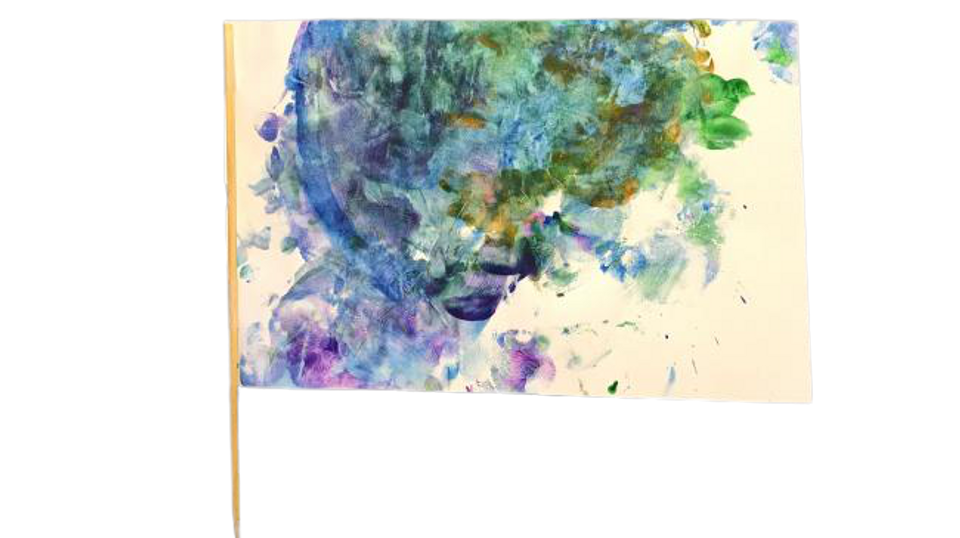 The Rainbow Pride Flag was designed in 1978 by Gilbert Baker to represent the diversity of LGBTQ+ communities. Since then, many other Pride flags have been designed. Create your own flag to celebrate what makes your family different and special.
Supplies needed:
Bamboo skewer or craft stick
Paper
Markers/Crayons
Tape
Instructions:
Design and color a flag for your family. What is special about your family? What are you proud of?
When you're done with your flag tape it to your skewer or craft stick and wave with Pride.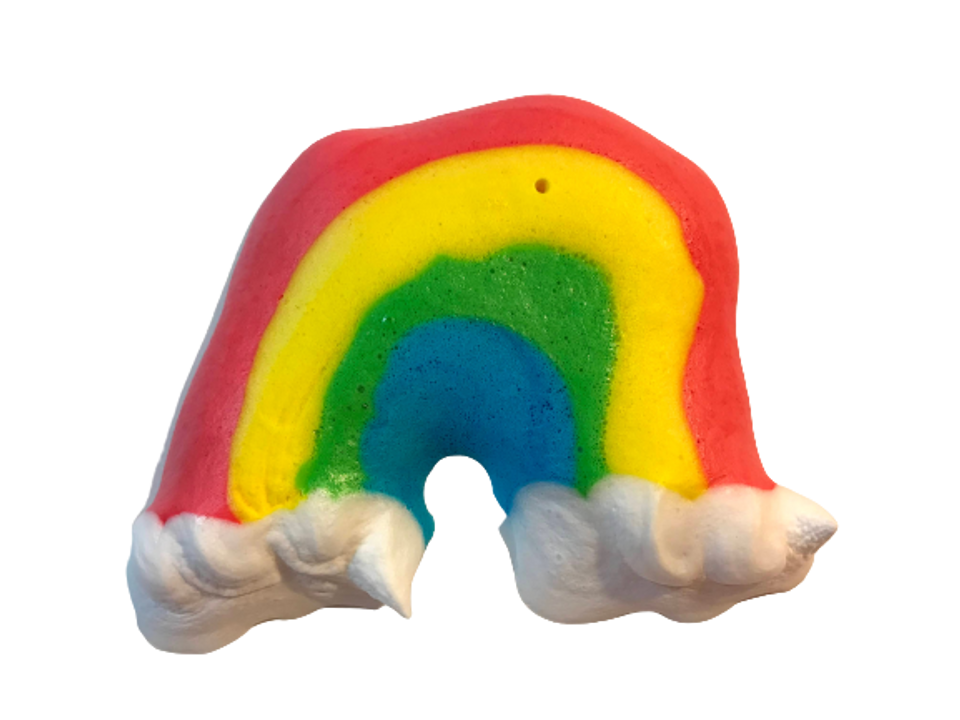 Supplies needed:
Plain shaving cream (not gel)
Liquid white school glue
Food coloring
Containers and small spatula, stick, or spoon for mixing
Heavy paper
Paintbrush, zip top bag, or squeeze bottle
Instructions:
Mix 2 parts shaving cream to 1 part glue (example: 2 cups shaving cream and 1 cup glue).
Divide into different containers for mixing and add food coloring. Mix gently to keep the cream puffy.
If you are using zip top bags or squeeze bottles to spread your puff paint, carefully scoop it into the container to keep it airtight. If using a bag, push paint to one bottom corner and cut off the corner to push the paint out.
Paint on your paper and let dry. Using a brush will flatten the paint a bit while giving it texture. Using a bottle or bag will keep your paint puffy and help to control the lines.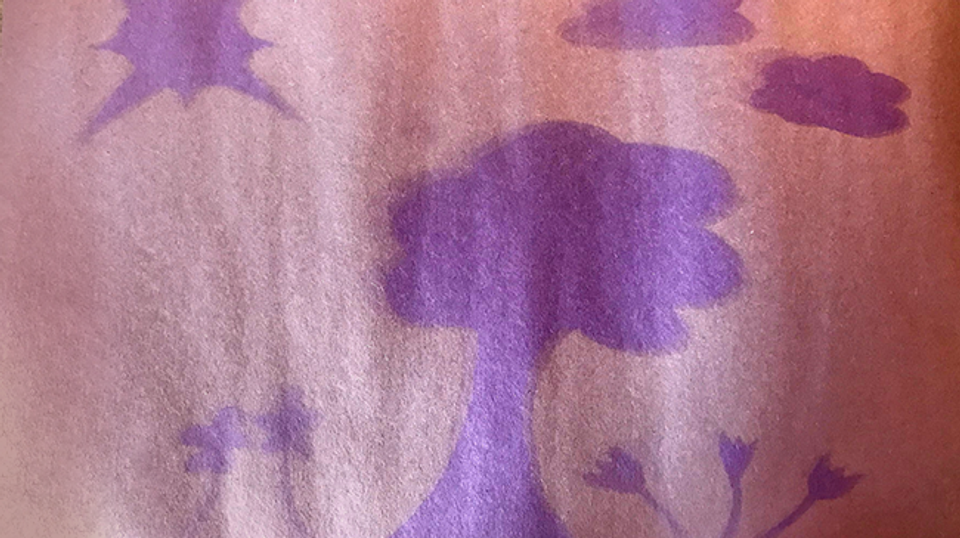 Supplies needed:
Construction paper (do not use fade resistant paper)
Magazines or other heavy paper
Tape
Clear plastic cling film
A sunny day without much wind
Sheet pan (optional)
Instructions:
Plan a design that you will create using cut-outs of a magazine page and that will appear on your construction paper.
Draw your design on the magazine page and cut out the individual pieces.
Lay the cling film over the construction paper and put tape on the back of one side to hold it in place.
If you are using a sheet pan, assemble your creation on the pan.
Lift the cling film off the front and carefully lay the magazine pieces on the construction paper to create your planned design.
Carefully lay the cling film over top of the paper, keeping the magazine cut out pieces in place.
Tape the cling film to itself on the other side to hold it in place.
Carefully carry your artwork to a sunny spot. (This is where the sheet pan is useful)
Leave in the sun for 6 hours, or more if you can. You may have to check on it or move it to full sun as the Earth rotates and the sun's position shifts in the sky.
After 6+ hours, remove the cling film and magazine piece.
You have a sun print!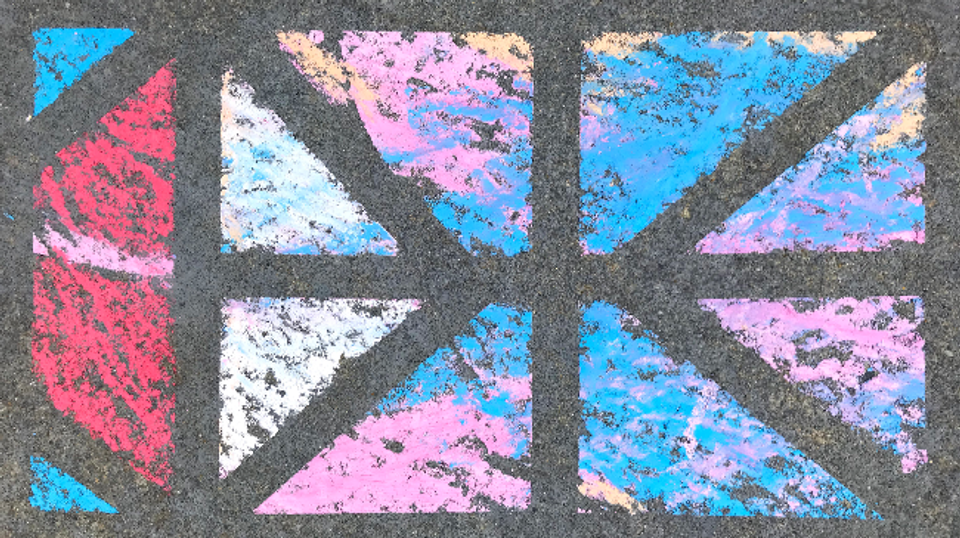 Supplies needed:
Sidewalk chalk
Masking or painters tape
Sidewalk or driveway
Instructions:
On a clean sidewalk or driveway, plan out a design and outline it with the tape.
Color in the design with the chalk.
Blow the chalk residue away.
Carefully lift the tape and admire your "stained glass" sidewalk!
Coloring Pages
Enjoy these coloring pages of artworks by artists who identified as LGBTQ+ from SAAM's collection. Since we can't admire your creativity in person, please share a picture of your completed creations by using #SAAMFamilyZone on social media.
Print these coloring pages or use your favorite coloring app to bring these works to life.
DJ Tezrah
Award-winning DJ Tezrah reigns in her seventh year of DJing in the Washington DC area, specializing in Top 40, electronic dance music, and hip-hop. She is hailed as one of the brightest stars in DC and in the LGBTQ+ community.
DC's Different Drummers
DC's Different Drummers is a LGBTQ+ music organization that fosters pride, inclusivity, and engagement with the greater Washington, D.C. region through music.
In proud celebration of the 2021 Inauguration of President Joe Biden and Vice President Kamala Harris, here is Sousa's "Washington Post March" from coast to coast!
Love... Happens? Always! DC's Different Drummers teams up with Cheer DC, Destiny B. Childs, and Scarlett O'Haira in this hilarious collaboration! How will this all end?!
Watch DC's Different Drummers Marching Band perform "Feel It Still" in a special virtual showcase recorded in 2020.

Watch DC's Different Drummers Marching Band perform "Pompeii" in a special virtual showcase recorded in 2020.

Never a dull moment! It is a wonderful and beautiful morning... or so Diva Donna thinks... Trouble is starting up! Diva is in on the action!
More on the Blog