Vietnam, Past Is Prologue is presented in conjunction with SAAM's major exhibition Artists Respond: American Art and the Vietnam War, 1965-1975, which emphasizes how American artists grappled with the dilemmas of the war as it was unfolding.
Vietnam, Past Is Prologue makes visible a history hidden in plain sight for the past forty-five years. Her subject, the War in Vietnam (1955–1975), has achieved a nearly mythic significance in the United States. In Vietnam, "the War" devastated life as it had been known, dividing time into a "before" and "after." Yet missing from the narratives told by these two sides is the perspective of the South Vietnamese, on whose behalf the Americans entered the war.
Through meticulously drawn and stitched maps, emotional interviews, and intensive archival research, Chung explores the experience of refugees who were part of the large-scale immigration during the post-1975 exodus from Vietnam. She begins with a fine-grained look into one person's story—that of her father, who fought for the South Vietnamese military during the war, widens out to encompass the stories of former refugees from Vietnam, and pulls out further still to show the global effects of their collective migration in the war's wake.
Sarah Newman, the James Dicke Curator of Contemporary Art, organized the exhibition.
March
15
,
2019
 – September
2
,
2019
Open Daily, 11:30 a.m.–7:00 p.m
Free Admission
Tiffany Chung: Vietnam, Past Is Prologue is organized by the Smithsonian American Art Museum with generous support from The Smithsonian American Women's History Initiative, Michael Abrams and Sandra Stewart, Carolyn Small Alper Exhibitions Fund, Aida Alvarez, Maureen and Gene Kim, Jack and Marjorie Rachlin Curatorial Endowment, and the Share Fund. This exhibition received Federal support from the Asian Pacific American Initiatives Pool, administered by the Smithsonian Asian Pacific American Center.

"Here you see the personal and political meet, which is extremely moving."
—Holland Cotter, The New York Times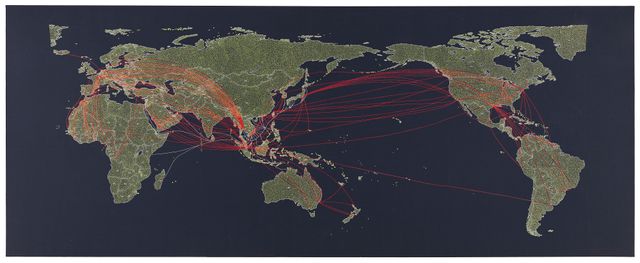 born Da Nang, Viet Nam 1969