George Catlin (1796–1872), a lawyer turned painter, decided in the 1820s that he would make it his life's work to record the life and culture of American Indians living on the Plains. In 1830, Catlin visited Gen. William Clark, governor of the Missouri Territory, superintendent of Indian affairs in St. Louis and famous co-leader of the 1804 expedition with Meriwether Lewis. Clark became Catlin's mentor, showing him his Indian museum, introducing him to the American Fur Trading Co., and taking him to visit Plains tribes. In 1832, Catlin made an epic journey that stretched over 2,000 miles along the upper Missouri River. St. Louis became Catlin's base of operations for the five trips he took between 1830 and 1836, eventually visiting fifty tribes.
Catlin's quest turned into a lifelong obsession that shaped his subsequent travels and the course of his life. In pursuit of his goals, this artist also became an explorer, historian, anthropologist, geologist, collector, journalist, author, lecturer, and promoter. Catlin's dream was to sell his Indian Gallery to the U.S. government so that his life's work would be preserved intact. After several failed attempts to persuade various officials, he toured with it in Europe in the 1840s, where he often featured Native Americans dancing, creating the earliest version of what would later become the Wild West show. Tragically, he was forced to sell the original Indian Gallery due to personal debts in 1852. He then spent the last twenty years of his life trying to re-create his collection.
In 1872, Catlin came to Washington, D.C. at the invitation of Joseph Henry, the first secretary of the Smithsonian. Until his death later that year, Catlin worked in a studio in the Smithsonian's "Castle." A Philadelphia collector's widow donated the original Indian Gallery—more than 500 works—to the Smithsonian in 1879.
George Catlin and His Indian Gallery is presented under the Honorary Patronage of the President of the United States George W. Bush and Mrs. Laura Bush.
September 5, 2002
–
January 20, 2003
Open Daily, 10:00 a.m.–5:30 p.m
Free Admission
The Nelson-Atkins Museum of Art
Kansas City, MO
February 7, 2004
–
April 18, 2004
Autry Museum of Western Heritage
Los Angeles, CA
May 9, 2004
–
August 4, 2004
The Museum of Fine Arts, Houston
Houston, TX
September 19, 2004
–
January 2, 2005
Smithsonian's National Museum of the American Indian, New York
New York, NY
February 26, 2005
–
September 5, 2005
The Smithsonian American Art Museum gratefully acknowledges the generous support provided for the exhibition, publication, Web site, multimedia and education programs provided by The Anschutz Foundation, Joan and Bert Berkley, Helen and Peter Bing, Ann and Tom Cousins, Shelby and Frederick Gans, Thelma and Melvin Lenkin, Paula and Peter Lunder, Betty and Whitney MacMillan, Judith and Charles Moore, Barbro and Bernard Osher, Dinah Seiver, Margaret and Terry Stent, Turner Foundation Inc., National Endowment for the Arts, Smithsonian Research Resources Program, Smithsonian Special Exhibitions Fund, and Smithsonian Women's Committee.
The Museum especially thanks colleagues at the National Museum of the American Indian for their close collaboration and assistance throughout the preparation of George Catlin and His Indian Gallery.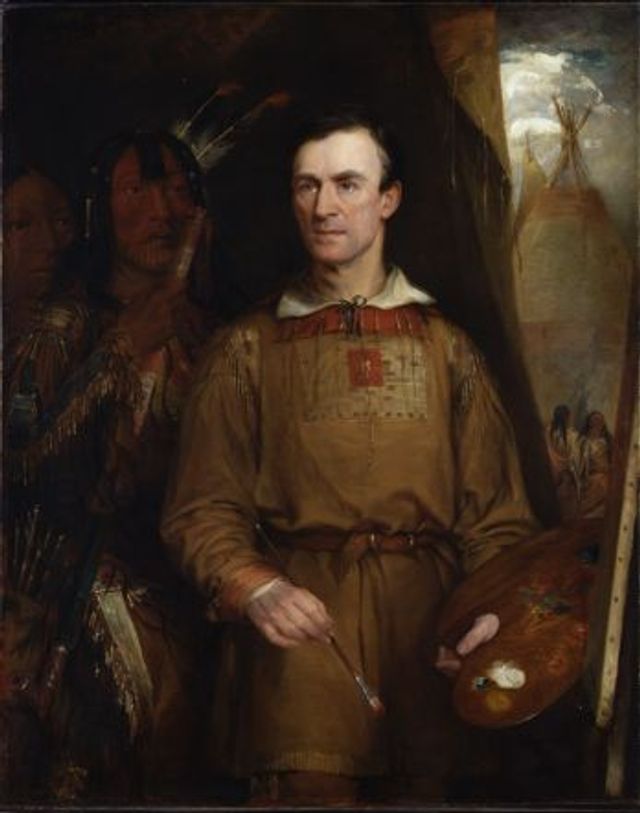 born Wilkes-Barre, PA 1796-died Jersey City, NJ 1872
"If my life be spared, nothing shall stop me from visiting every nation of Indians on the Continent of North America." With these words George Catlin staked his artistic claim.