Artist
George Catlin
born Wilkes-Barre, PA 1796-died Jersey City, NJ 1872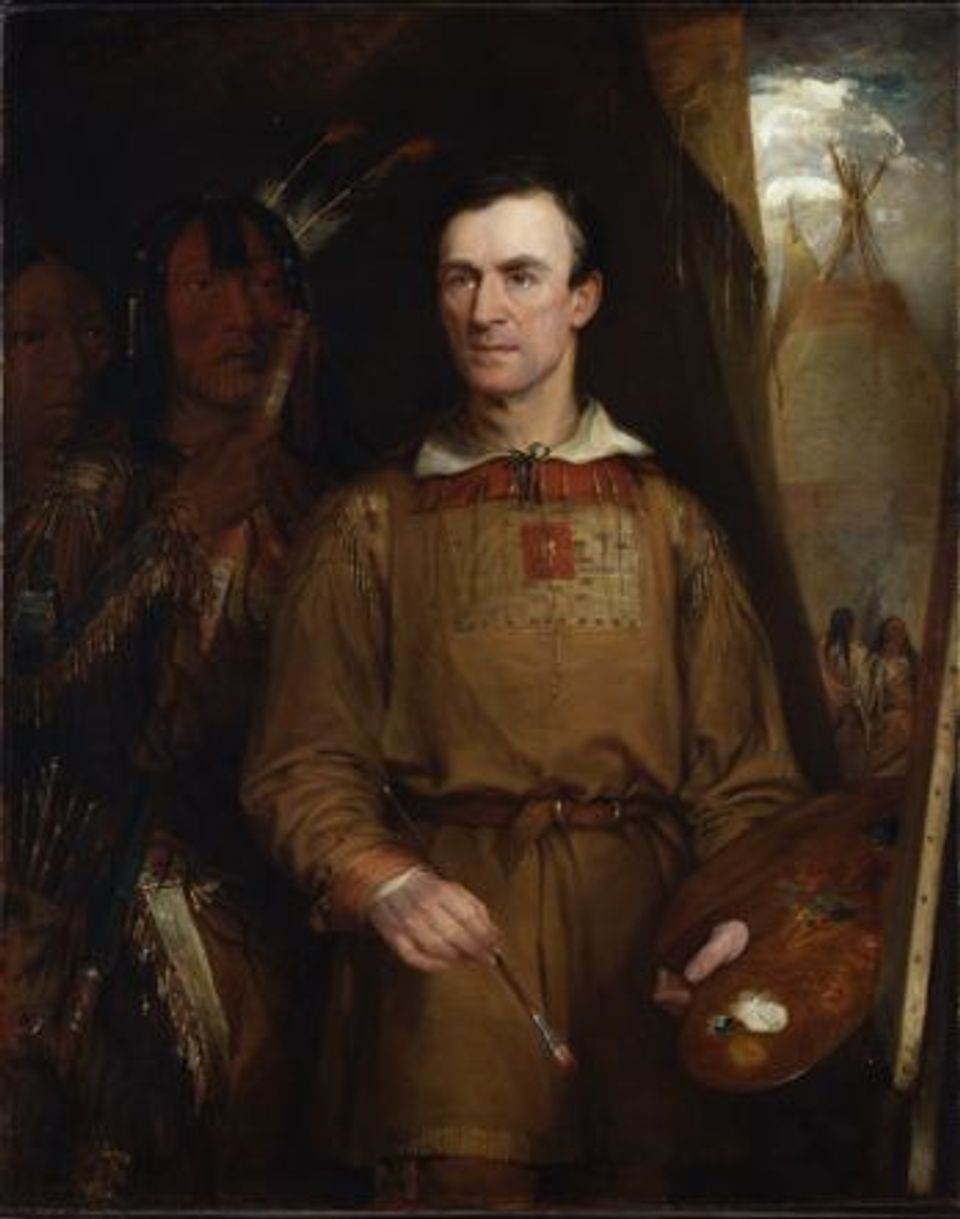 Biography
"If my life be spared, nothing shall stop me from visiting every nation of Indians on the Continent of North America." With these words George Catlin staked his artistic claim. He was the first great painter to travel beyond the Mississippi to paint the Indians, and his Indian Gallery, staggering in its ambition and scope, is one of the wonders of the nineteenth century.
Catlin was just seven years old in 1803 when Thomas Jefferson sent Lewis and Clark on a three-year expedition to explore the newly acquired Louisiana Purchase. In 1830, Catlin made his initial pilgrimage to St. Louis to meet William Clark and learn from him all he could of the western lands he hoped to visit. He would have only a short time to accomplish his goal—to capture with canvas and paint the essence of Indian life and culture. In that same year, the Indian Removal Act commenced the twelve-year action that would remove the remaining Indians from land east of the Mississippi. Within a few years, the Mandan would be decimated by smallpox; with in a few decades, the number of buffalo would drop from millions to a few thousand, and the high prairies would be crosshatched by the plow and the railroad.
When he undertook his first journey, George Catlin turned his back on a first career as a Philadelphia lawyer and a second as a miniaturist. In 1832 he traveled more than 1800 miles up the Missouri River from St. Louis. By the decade's end, he had painted more than 500 portraits, scenes, and landscapes and accumulated an astonishing collection of Indian artifacts. He had exhibited his collection in major American cities, and in 1839 he crossed the Atlantic to display his Indian Gallery in London and eventually Paris and Brussels as well.
Not merely a painter, Catlin also considered himself a scientist, explorer, author, and entrepreneur. While touring with his Gallery, he fell so deeply into debt that he lost almost the entire collection. His compulsion to continue was so strong he re-created more than 400 paintings and undertook further travels to paint 200 additional images covering North and South America. He believed that his Indian Gallery was a national treasure, worthy of preservation by the United States government. Though he did not live to see his wish fulfilled, the original Indian Gallery came to the Smithsonian seven years after his death in 1872.
Brian W. Dippie, et al George Catlin and His Indian Gallery (Washington, D.C., New York, and London: Smithsonian American Art Museum in association with W.W. Norton & Company, 2002)
Luce Artist Biography
A self-taught artist, George Catlin is best remembered for his extensive travels across the American West, recording the lives of Native Americans in a collection of images the artist called his Indian Gallery. Early in his career, Catlin practiced law in Connecticut and Pennsylvania, having passed the bar exam in 1818. He abandoned his practice in 1821 to pursue painting. Catlin enjoyed modest success painting portraits and miniatures, but found both inadequate to his ambition of becoming a history painter. In 1828, after seeing a delegation of western Indians in the east, he had found a subject, as he later wrote, "on which to devote a whole life-time of enthusiasm." Catlin traveled the frontier from 1830 to 1836, visiting fifty tribes west of the Mississippi, from present-day North Dakota to Oklahoma, and creating an astonishing visual record of Native American life. Catlin's Indian Gallery was donated to the Smithsonian Institution in 1879 by Mrs. Joseph Harrison Jr. after the the death of her husband, an art collector in Philadelphia. Several hundred of Catlin's Indian portraits now hang in the Smithsonian American Art Museum.