The exhibition includes 67 artworks and more than 140 items from the Archive. Several rare artworks borrowed from private and public collections in the United States and abroad, including TV Garden (1974/2000) from the Solomon R. Guggenheim Museum, Whitney Buddha Complex (1982) from the Hessel Museum of Art at Bard College, and Paik's rarely seen installation Moon Projection with E Moon and Birds (1996), on loan from the Paik Estate, are featured. Three exceptional artworks from the museum's collection will be included: Zen for TV (1963/1976), Megatron/Matrix (1995), and Electronic Superhighway: Continental U.S., Alaska, Hawaii (1995).
In addition to objects from the archive, a number of artworks in the exhibition are on public display for the first time including; Electronic Schematic Drawing for Paik-Abe Video Synthesizer (1969), Number 5 (1975), Untitled (Television) (about 1970), Cage TV Sketch (about 1970), Untitled (Purple and Yellow Face) (about 1970), Untitled (Television and Moon) (1978), a selection of eighteen Untitled (Newspaper Drawings) (1990s), and Chinese Memory (2005).
Nam June Paik: Global Visionary offers the extraordinary range of the artist's accomplishments and the complexity of his ideas. It features his personal history through thematic groupings that draw on the resources of the Nam June Paik Archive. Paik's writings and the materials he collected reveal the influences of Asian and Western philosophy, as well as developments in technology and science. The museum will use these materials to show the development of his innovative and radical conceptualization of the future roles of communication technologies in the expanding global media culture. John G. Hanhardt, senior curator of film and media arts and the leading expert on Paik and his global influence, is organizing the exhibition with the assistance of Michael Mansfield, associate curator of film and media arts.
December 13, 2012
–
August 10, 2013
Open Daily, 11:30 a.m.–7:00 p.m
Free Admission
Nam June Paik: Global Visionary is organized by the Smithsonian American Art Museum with generous support from Sheila Duignan and Mike Wilkins; Barney A. Ebsworth; Marilou and Ken Hakuta; Maureen and Gene Kim; Korea Foundation; Wendy and Jerry H. Labowitz; Paula and Peter Lunder; Share Fund of The Community Foundation for the National Capital Region; The Starec Trust; Roselyne Chroman Swig; and the Barbara & Howard Wise Endowment for the Arts.
About the Nam June Paik Archive
The Nam June Paik Archive is a blend of traditional paper holdings—letters, writings, and ephemera—and objects—studio effects, recordings, vintage electronics, and other source materials. The archive includes Paik's early writings on art, history, and technology as well as performance scores, production notes for videotape and television projects, plans for video installations, vintage photographs, and documentation of large-scale television projects such as Guadalcanal Requiem (1977/1979) and The More the Better (1988). The archive includes a variety of early models of televisions and video projectors, radios, record players, and cameras. Toys, games, folk sculptures, more than 300 books and magazines, and the desk where he painted in his studio are also part of the archive. Each aspect of the collection gains strength from the other, and together they present a fascinating picture of the artist's life, work and creative process. Support for the Nam June Paik Archive was received from the Smithsonian's Collections Care and Preservation Fund.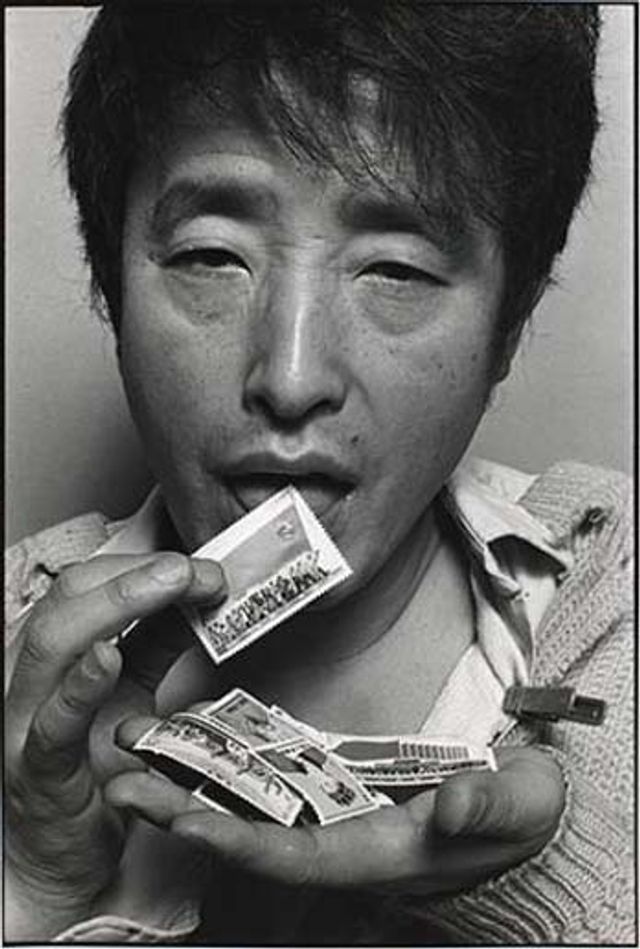 born Seoul, Korea 1932-died Miami Beach, FL 2006
Nam June Paik (1932–2006), internationally recognized as the "Father of Video Art," created a large body of work including video sculptures, installations, performances, videotapes and television productions.