Artist
Augusta Savage
born Green Cove Springs, FL 1892-died New York City 1962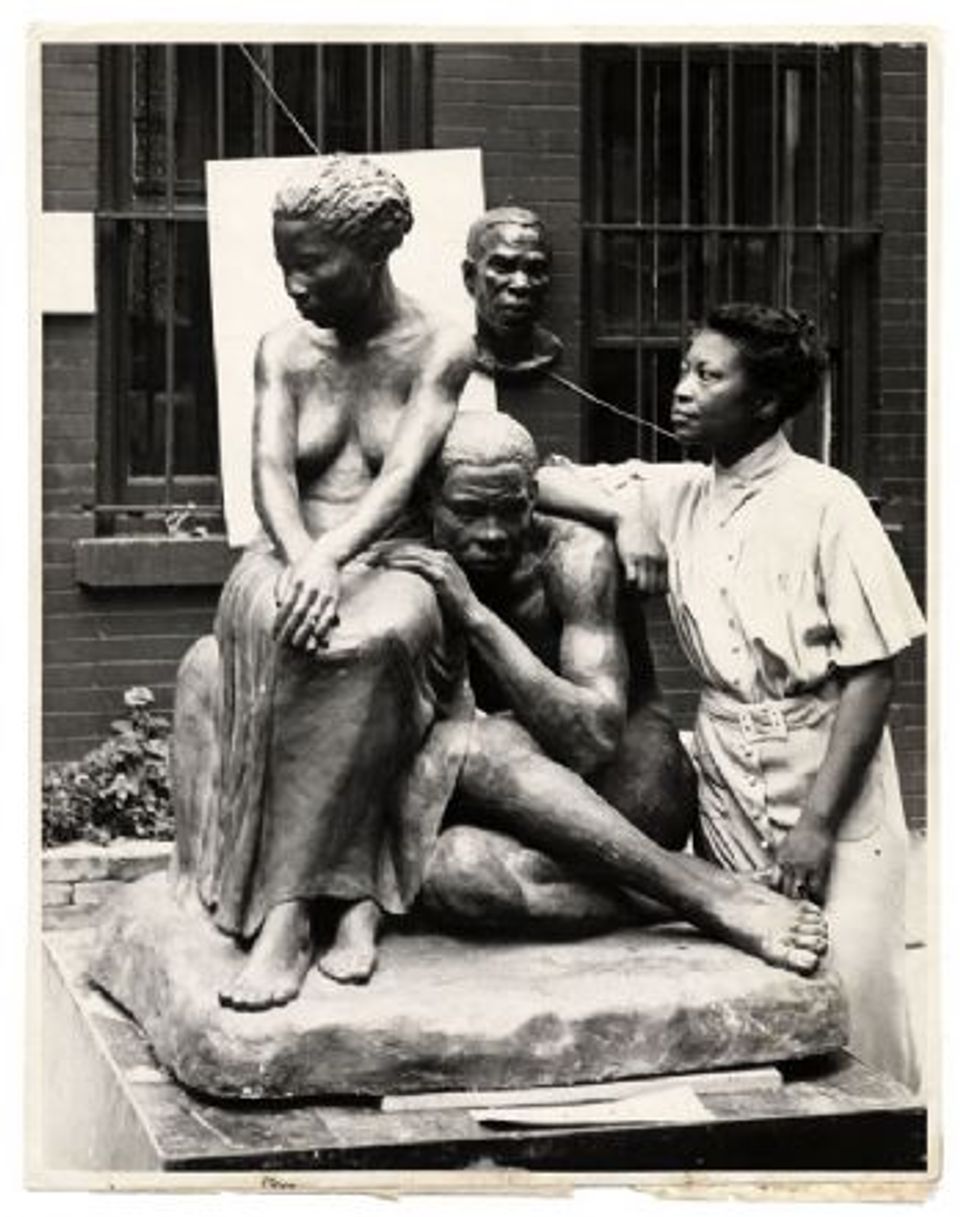 Also known as

Augusta Christine Savage
Augusta Christine Fells
Augusta Christine Fells Savage

Born

Green Cove Springs, Florida, United States

Active in

Saugerties, New York, United States
Biography
"I have created nothing really beautiful, really lasting, but if I can inspire one of these youngsters to develop the talent I know they possess, then my monument will be in their work."—T. R. Poston, "Augusta Savage," Metropolitan Magazine, Jan. 1935, n.p.
The career of Augusta Savage was fostered by the climate of the Harlem Renaissance. During the 1930s, she was well known in Harlem as a sculptor, art teacher, and community art program director. Born Augusta Christine Fells in Green Cove Springs, Florida, on February 29, 1892, she was the seventh of fourteen children of Cornelia and Edward Fells. Her father was a poor Methodist minister who strongly opposed his daughter's early interest in art. My father licked me four or five times a week," Savage once recalled, "and almost whipped all the art out of me."
In 1907 Savage married John T. Moore, and the following year her only child, Irene, was born. Moore died several years after the birth of their daughter. Around 1915 the widowed artist married James Savage, a carpenter whose surname she retained after their divorce during the early 1920s. In 1923, Savage married Robert L. Poston, her third and final husband, who was an associate of Marcus Garvey. Poston died in 1924.
Savage's father moved his family from Green Cove Springs to West Palm Beach, Florida, in 1915. Lack of encouragement from her family and the scarcity of local clay meant that Savage did not sculpt for almost four years. In 1919 a local potter gave her some clay from which she modeled a group of figures that she entered in the West Palm Beach County Fair. The figures were awarded a special prize and a ribbon of honor. Encouraged by her success, Savage moved to Jacksonville, Florida, where she hoped to support herself by sculpting portrait busts of prominent blacks in the community. When that patronage did not materialize, Savage left her daughter in the care of her parents and moved to New York City.
Savage arrived in New York with $4.60, found a job as an apartment caretaker, and enrolled at the Cooper Union School of Art where she completed the four-year course in three years. During the mid-1920s when the Harlem Renaissance was at its peak, Savage lived and worked in a small studio apartment where she earned a reputation as a portrait sculptor, completing busts of prominent personalities such as W. E. B. Du Bois and Marcus Garvey. Savage was one of the first artists who consistently dealt with black physiognomy. Her best-known work of the 1920s was Gamin, an informal bust portrait of her nephew, for which she was awarded a Julius Rosenwald Fellowship to study in Paris in 1929. There she studied briefly with Felix Benneteau at the Académie de la Grand Chaumière. She had two works accepted for the Salon d'Automne and exhibited at the Grand Palais in Paris. In 1931 Savage won a second Rosenwald fellowship, which permitted her to remain in Paris for an additional year. She also received a Carnegie Foundation grant for eight months of travel in France, Belgium, and Germany.
Following her return to New York in 1932, Savage established the Savage Studio of Arts and Crafts and became an influential teacher in Harlem. In 1934 she became the first African-American member of the National Association of Women Painters and Sculptors. In 1937 Savage's career took a pivotal turn. She was appointed the first director of the Harlem Community Art Center and was commissioned by the New York World's Fair of 1939 to create a sculpture symbolizing the musical contributions of African Americans. Negro spirituals and hymns were the forms Savage decided to symbolize in The Harp. Inspired by the lyrics of James Weldon Johnson's poem Lift Every Voice and Sing,The Harp was Savage's largest work and her last major commission. She took a leave of absence from her position at the Harlem Community Art Center and spent almost two years completing the sixteen-foot sculpture. Cast in plaster and finished to resemble black basalt, The Harp was exhibited in the court of the Contemporary Arts building where it received much acclaim. The sculpture depicted a group of twelve stylized black singers in graduated heights that symbolized the strings of the harp. The sounding board was formed by the hand and arm of God, and a kneeling man holding music represented the foot pedal. No funds were available to cast The Harp, nor were there any facilities to store it. After the fair closed it was demolished as was all the art.
Upon returning to the Harlem Community Art Center, Savage discovered that her position had been assumed by someone else. This initiated a series of frustrations that virtually forced Savage to end her career. The Harlem Community Art Center closed during World War II when federal funds were cut off. In 1939 Savage made an attempt to reestablish an art center in Harlem with the opening of the Salon of Contemporary Negro Art. She was founder-director of the small gallery that was the first of its kind in Harlem. That venture closed shortly after its opening due to lack of money. During the spring of 1939, Savage held a small, one-woman show at the Argent Galleries in New York.
Depressed by the loss of her job and the collapse of both of her attempts to establish art centers, Savage retreated to the small town of Saugerties, New York, in the Catskill Mountains in 1945 and reestablished relations with her daughter and her daughter's family. Although her artistic production decreased, she found peace and seclusion in Saugerties. Savage visited New York occasionally, taught children in local summer camps, and produced a few portrait sculptures of tourists. During her years in Saugerties, Savage also explored her interest in writing children's stories, murder mysteries, and vignettes, although none were published. In 1962 Savage moved back to New York and lived with her daughter. She died in relative obscurity on March 26, 1962, following a long bout with cancer.
Savage effectively captured the essence of her subject's personality in this diminutive bust. Wearing a "be-bop" cap with its wide brim cocked jauntily to the side, the figure tilts his head in the same direction and looks past the observer with a slightly sullen expression of typical boyhood defiance. The sculpture was modeled in clay, cast in plaster, and painted to resemble the award-winning version. Savage's facility in handling the clay medium is clearly demonstrated in her sensitive modeling of the boy's broad features, deeply set eyes, and prominent ears. In addition, the open collar of his wrinkled shirt and crumpled cap contribute to the sculpture's informality and immediate appeal.
Regenia A. Perry Free within Ourselves: African-American Artists in the Collection of the National Museum of American Art (Washington, D.C.: National Museum of American Art in Association with Pomegranate Art Books, 1992)
Luce Artist Biography
Augusta Savage always knew she wanted to be an artist and moved to New York City in 1920 with a "burning desire" to "become a sculptor in six months." She enrolled at the Cooper Union and in 1929 won a scholarship to travel to Paris and Rome. She returned to New York in the middle of the Depression and was instrumental in getting the Works Progress Administration to include black artists in its Federal Art Project. Savage was the first African American to be elected to the National Association of Women Painters and Sculptors and later became the director of the Harlem Community Art Center. She believed that teaching others was far more important than creating art herself, and explained her motivation in an interview: "If I can inspire one of these youngsters to develop the talent I know they possess, then my monument will be in their work. No one could ask for more than that." (Davis, Contributions of Black Women to America, 1982)