Artist
Hiram Powers
born Woodstock, VT 1805-died Florence, Italy 1873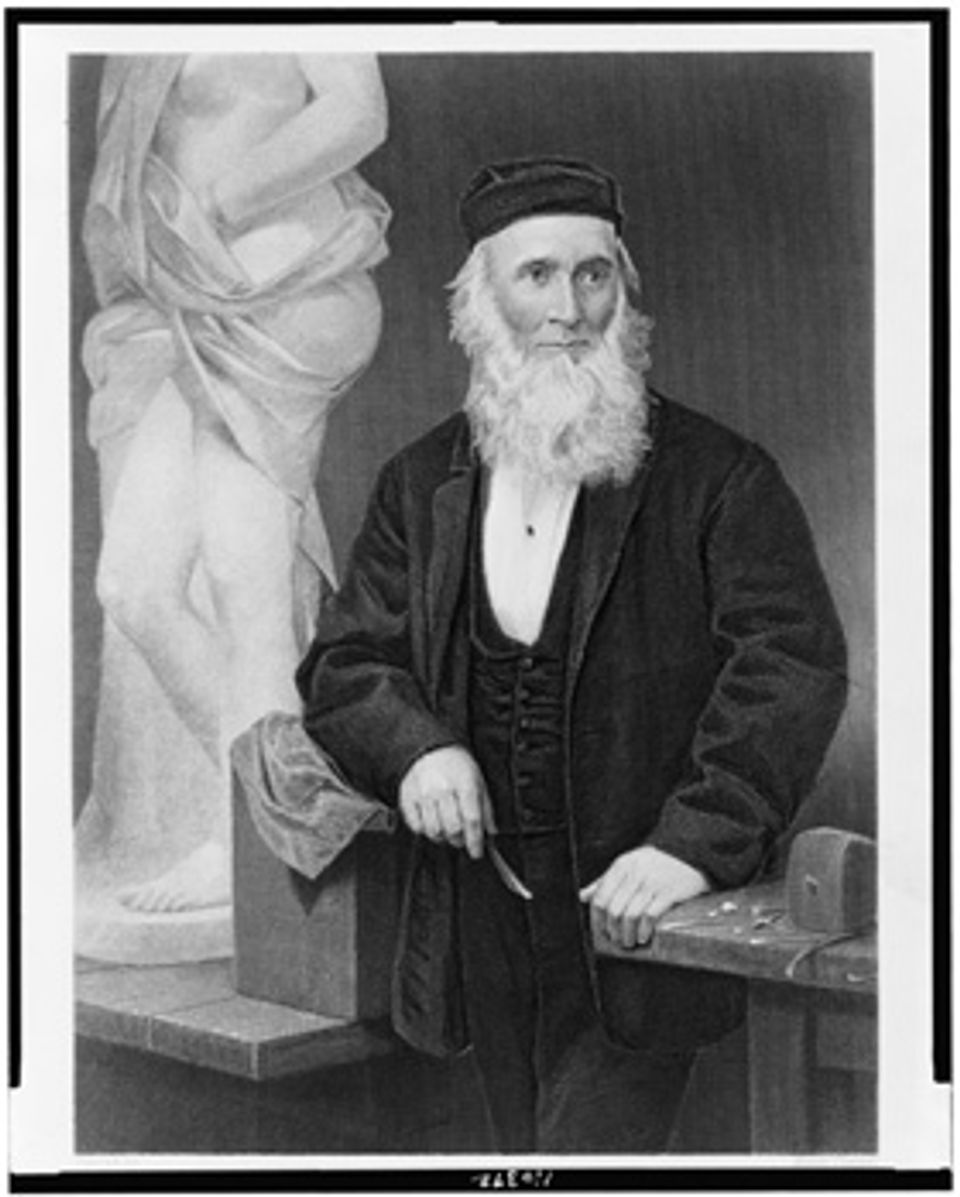 Born

Woodstock, Vermont, United States

Died

Florence, Italy

Active in

Cincinnati, Ohio, United States
Washington, District of Columbia, United States
Biography
Born and grew up in Vermont, later lived in Ohio before moving to Florence, Italy, in 1837. Sculptor who produced lifelike portrait busts such as Andrew Jackson (1835) and idealized figures such as The Greek Slave (1843) that helped to overcome the public's dislike of female nudity in art.
Charles Sullivan, ed American Beauties: Women in Art and Literature (New York: Henry N. Abrams, Inc., in association with National Museum of American Art, 1993)
Artist Biography
Studied sculpture with Frederick Eckstein, a Prussian artist working in Cincinnati. Repaired and mechanized wax figures for the Western Museum in Cincinnati. 1828, first portrait commissions. 1834, patron Nicholas Longworth sent him to Washington to produce portraits of leading Americans, among them Andrew Jackson; then to Europe, 1836. After Paris, went with family to Florence, 1837. Lived there the rest of his life, never returning to America. The Greek Slave exhibited in London, 1845 and again in 1851, establishing his international reputation. From that date, critical and financial success were assured. Died Florence, 27 June 1873.
In terms of fame and financial success, Hiram Powers was the central American sculptor of the nineteenth century. He achieved this through the development—one might even say the "invention"—of a style that blended classical idealism, physical immediacy, and appealing subject matter with moral overtones. If to our eyes he seems less gifted than some of his colleagues, his place in the history of taste is nonetheless secure. The presence in the NMAA [now the Smithsonian American Art Museum] of the contents of his studio provides special insight not only into his art, but also into the working methods typical of the majority of nineteenth-century sculptors—specifically the use of mechanical devices and professional carvers under the artist's direction.
In his early sculpture, Powers reveals a taste and aptitude for naturalistic rendering. The outstanding example of this probing vision is his bust of Andrew Jackson, a work whose extraordinary incisiveness puts it in the forefront of American portrait sculpture. The sittings were obtained in 1835 through the intervention of his patron, Nicholas Longworth, and they provided Powers with a treasured anecdote as well as a superb likeness. He modeled the original clay bust (the plaster cast of which is now in the NMAA) with a fidelity that made the sixty-eight-year-old Jackson's toothlessness unmistakable. Asked what he thought of this, the president responded: "Make me as I am, Mr. Powers, and be true to nature always. It is the only safe rule to follow. I have no desire to look young as long as I feel old; and then it seems to me…that the only object in making a bust is to get a representation of a man who sits, that it be as nearly as possible a perfect likeness. If he has not teeth, why then make him with teeth?" What makes both the bust and quotation remarkable is that Powers's naturalism, stunningly successful as it was, was progressively and rapidly abandoned by the sculptor.
By 1842, he had produced his first idealized female nude, Eve Tempted. The choice of subject permitted nudity without offending Victorian morality. In order to reconcile the conflict between pagan-inspired nudity and contemporary prudery, the artist explained to Elizabeth Barrett Browning that "the nude statue should be an unveiled soul." The purity of the marble, from Seravezza—a quarry about eighteen miles from Carrara—lent itself to spiritual idealism, while its quasi-flesh tone (as the sculptor saw it) together with Powers's careful simulation of skin texture conjured a physical reality. The notable lack of originality in "formal" invention or composition, however, vitiates Powers's ambitious intention in Eve. With a serpent decorously draped around the sculpture's base and up the supporting tree trunk, the figure looks at the apple in her flaccid hand with unsurpassed blandness—neither curious, nor distrustful, nor even hungry. Her left hand holds another apple, perhaps from one of the "approved" trees in the Garden.
It is fascinating to note the presence of drill points in Eve's hair, indicating that although it was Powers's first ideal statue he never completed it. Remarkably, the sculpture survived shipwreck off the coast of Spain and was salvaged almost undamaged. Although Powers returned to the subject, he never replicated Eve Tempted.
Like George Inness, Powers was a Swedenborgian. Emanuel Swedenborg's theosophical writings had in the nineteenth century a remarkable following in many countries. Powers had encountered the New Church of Swedenborg's advocates in Cincinnati (his sculpture tutor, Frederick Eckstein was one), and he remained close to the society throughout his life. Swedenborg's tenet that "the form of the spirit of man is the human form" is clearly behind Powers's equating of the naked body with the "unveiled soul."
No naked body as unveiled soul more impressed the public, both in England and America, than The Greek Slave. Although banned in Boston, a roster of clergymen vouched for its purity. Essentially, the artist had managed to introduce taboo nudity under the sanction of sentimental morality. With its reference to the Turkish conquest of Greece, The Greek Slave suggested the intellectual superiority of Western culture, the spiritual superiority of Christianity, and (to more heated imaginations) the erotic debaucheries then often associated with the Near East. This colonial attitude, as we may call it, is implicit in Powers's published description of the sculpture, which invoked Divine Providence, noted the slave's "scorn for all [the Turks] around her," and concluded, "It is not her person but her spirit that stands exposed."
Both of the plaster models for The Greek Slave are in the NMAA. The "original" plaster was made from Powers's own clay model, the "true original," which was destroyed in the process of casting the plaster. The plaster differs from the marble replicas (of which there are six) only in the omission of the manacles. The pattern of metal points protruding from the plaster was transferred to a marble block by the use of a pointing machine. The sculpture could thus be reproduced exactly in marble and then given its finish.
Nathaniel Hawthorne, reporting on an 1858 visit to Powers's studio, explained that although he saw two casts of the Uffizi Venus de' Medici there, the artist asserted "that the sculptor of the Venus de' Medici did not know what he was about." It is a remarkable statement considering that Powers's Greek Slave is virtually a copy of the ancient marble, excepting only the right arm and support and the slight downward cast of head and eyes. Perhaps Powers hoped to obscure his debt through this bit of misdirection.
Whether viewed in a European or an American context, Powers was not atypical among mid-nineteenth-century sculptors. The art of sculpture was in a quandry, with Zola announcing, "Let our sculptors repeat this to themselves every morning "sculpture, as Greece understood it, has become a dead language for us." Part of the problem was subject matter: modern or relevant themes were widely called for; part was the stifling formality of Neo-classical style. Although in his day Powers's religious themes were considered relevant, he did not depart from the established mode. Among his contemporaries, it may be that only Antoine-Louis Barye and Jean Baptiste Carpeaux were successful in finding a modern style. For both it was a naturalism highly charged with movement and emotion. Having rejected that alternative after his bust of Jackson, Powers preferred to cater to conventional taste.
William Kloss Treasures from the National Museum of American Art (Washington, D.C. and London: National Museum of American Art with the Smithsonian Institution Press, 1985)
Luce Artist Biography
Hiram Powers was one of the first American artists to achieve international recognition, and through his fame, helped to elevate the role of sculpture in nineteenth-century America. Growing up on a farm in Woodstock, Vermont, he had never seen a statue, but frequently dreamed of a female figure standing on a pillar---a vision that was to haunt him throughout his life. In 1818 his family moved to Cincinnati. His father died soon after their arrival, however, and Powers left home to seek his fortune. His first experience in portraiture came through working in a hotel, where he created silhouette cutouts of visitors. A few years later, he created a stir at the local museum by mechanically animating wax figures so that they appeared to be alive. He enrolled at Cincinnati's Academy of Fine Arts in 1828 and attracted the attention of a local patron, Nicholas Longworth, who encouraged Powers to travel to Washington in pursuit of his career. In Washington, the artist modeled a portrait of President Andrew Jackson, a piece that led to many more commissions and brought Powers his first recognition as a portrait artist. In order to establish his professional credentials, Powers moved to Florence with his family in 1837. There he was able to train as a sculptor while taking advantage of the skilled workmen and abundant materials. He invented tools that made the process of stonecutting more efficient, including a pointing machine that transferred the shape of the model to the marble replica [see special installation]. Powers remained in Italy for the rest of his life, creating numerous portrait busts and many idealized figures from religion and history.