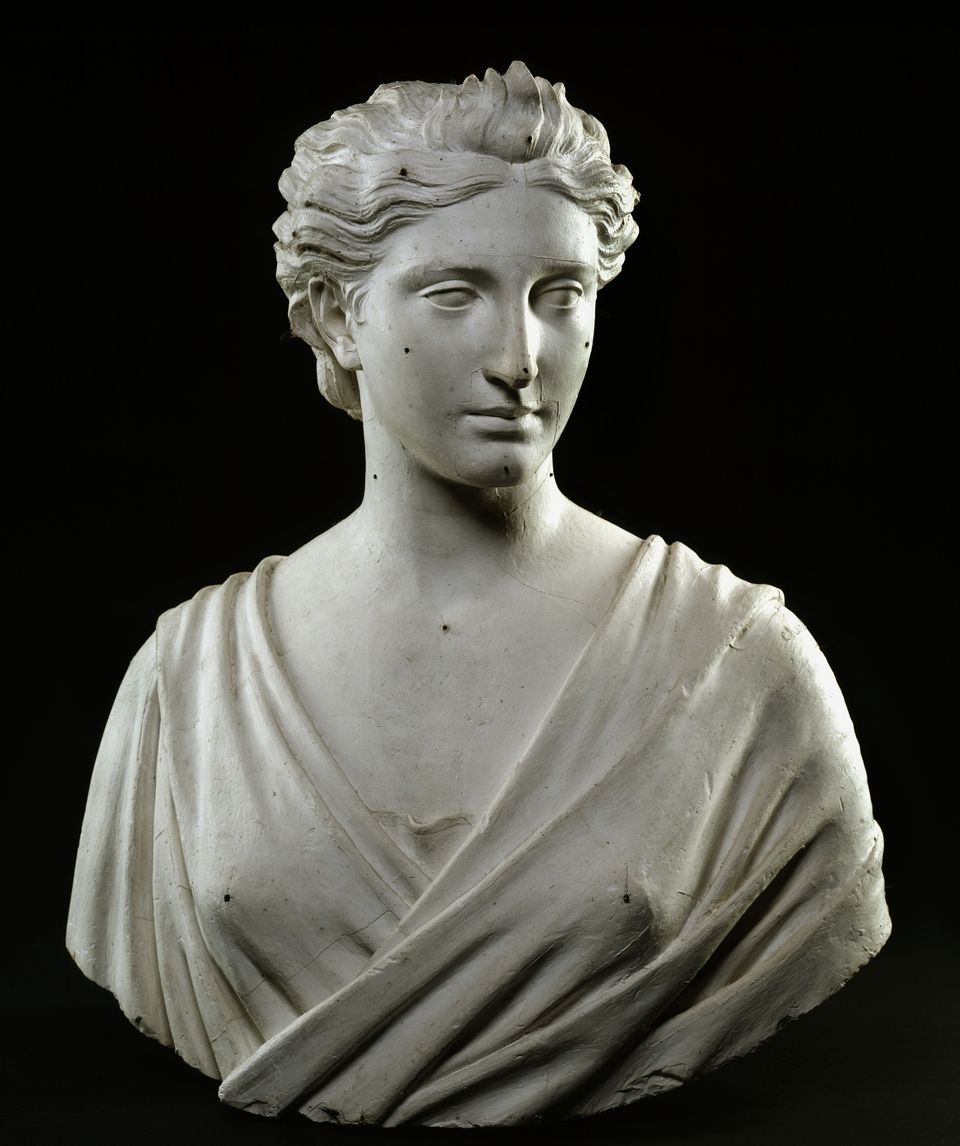 Copied
Hiram Powers,
Charity
, modeled ca. 1867, plaster, Smithsonian American Art Museum, Museum purchase in memory of Ralph Cross Johnson, 1968.155.74
Title

Charity

Artist

Location

Dimensions

25

3

⁄

8

x

20

3

⁄

4

x

13

3

⁄

8

in. (

64

.

3

x

52

.

7

x

33

.

9

cm)

Credit Line

Museum purchase in memory of Ralph Cross Johnson

Mediums

Mediums Description

plaster

Classifications

Keywords

Study — sculpture model
Figure female — bust
Dress — historic — classical dress

Object Number

1968.155.74
The three busts Hope, Faith, and Charity were commissioned by Marshall Woods, a prominent figure from Rhode Island. In 1852 he visited Hiram Powers's studio and requested a pair of ideal sculptures. Powers did not act on this, however, and on a second trip to Florence fourteen years later Woods repeated his request. Powers persuaded him to commission three statues instead of two, of the Christian virtues faith, hope, and charity. All three figures have the same composed expression, but Powers created different emotions by altering the direction of each woman's gaze: Hope looks to the side in anticipation, Faith lifts her head with confidence, and Charity stares straight ahead in contemplation.
Luce Object Quote
"Hope was the bud, Faith, the flower, Charity the fruit; and so he had tried to make his heads---Hope, cheerfully expectant, but not in possession; Faith, calmly assured, more rapt and exalted, having attained; Charity should be the diffusion of what Faith has acquired, and her figure would be still different." Rev. Henry W. Bellows, 1869, in Richard P. Wunder, Hiram Powers, 1989-91