Artist
Thomas Moran
born Bolton, England 1837-died Santa Barbara, CA 1926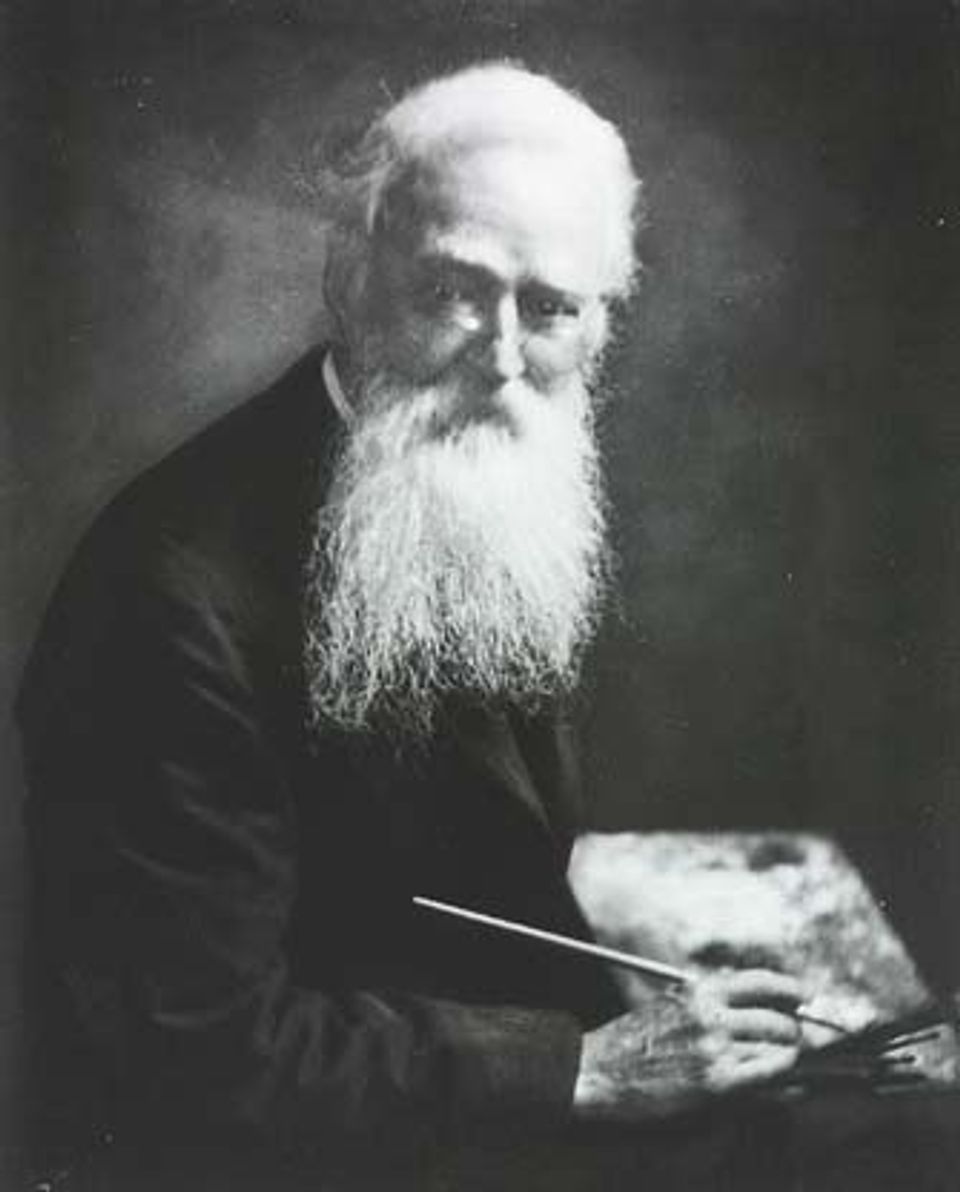 Born

Bolton, England

Active in

Philadelphia, Pennsylvania, United States
Newark, New Jersey, United States
East Hampton, New York, United States
Colorado, United States
Wyoming, United States
Biography
Landscape painter. Influenced by J.M.W. Turner, Moran is best remembered for his idealized views of the American West. In 1871 he accompanied a government surveying expedition to Yellowstone and was greatly inspired by the landscape; The Grand Canyon of the Yellowstone (1893–1901) and The Chasm of the Colorado (1872) are two outstanding works.
Joan Stahl American Artists in Photographic Portraits from the Peter A. Juley & Son Collection (Washington, D.C. and Mineola, New York: National Museum of American Art and Dover Publications, Inc., 1995)
Artist Biography
At age seven, Moran and his family emigrated from England to Philadelphia, where he was apprenticed briefly to a wood engraver. Although best known as a painter, Moran was also a prolific illustrator. In 1862, after a trip to Lake Superior, which inspired a series of views related to Henry Wadsworth Longfellow's Hiawatha, he and his brother Edward traveled to England. In 1871 Moran accompanied F. V. Hayden's geological survey of Yellowstone as a guest artist, with funding from Scribner's and railroad financier Jay Cooke. During the expedition Moran worked closely with photographer William H. Jackson. In 1872 Moran visited Yosemite and in 1873 joined John Wesley Powell's geological survey of the Grand Canyon and Colorado River. In 1874 he was again with Hayden in Colorado, where he visited the newly discovered Mount of the Holy Cross. Although most of his life was spent in the East, he traveled west frequently, often as a guest artist of the Santa Fe Railway.
William Truettner, ed The West as America: Reinterpreting Images of the Frontier, 1820–1920 (Washington, D.C. and London: Smithsonian Institution Press, 1991)
Luce Artist Biography
Thomas Moran was the first American painter to capture the grandeur of Yellowstone and the Grand Canyon. Born in England, he immigrated to America as a child and apprenticed to an engraver in Philadelphia. The turning point in Moran's career came in 1871 when he joined the Hayden expedition, the first to survey the Yellowstone region in detail. Moran's images of dramatic canyons, hot springs, and geysers captured the imagination of the American public and helped bring about Yellowstone's designation as America's first national park. (Anderson, Thomas Moran, 1997)