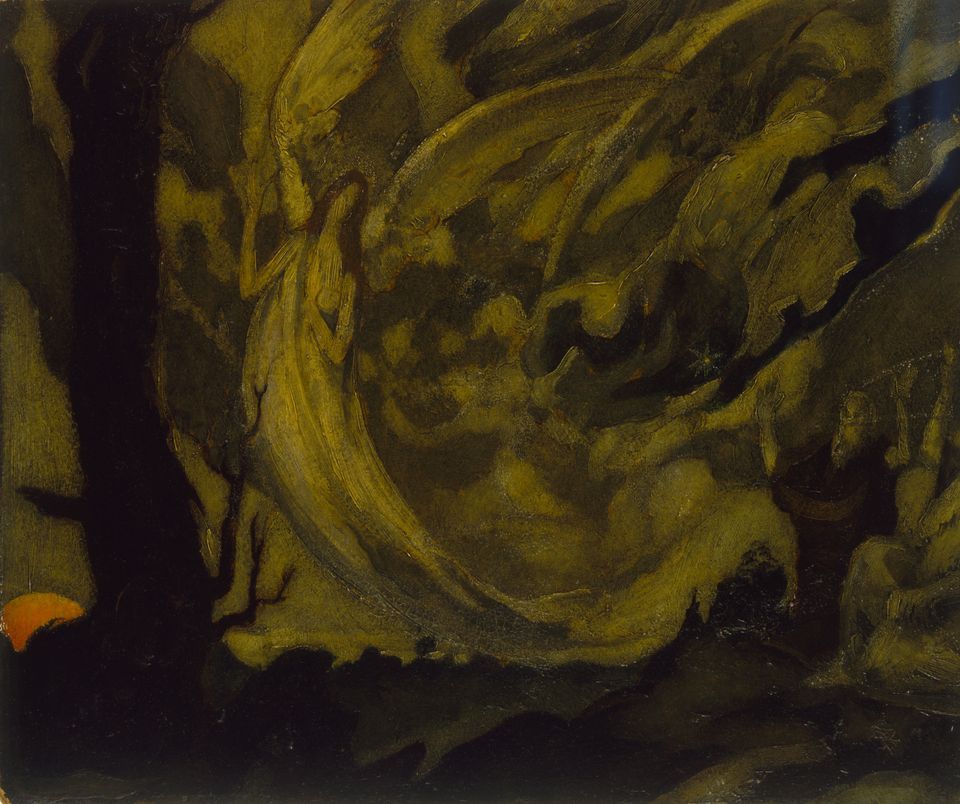 Copied
Claude Buck,
The Angel Israfel
, 1919, oil on paperboard,
14
1
⁄
8
x
17
in. (
36
.
0
x
43
.
3
cm), Smithsonian American Art Museum, Gift of Mrs. Claude Buck, 1983.46.9
Title

The Angel Israfel

Artist

Location

Dimensions

14

1

⁄

8

x

17

in. (

36

.

0

x

43

.

3

cm)

Markings

back upper right in ink: 14 x 17 back upper left in crayon: 12-R-19

Credit Line

Gift of Mrs. Claude Buck

Mediums

Mediums Description

oil on paperboard

Classifications

Keywords

Group
Landscape — time — sunset
Religion — angel

Object Number

1983.46.9
This painting shows Israfel, one of the four archangels in Islam. He is usually portrayed in Oriental dress holding a trumpet, which followers believe he will sound on the Day of Resurrection. Here, Claude Buck depicted Israfel as an apparently female angel in a white gown. The painting may have been inspired by the poem "Israfel," by Edgar Allan Poe. Buck was very interested in Poe and created many paintings based on him and his work. The vision of heaven described in the poem with its "giddy stars" and moon that "blushes with love" may have inspired Buck's swirling sky and glowing red moon.
This artwork was recommended by citizen curators as part of our Fill the Gap project on Flickr. They said:
"It shares the same sense of mystery and spiritualism as several other paintings."
"Lovely, different, so vivid"
"It is supernatural and dynamic—it would hold its own due to the composition and expressive nature of the work."

Luce Object Quote
"In Heaven a spirit doth dwell 'Whose heart-strings are a lute'; None sing so wildly well As the angel Israfel, And the giddy stars (so legends tell), Ceasing their hymns, attend the spell Of his voice, all mute. . . . . . . . . . . . . . . . If I could dwell Where Israfel Hath dwelt, and he where I, He might not sing so wildly well A mortal melody, While a bolder note than this might swell From my lyre within the sky." Excerpted from Edgar Allan Poe, "Israfel" (1831)