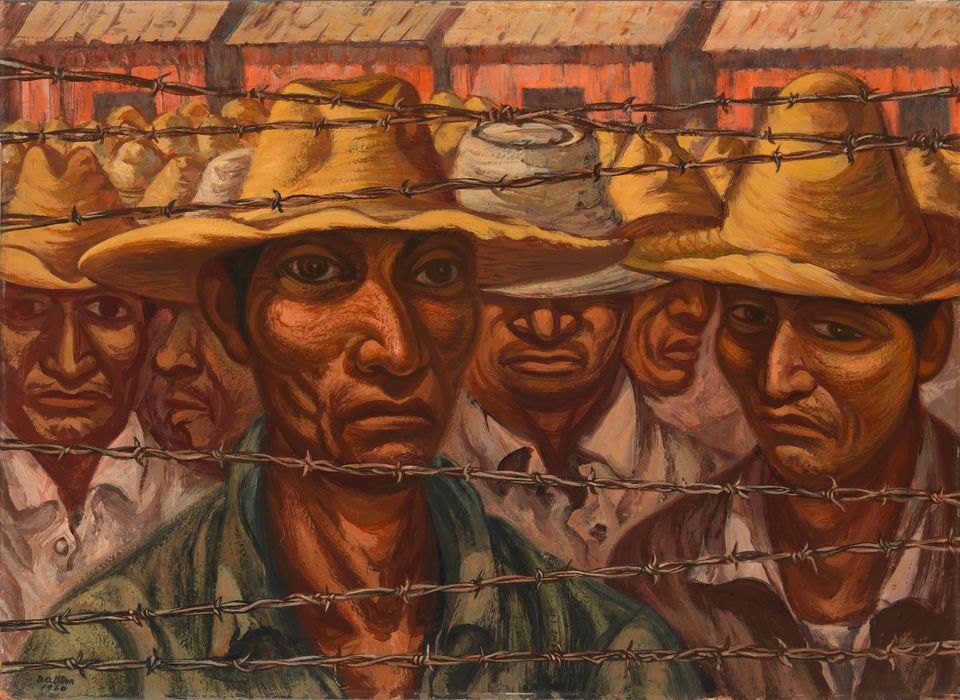 Copied
Domingo Ulloa,
Braceros
, 1960, oil on masonite, Smithsonian American Art Museum, Gift of Eugene Iredale and Julia Yoo, 2014.20
Title

Braceros

Artist

Dimensions

36

×

49

in. (

91

.

4

×

124

.

5

cm)

Credit Line

Gift of Eugene Iredale and Julia Yoo

Mediums Description

oil on masonite

Classifications

Highlights

Keywords

Dress — accessory — hat
Mexican
Architecture Exterior — detail — fence
Figure group — male

Object Number

2014.20
Domingo Ulloa painted this canvas after several visits to a Bracero camp in Holtville, California. The Bracero Program (1942-64) was a bi-national effort that brought Mexican guest workers, known as braceros, to fill in agricultural labor shortages caused by World War II. Ulloa's crowd of workers, who peer dejectedly through a barbed-wire fence, reinforce the mounting public protest against their poor living and working conditions. His composition recalls photographs of concentration camp inmates, which Ulloa--a World War II veteran--was familiar with. Ulloa later stated, "Most of my paintings are inspired by the common people in their work, in their joy, and their struggle."