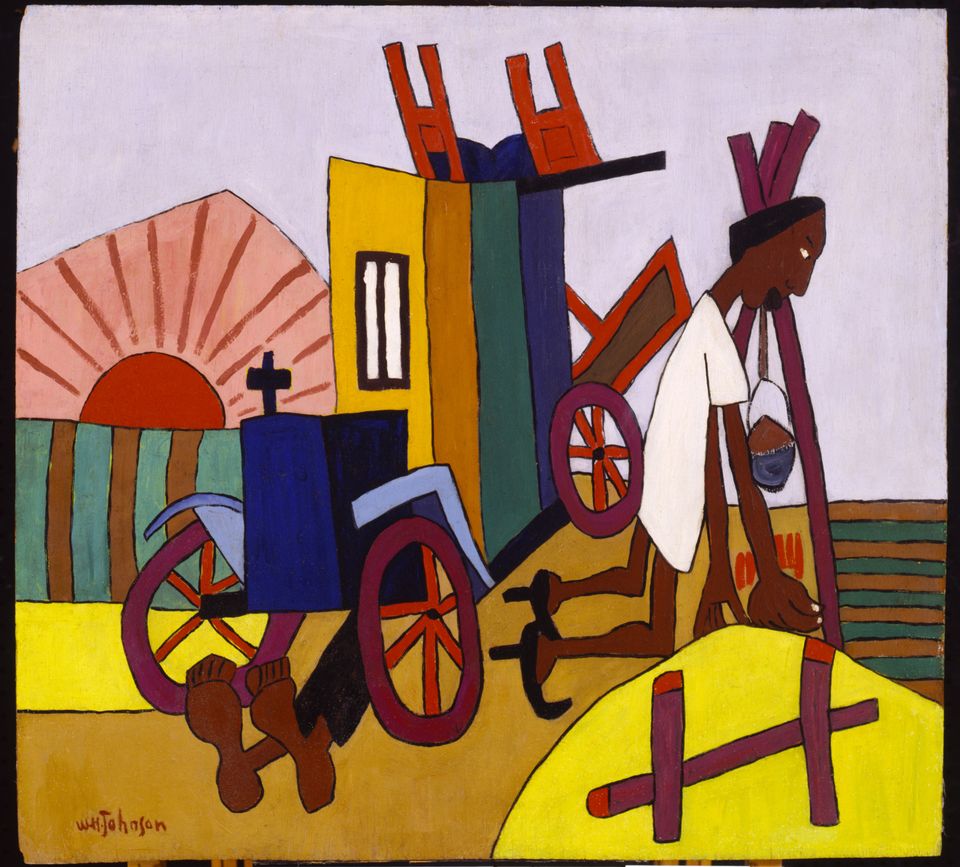 Copied
William H. Johnson,
The Breakdown
, ca. 1940-1941, oil on plywood,
33
7
⁄
8
x
37
in. (
86
.
0
x
93
.
9
cm.), Smithsonian American Art Museum, Gift of the Harmon Foundation, 1967.59.589
Title

The Breakdown

Artist

Location

Dimensions

33

7

⁄

8

x

37

in. (

86

.

0

x

93

.

9

cm.)

Markings

lower left in oil: W.H. Johnson back upper center in grease crayon: W. H. JOHNSON back upper right in grease crayon: BREAK DOWN/WILLIAM H John(son) back upper right in felt-tipped pen and ink: #589 NCFA cat.

Credit Line

Gift of the Harmon Foundation

Mediums

Mediums Description

oil on plywood

Classifications

Keywords

Figure group
Figure(s) in exterior
Architecture — vehicle — automobile

Object Number

1967.59.589
The Breakdown shows a scene familiar to Americans after years of drought and economic depression, but the title also refers to the moments of despair that punctuate African American blues music. A rattling jalopy piled with furniture strands a couple in search of a better life. A hood ornament – shaped like a cross and silhouetted against the rays of the sun – suggests the faith that sustains husband and wife through their troubles. But the two are not passively awaiting salvation. She improvises a roadside cookfire while he works to repair their car. Other paintings in this series show families with children, but here, the couple make their way with only one another to rely on. When William H. Johnson painted this canvas, he and his Danish wife had spent years traveling together. In 1938 they fled the crisis growing in Europe and returned to the United States, where Johnson adopted a self-consciously "primitive" style and dedicated himself to recording aspects of African American life.