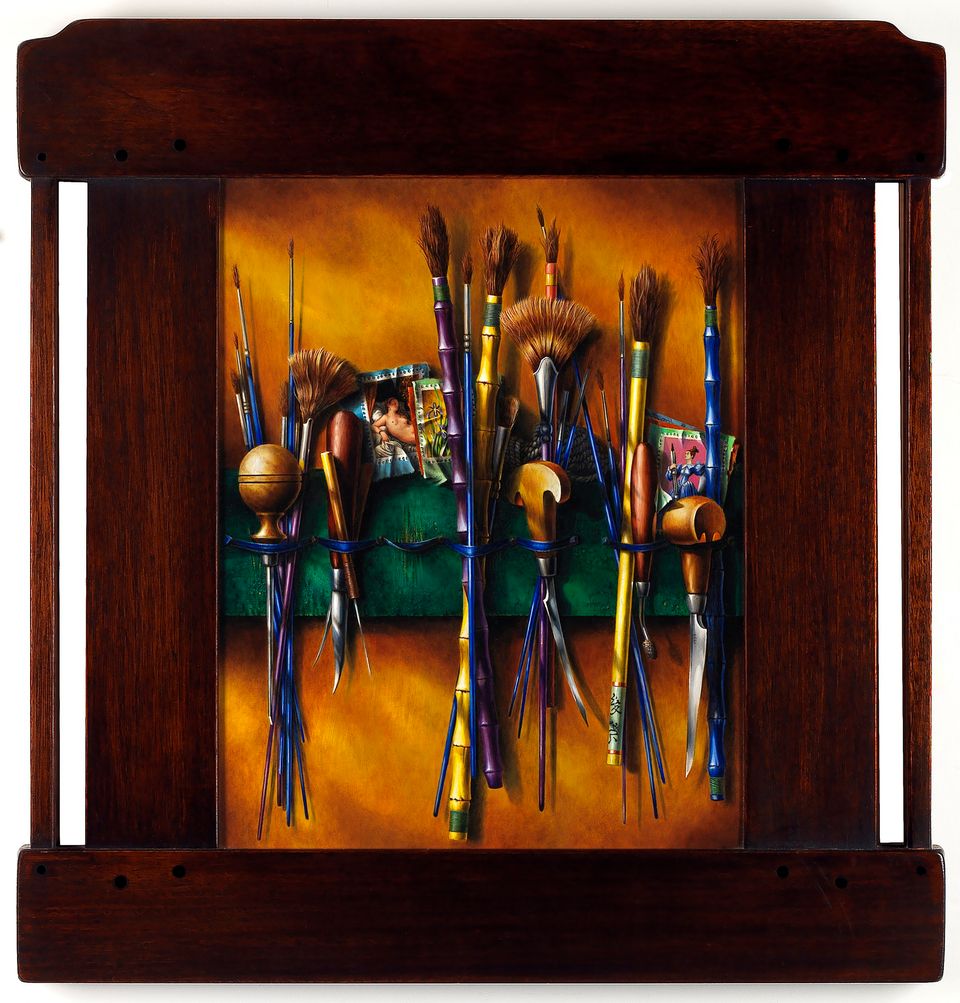 Copied
Mark Leithauser,
Brushwork
, 1993, oil on panel,
13
5
⁄
8
x
10
3
⁄
4
in. (
34
.
6
x
27
.
2
cm), Smithsonian American Art Museum, Gift of the Hakuta Family, 2010.42, © Mark Leithauser
Title

Brushwork

Artist

Location

Dimensions

13

5

⁄

8

x

10

3

⁄

4

in. (

34

.

6

x

27

.

2

cm)

Markings

signature and date, upper right center, recto, incorporated into image, appearing to right of right-most yellow brush: Leithauser / 1993 Note: catalogued in frame; there is a signature (illegible) burned into verso of frame, not the name of the artist. For image of signature see photo in file.

Copyright

© Mark Leithauser

Credit Line

Gift of the Hakuta Family

Mediums

Mediums Description

oil on panel

Classifications

Keywords

Object — art tool — artist's brush

Object Number

2010.42
Mark Leithauser blends elements of the real and the imaginary in his paintings, etchings, and silverpoints. For

Brushwork

, he used a technique called trompe l'oeil ("fool the eye") to make a two-dimensional surface appear three-dimensional. The piece rewards close viewing: the engaging realism of the brushes and etching tools leads viewers to the postage stamp–like squares. The square at left shows a detail of Titian's

Danae,

from 1545. The square at right re-creates a nineteenth-century advertisement for printmaking tools, with a woman holding an adjustable lithographic crayon. The frayed brush bristles and the wrinkled photos show wear and use, and the missing set of tools suggests they were removed by the artist to make this painting. Leithauser commissioned the frame for this work from an independent craftsman, done in the style of a Greene and Greene frame he saw at the Gamble House in Pasadena, California. The Greene brothers, Charles and Henry, founded an architectural firm in 1894 known for American Arts and Crafts design, and the Gamble House was one of their commissions.