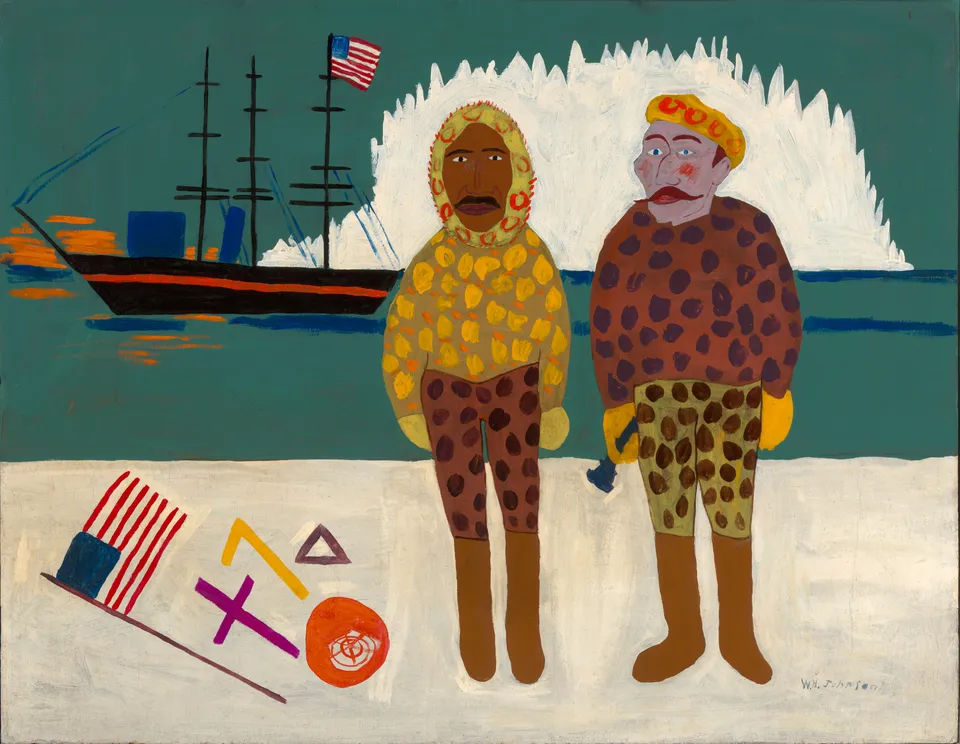 Copied
William H. Johnson,
Commodore Peary and Henson at the North Pole
, ca. 1945, oil on paperboard, Smithsonian American Art Museum, Gift of the Harmon Foundation, 1983.95.54
Title

Commodore Peary and Henson at the North Pole

Artist

Dimensions

27

5

⁄

8

x

35

1

⁄

2

in. (

70

.

1

x

90

.

3

cm)

Credit Line

Gift of the Harmon Foundation

Mediums

Mediums Description

oil on paperboard

Classifications

Keywords

Portrait male — Peary, Robert Edwin
Waterscape — boat
Portrait male — Henson
African American

Object Number

1983.95.54
Johnson located Matthew Henson and Commodore Robert Peary in a landscape that attests to their greatest accomplishment---the discovery of the North Pole. The iceberg and ship behind them symbolize their arduous journey, the American flag, the nation for which they claimed victory. The two were an unlikely pair. In 1887 Robert Peary (1856--1920), a U.S. naval officer, hired Matthew Henson (1866--1955) to be his personal valet. By the time they planted an American flag on what they believed to be the North Pole on April 6, 1909, Henson was a co-equal explorer who had accompanied Peary on four earlier expeditions to the Arctic.
The 1908 to 1909 North Pole expedition was huge. More than fifty men, women, and children, most of them Inuit; 246 dogs; hunting equipment; coal; and seventy tons of provisions supported the venture. They traveled first by ship then on foot and by dogsled over the frozen land. Though in 1912 Henson published a book, A Negro Explorer at the North Pole, which told the story of the trip, his role was eclipsed by Peary's until the 1940s, when Congress awarded him and five others silver medals for their accomplishments.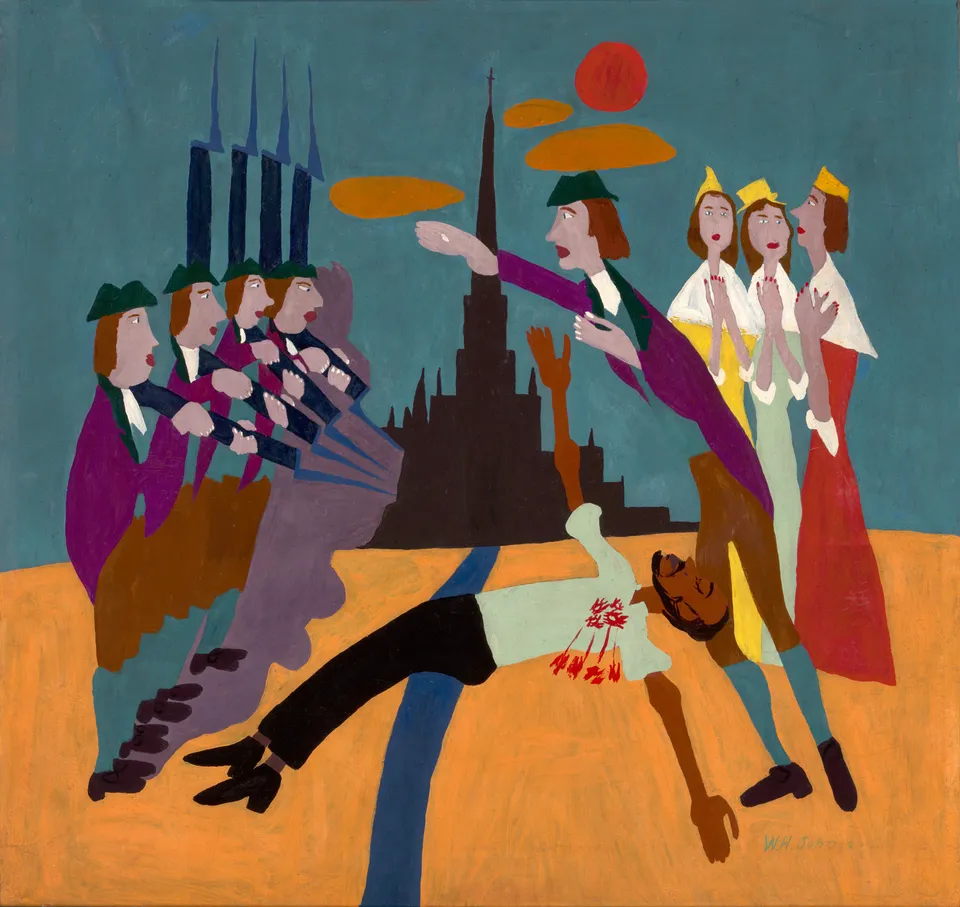 October 13, 2023
–
February 25, 2024
William H. Johnson's Fighters for Freedom series from the mid-1940s is a tribute to African American activists, scientists, teachers, and performers as well as international heads of state working to bring peace to the world. The exhibition Fighters for Freedom: William H. Johnson Picturing Justice is drawn entirely from the collection of more than 1,000 works by William H. Johnson given to the Smithsonian American Art Museum by the Harmon Foundation in 1967 and reminds us that individual achievement and commitment to social justice are at the heart of the American story.