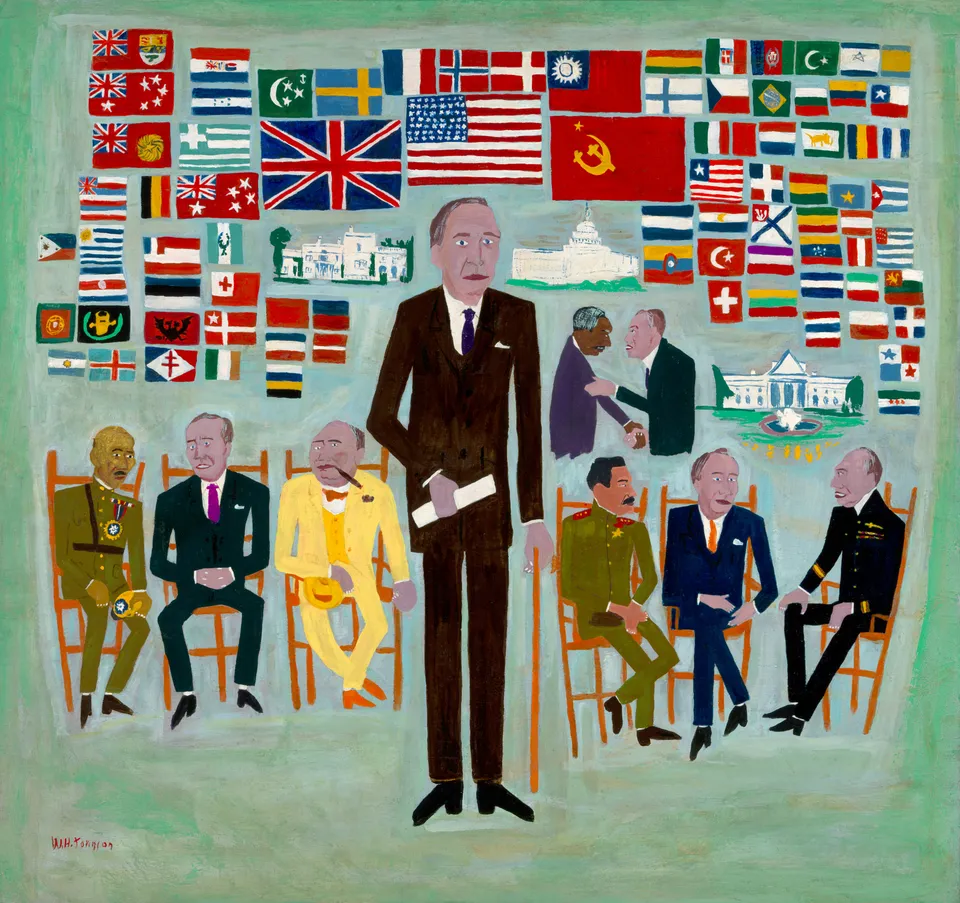 Copied
William H. Johnson,
FDR and U.N.
, 1945, oil on plywood, Smithsonian American Art Museum, Gift of the Harmon Foundation, 1967.59.644
Artist

Dimensions

37

x

39

in. (

94

.

0

x

99

.

1

cm.)

Credit Line

Gift of the Harmon Foundation

Mediums

Mediums Description

oil on plywood

Classifications

Keywords

Portrait male — Roosevelt, Franklin Delano
Portrait male — Churchill, Winston
Figure group — male
Portrait male — Stalin, Joseph

Object Number

1967.59.644
Fifty nations that had declared war on Germany and Japan were invited to San Francisco for meetings that started on April 25, 1945; on June 26, the United Nations Charter was signed. Johnson placed Franklin Roosevelt at the center of the image, although he died two weeks before the conference began. Johnson understood that the groundwork for an international organization to maintain peace around the world represented years of work on Roosevelt's part. It was on the agenda for his meetings in Cairo with Winston Churchill and Chiang Kai-shek in 1943 (seated at the lower left), and again for the Tehran Conference with Churchill and Joseph Stalin, which immediately followed (the group at the lower right). Roosevelt took it up again when he met with Stalin and Churchill in Yalta in February 1945. With this painting Johnson ensured Roosevelt's legacy. At center right, a vignette shows Roosevelt shaking hands with Ralph Bunche, a diplomat and member of the U.S. delegation to the UN who played a major role in organizing the U.N. and in subsequent peacekeeping operations around the globe.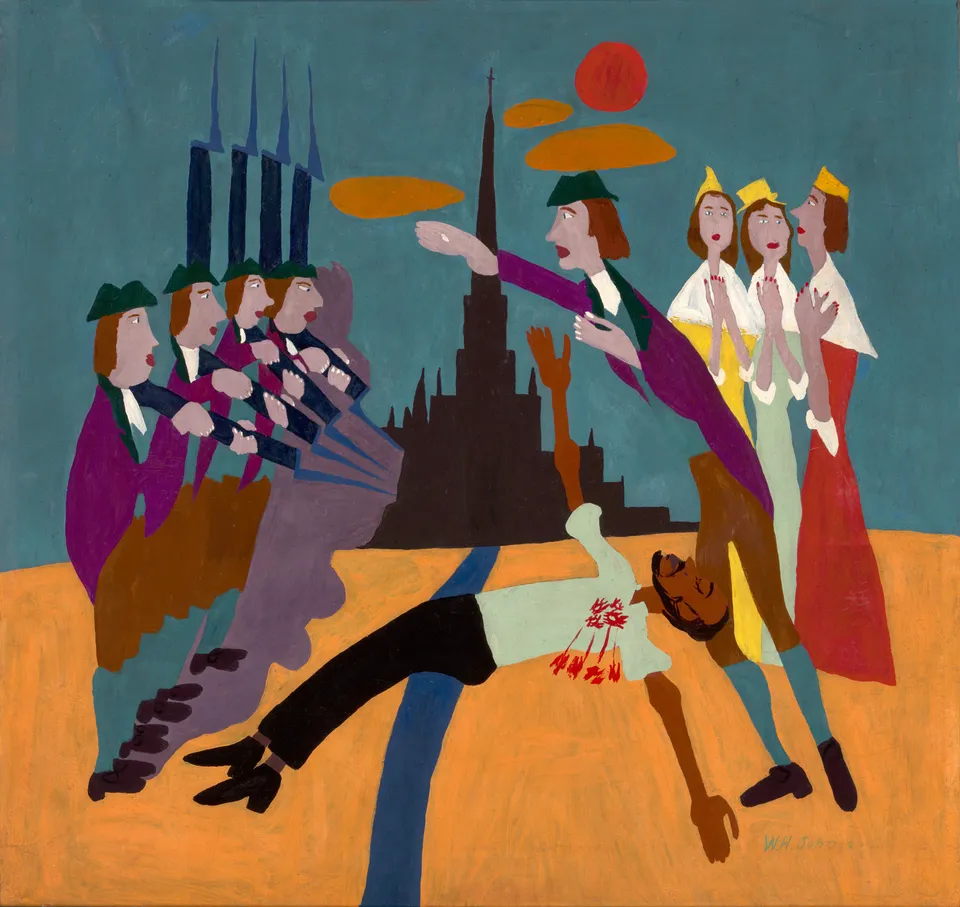 October 13, 2023
–
February 25, 2024
William H. Johnson's Fighters for Freedom series from the mid-1940s is a tribute to African American activists, scientists, teachers, and performers as well as international heads of state working to bring peace to the world. The exhibition Fighters for Freedom: William H. Johnson Picturing Justice is drawn entirely from the collection of more than 1,000 works by William H. Johnson given to the Smithsonian American Art Museum by the Harmon Foundation in 1967 and reminds us that individual achievement and commitment to social justice are at the heart of the American story.