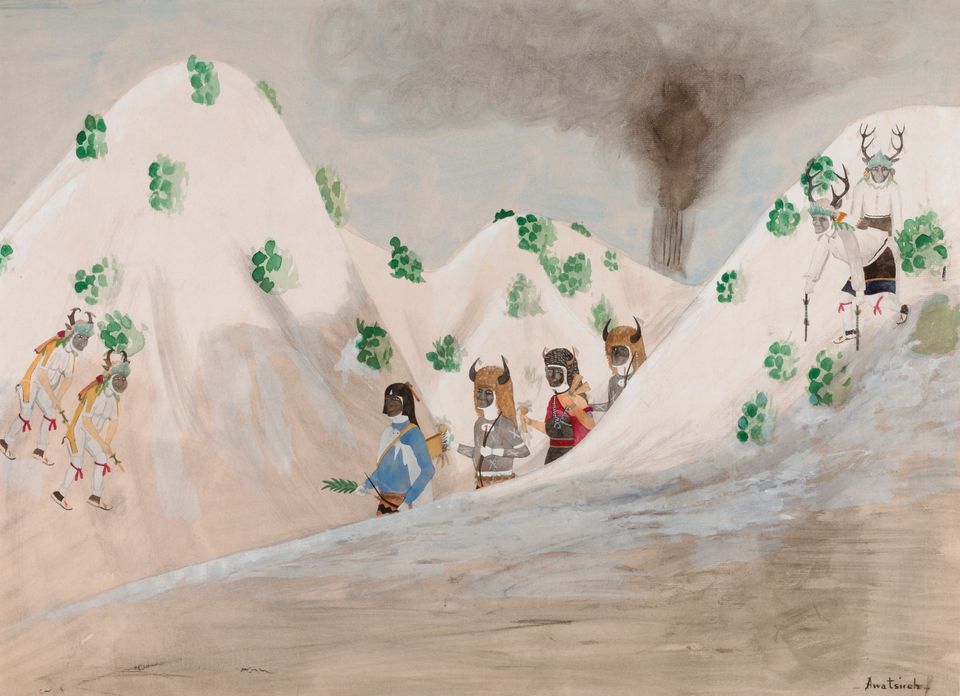 Copied
Awa Tsireh,
January 23rd, Buffalo Deer Dance
, ca. 1918, watercolor and pencil on paper, Smithsonian American Art Museum, Corbin-Henderson Collection, gift of Alice H. Rossin, 1979.144.34
Title

January

23

rd, Buffalo Deer Dance

Artist

Dimensions

sheet:

16

7

⁄

8

x

23

1

⁄

4

in. (

43

.

0

x

59

.

1

cm)

Credit Line

Corbin-Henderson Collection, gift of Alice H. Rossin

Mediums

Mediums Description

watercolor and pencil on paper

Classifications

Keywords

Figure group
Ceremony — dance — Buffalo Deer Dance

Object Number

1979.144.34
The paintings of Awa Tsireh (1898-1955), who was also known by his Spanish name, Alfonso Roybal, represent an encounter between the art traditions of native Pueblo peoples in the southwestern United States and the American modernist art style begun in New York in the early twentieth century. The son of distinguished potters, Awa Tsireh translated geometic pottery designs into stylized watercolors that feature the ceremonial dancers and practices of Pueblo communities. But Awa Tsireh's work is more than an amalgam of traditional and modernist design. At a time when the U.S. Office of Indian Affairs attempted to restrict Pueblo cultural and religious practices, the watercolors of Awa Tsireh and other Pueblo artists helped to affirm the importance of ceremonial dance and tirual to cultural survival.
Awa Tsireh's paintings quickly found an audience among the artists, writers, and archaeologists who descended on Santa Fe in great numbers in the late 1910s and 1920s. Painter John Sloan and poet Alice Corbin Henderson took a particular interest and arranged for his watercolors to be exhibited in New York, Chicago, and elsewhere. Henderson shared with the young Pueblo painter books on European and American modernism and Japanese woodblock prints, as well as South Asian miniatures and ancient Egyptian art that provided soure material for his stylized paintings. In this way, he redefined contemporary Pueblo art and created a new, pan-Pueblo style.
The paintings in this exhibition were donated to the Smithsonian American Art Museum in 1979 by the Hendersons' daughter, Alice H. Rossin.
Gallery Label
Early in his career, Awa Tsireh painted a few scenes, like
Buffalo Deer Dance
, with figures in a natural setting that convey spatial depth. The Buffalo Dance, or Game Dance, is a sacred ceremony of the San Ildefonso Pueblo. It is celebrated annually on January 23rd, the Pueblo's feast day, and open to the public. This dance was one of Awa Tsireh's favorite subjects because of the public and social nature of the performance. By the early 1920s he had adopted the flatter, more linear and stylized figures and empty backgrounds that characterize most of his work and that became the model for the paintings of many other Pueblo artists.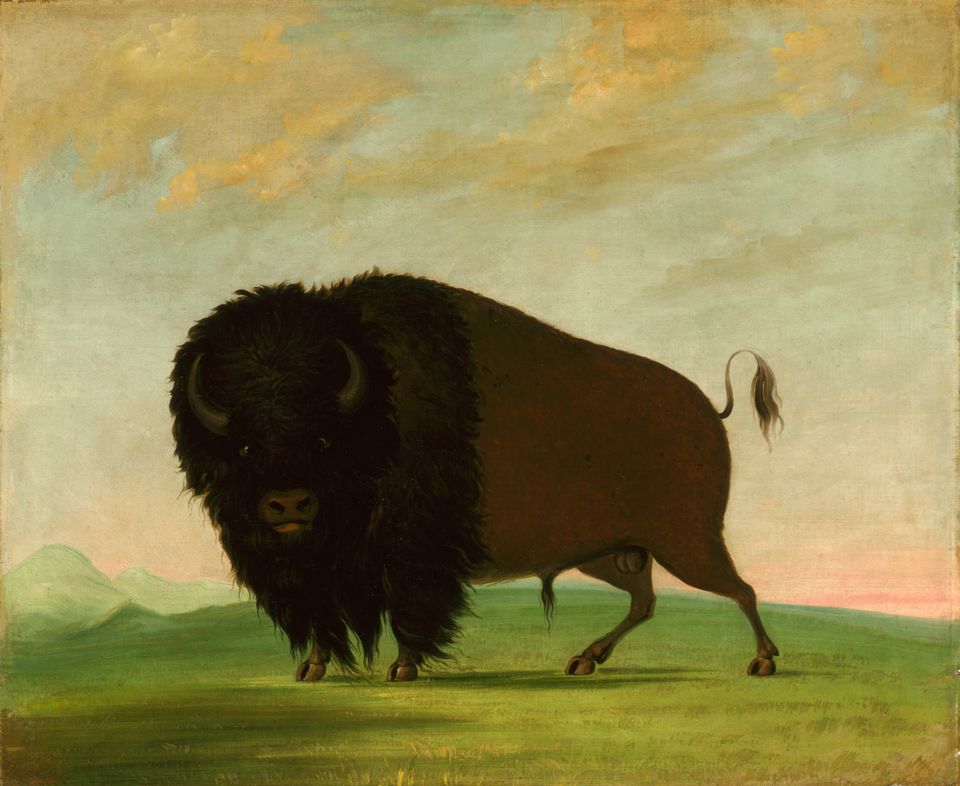 October 11, 2019
–
November 22, 2020
Picturing the American Buffalo: George Catlin and Modern Native American Artists examines representations of buffalo and their integration into the lives of Native Americans on the Great Plains in the 1830s and in the twentieth century.