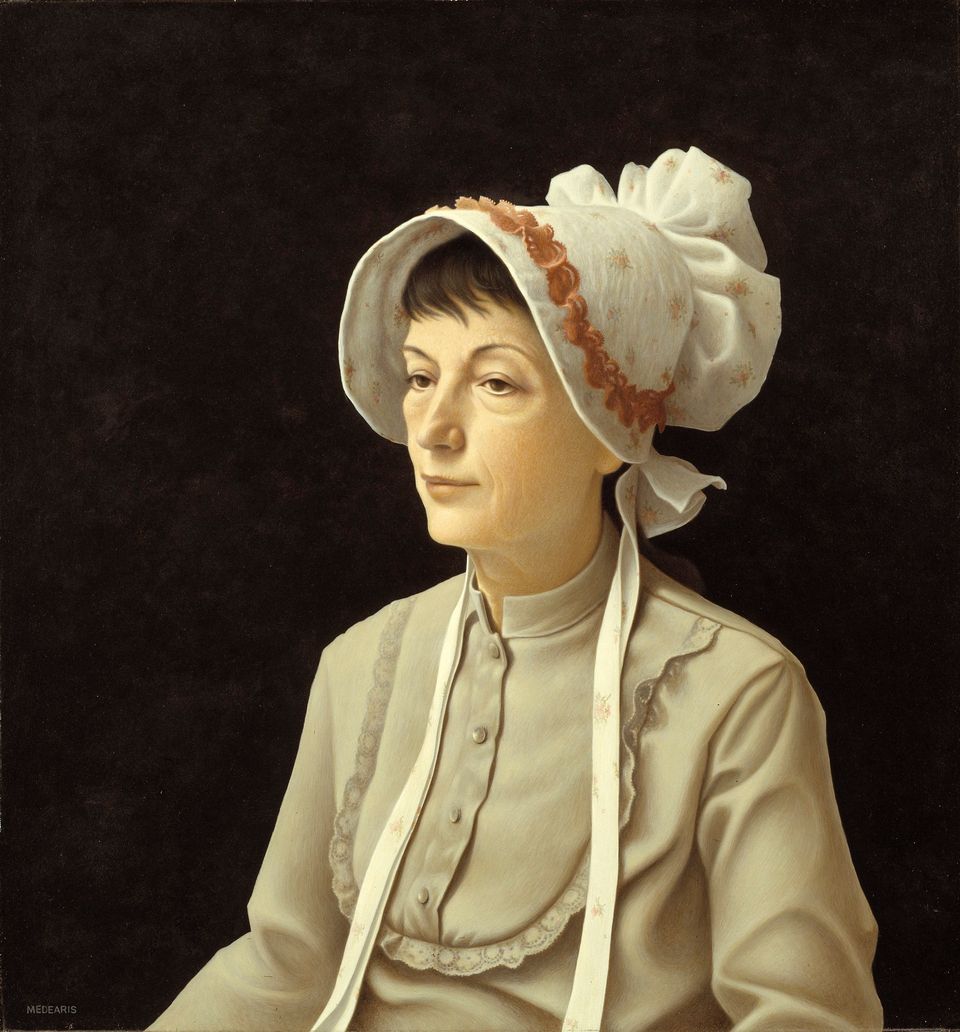 Copied
Roger Medearis,
Judith
, 1968, acrylic and egg tempera on Masonite, Smithsonian American Art Museum, Gift of Mr. Philip Desind, 1986.90.3
Title

Judith

Artist

Location

Dimensions

27

1

⁄

8

x

25

1

⁄

8

in. (

68

.

9

x

63

.

8

cm.)

Credit Line

Gift of Mr. Philip Desind

Mediums Description

acrylic and egg tempera on Masonite

Classifications

Keywords

Figure female — waist length
Dress — accessory — hat
Portrait female — unidentified — Judith

Object Number

1986.90.3
In 1966, after fifteen years in the business world, Roger Medearis returned to painting, and in later years became known for his images of midwestern landscapes and portraits. In
Judith
the figure's pale green dress and laced-trimmed bonnet recall the clothing of the pioneer women who settled the Midwest a century earlier. Judith's pose mimics that of portraits of wealthy patrons: Her body is at an angle to the canvas and she looks away from the viewer. Her sagging shoulders and careworn face, however, suggest that the portrait is less a celebration of Judith's wealth or beauty, and more a tribute to the steadfastness and spirit of those who braved the frontier.
Luce Object Quote
"Realism had been the motivating factor for me. Realism gave meaning and coherence to all the aesthetic principles." The artist, quoted in
Roger Medearis: Drawings 1977-1981,
Capricorn Galleries, 1981