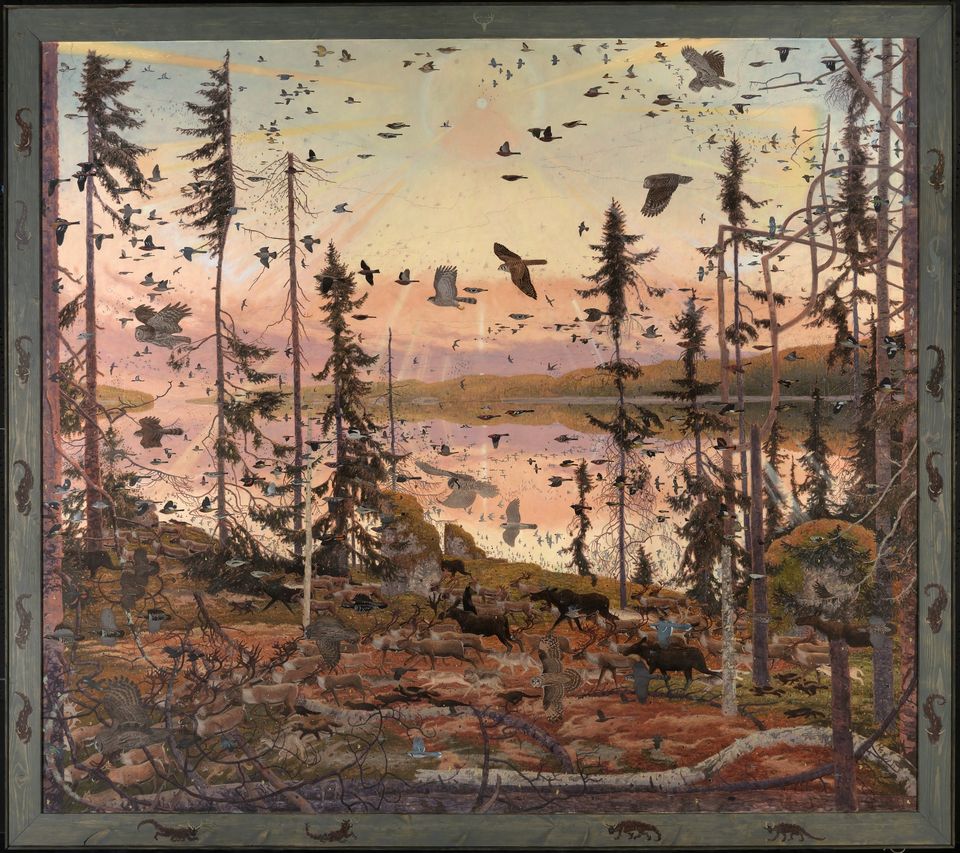 Copied
Tom Uttech,
Mamakadendagwad
, 2015-2016, oil on canvas, Smithsonian American Art Museum, Museum purchase made possible by the American Art Forum, 2017.3, © 2016, Tom Uttech, courtesy Alexandre Gallery, New York
Title

Mamakadendagwad

Artist

Copyright

© 2016, Tom Uttech, courtesy Alexandre Gallery, New York

Credit Line

Museum purchase made possible by the American Art Forum

Mediums Description

oil on canvas

Classifications

Keywords

Landscape — tree
Animal — bird
Landscape — river
Animal — deer

Object Number

2017.3
Tom Uttech's visionary paintings emerge from a deep sense of communion with nature. As an accomplished birdwatcher, conservationist, wildlife photographer, and hiker, Uttech (born 1942) has spent his life engaging with the unspoiled wilderness of his native Wisconsin and the neighboring woodlands of northern Minnesota and Quetico Provincial Park in Ontario, Canada. Yet while Uttech's experience of the landscape is grounded in firsthand knowledge and close observation, his paintings do not represent specific scenes. Instead, he uses his understanding of the ecosystem's animals, plant life, light, and atmospheres to conjure fantastic reconstructions of the natural world.

Mamakadendagwad, translated as "it is astonishing" from the Ojibwe language, is part of the artist's Migration series. In these works, throngs of birds and animals travel across the canvas from right to left, spurred by a mysterious force or unknown threat. In Mamakadendagwad, finely rendered falcons, hawks, and owls join wolves and caribou in a swarm at sunset; a lone bear, upright in the center of the scene, turns to face the onslaught, calmly observing the charge as well as, perhaps, its cause. For viewers, the sense of urgency is unexplained, lending a sense of foreboding to what might otherwise be an arcadia.

Like most of Uttech's paintings, Mamakadendagwad presents a fraught view of nature and humans' place in it--almost impossibly alive and fertile yet ultimately alienating. As well as being denied the knowledge accorded to the bear, viewers are prevented from immersing themselves in the environment. Fallen tree trunks and tangled branches clock access to the foreground, and abrupt shifts in scale of the incredible volume of birds represented foil any sense of visual mastery over the scene. Despite the exquisite detail laid out for us, the landscape ultimately remains impenetrable. At once agitated and calm, idyllic and charged with danger, Uttech's painting is--like nature itself--characterized by its multitudes and contradictions.
Smithsonian American Art Museum, 2017